Lima: Ediciones Altazor. 2019. 110 pages.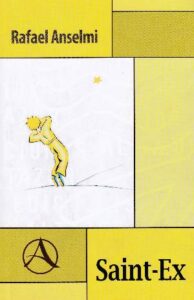 Rafael Anselmi (Lima, 1967) has published two books of short stories—El mirador de la ciudad (1999) and Noche de ronda en Bath (2005)—and a book of reflections—Sueltos de bar (2006)—which calls to mind La tentación del fracaso (1992-1995) by distinguished Peruvian writer Julio Ramón Ribeyro. Anselmi has also published several texts for children. Saint-Ex is his first novel—a nouvelle, to be precise—and is based on his award-wining play of the same name, which premiered in Lima in 2019.
In his short stories, Anselmi addresses themes such as solitude, the unease of daily life, heartbreak, and friendship through an alter ego who wanders to bars and other nocturnal spaces. In his first novel, however, he explores tensions within a romantic relationship through the recreation of Antoine de Saint-Exupéry's last days in New York in 1944 during World War II. The novel narrates the intense relationship between Saint-Exupéry and his Salvadoran wife, Consuelo Suncín Sandoval-Zeceña, as well as the French author and war pilot's bohemian lifestyle, friendships, and intrigue shortly before being called back to the French armed forces. At the same time, the novel recreates Saint-Exupéry's writing process for what would become his most famous work, The Little Prince (1951). Based on this iconic author's real-life events, Anselmi skillfully builds complex settings where Saint-Exupéry struggles with his demons, which include jealousy, vanity, his search for honor, and unconditional love.
Anselmi structures his novel in eighteen brief chapters narrating parallel stories that function as communicating vessels between two spaces and registers, which finally converge into a destiny that has been mapped out for Saint-Exupéry. On the one hand, Anselmi recreates the intriguing environment of European expatriates, intellectuals, and artists who would gather at the Café Arnold in New York. In this environment, the American editor Eugene Reynal, his wife Elizabeth, Lewis Galantière (Saint Exupéry's close friend and literary agent), the writer, and his wife Consuelo engage in difficult discussions, spared at times from open aggression thanks to Galantière's sharp, cynical humor. Certainly, the dialogue taking place among all the characters is a notable aspect of the novel. Brief, smart, and often hurtful, these dialogues foster a kind of theatrical atmosphere and maintain the quick rhythm of Saint-Exupéry's last days. On the other hand, inside the writer and his wife's New York apartment on Central Park, with the hypnotic sound of "Plaisir d'amour" playing over and over on the record player, we witness the couple's asphyxiating and destructive relationship. In this space, and through Consuelo's tragic voice, the story starts and ends with a heart-wrenching exploration of the characters' complicated relationship.
When working with an iconic author like Saint-Exupéry and a book such as The Little Prince, the challenge of writing fiction about a fictional text is undeniable. To tackle such a task, and before praising the French author, Anselmi selects Consuelo's voice to portray Saint-Exupéry's light and dark sides. Here I refer to the contrast between his public persona and his private life, and between an immortal, idealized love and the author's many infidelities. We are confronted with a dream life of adventure and glory juxtaposed with the often-asphyxiating day-to-day relationship between the writer and his wife. Finally, we witness Saint Exupéry's moving calls for freedom contrasted with his aristocratic French family's mocking contempt toward his Salvadoran wife because she doesn't behave like them nor is she able to master the French accent. Consequently, in one of her many solitary monologues on Antoine's near-constant absence, she affirms, "you never say anything, you only know how to say goodbye" (19). Elsewhere she adds: "I've put up with all of this almost happily… yes, happily, like the fox in your story who thinks all the time that has gone by hasn't been lost, that it has been time, moments, instances in an intense life, you know? I imagine you in your plane and I dream about us being reunited, but you decided to go to war to save your honor, which was never at risk. And you didn't remember your rose, Tonio. You didn't remember the ties that had been made… and there are no stars tonight, you know? There are no stars where I can hear you laugh, and all I'm left with is heartache…" (14).
Resorting to the well-known image of the rose as a symbol for Saint-Exupéry's love for Consuelo may seem obvious. However, if Consuelo is the rose, Anselmi's novel portrays her as an ambivalent rose; a loved flower, but one the writer doesn't stop to contemplate in his daily life. As a result, Consuelo is depicted as a tortured rose, a capricious and unreasonable woman. In Anselmi's fiction, therefore, when Saint-Exupéry disappears, the only thing left is Consuelo's voice fueling nostalgia for times past with her husband, which she fantasizes as better than what they were. At the end of Saint-Exupéry and Consuelo's relationship, all that remains is a world plagued by dreams that were not always shared and distance between spouses. Woven into all of this, we also find the myth of the The Little Prince's author and, most certainly, Anselmi's magnificent treatment of the fleetingness of love, the scar of its absence, and the persistence of its pain.
The novel begins with Consuelo listening to the radio and hearing the news that Saint-Exupéry's plane has disappeared. In an environment of increasing dramatic tension, the rest of the story leads us to this event, that is, the author's death and the birth of his most ubiquitous work. In other words, through nostalgia driven by the mortal rose's pain and loneliness, the story relays the origin of the myth. As with the death of the story's famous character, the little prince, Saint-Exupéry's death seems inevitable. Yet, he is destined to shine in the sky among the twinkling stars.
Anselmi emerges unscathed from the challenge of addressing fiction through fiction and recreating Saint-Expuéry's life and iconic novel. As with any successful novel, this story distances itself from the historical character in order to masterfully recreate and explore the complex relationship of a couple that is strained by the pressures of public myth, personal nostalgia, and day-to-day heartbreak. All of this is what constitutes Rafael Anselmi's subtle, admirable writing.
Gerardo Castillo Guzmán
Pontificia Universidad Católica del Perú
Translated by Amy Olen
University of Wisconsin-Milwaukee