New York: Sudaquia Editores. 2021. 158 pages.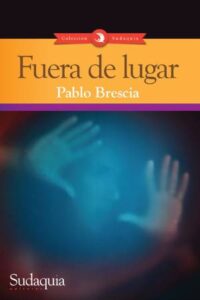 Some of the best Argentine literature has been written abroad. Julio Cortázar, Manuel Puig, Copi, Juan Rodolfo Wilcock, and Sylvia Molloy, among so many other authors, form a diaspora that flirts with an international gaze crossed with the vernacular, incorporating playful aplomb, experimentation, and a certain creole malice. Far from suffering for their expatriate condition, these Argentine writers have turned this dislocation into a captivating heritage, personal to the extreme. This tradition has lived on throughout the years.
Pablo Brescia has lived in the United States since 1986. He arrived as a teenager, attended university here, and continued on to a career as a professor, critic, and fiction writer. Brescia, consistent with that Argentine tradition, is someone dislocated, out of place, and despite the years of his life spent traveling this foreign land, he is an author who, without rejecting North American culture, roots himself in his home country. Attesting to this is his prose, which, unlike that of other Hispanic authors, is clean and clear, and produces no barriers between the reader and the plot. Many of the stories of his new book take place in the United States, though Brescia doesn't try to be the writer version of Daddy Yankee. He doesn't play the role of the latino, nor does he abuse common settings, or twist his tongue between English and Spanish to make a linguistic chewing gum. Though this could surely win him grants and positions at prestigious universities, it would be an artistic affection, an operation that many in this country perform: working as a minority author. Brescia, in any case, is a minority of a minority: Hispanic and Argentine, he comes from a community that, though it has had talented cultural figures in the United States, always seems to have remained on the margins by choice.
The characters of Fuera de lugar suffer this condition unwillingly, being relegated to it by a system without pity. This is shown in the first story, "Realismo sucio," in which the protagonists are cleaning women. A character named Marina sees life and, in many cases, danger in each of the rooms of the hotel where she works, for the travelers who dump their bones onto those hard mattresses and damp sheets are dangerous guys, marginalized without ethics. They are also displaced, even when they're Anglo-Saxon and United States citizens. These cleaning women who listen to cumbia and bare sparsely-toothed smiles are immersed in the quotidianity of a country with feet of clay, one that leaves its workers on the edge of a precarious life and where earning a meager paycheck is just one more link in a chain of misfortunes and inequalities. They are working poor: Latin America in the United States.
The hotel, a postcard accompanying roads paved with the dreams and acrimony of the North American imagination, is intertwined with other stories in which the specter of disillusionment passes rapidly into adventure, as though from one room to the next. In these displacements we can discern the theme of exile as thematic axis, key to understanding Brescia's literature.
The dislocation moves to other settings like Tangiers, Mexico, and Europe, but it's united by personalities who are already cultural brands: "Che" Guevara, Augusto Monterroso, Italo Calvino, Gabriel García Márquez. Fuera de lugar has two sections: "Lugar" and "Afuera." The stories in these sections oscillate between realism and the fantastic—the Río de la Plata is fertile with this genre—well demonstrated in "Lapivideo®2," "Frank Kermode," and "Para llegar a D.F.W." In this last one, an irreverent ghost—who bears the mark of Borges, with his games of waking and dreams and the figures of writers—plays pranks with fateful consequences for the living. "Frank Kermode" puts a pair of intellectuals into relief, who change several times while an unpunished secret grows between them like a mortal illness.
In Fuera de lugar, writer Pablo Brescia executes a narrative project that touches the sensibility of a reader attentive to cruel and imaginary worlds, in a handful of stories that are from here, from there, and from everywhere. He understands very well the lesson Borges inculcates in his mythic essay "El escritor argentino y la tradición": "We must believe that the universe is our birthright and try out every subject; we cannot confine ourselves to what is Argentine in order to be Argentine because either it is our inevitable destiny to be Argentine, in which case we will be Argentine whatever we do, or being Argentine is a mere affectation, a mask."
Hernán Vera Álvarez
Translated by Jack Rockwell