New York: Archipelago Books, 2022. 200 pages.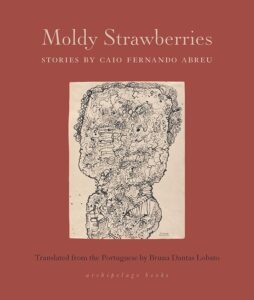 Moldy Strawberries (Archipelago Books, 2022) is a collection of stories by celebrated Brazilian writer Caio Fernando Abreu (Porto Alegre, 1949-1996), first published in Portuguese as Morangos mofados in 1982 and now, forty years later, skillfully rendered into English by translator Bruna Dantas Lobato. The book is considered one of the author's masterworks as well as a landmark of Brazilian national and queer literatures.
The landscape onto which the original book appeared in Brazil included the AIDS epidemic, the final throes of dictatorship, an external debt crisis and economic recession, and a wide range of geopolitical and ecological anxieties. Brazil was not left unscathed by the drug trade affecting the entire hemisphere, and cocaine was becoming a favorite among those who could afford to use it to numb their disillusionment and pain. As if to set the stage, there are two sets of initial dedications, the first being to the memory of John Lennon (the British superstar musician who was murdered in 1980), Elis Regina (the influential Brazilian singer who suffered an alcohol and drug-related death in 1982), Henrique do Valle (a Brazilian poet who committed suicide in 1981), Rômulo Coutinho de Azevedo (a Brazilian political activist and doctor who died in a train accident), and "all my dead friends."
The second set of dedications is to Brazilian musician Caetano Veloso and other friends of Abreu who were living at the time, and each story is also dedicated to someone living or dead. In addition to the many dedications, a number of epigraphs are interwoven throughout the book. The effect is almost that of a seance, conjuring the presence of people and voices that Abreu wanted to keep close. Several epigraphs contain lines written by do Valle, Abreu's poet friend who was ravaged by drug abuse and took his own life at age twenty-three. The book is divided into three sections, "The Moldy," "The Strawberries," and "Moldy Strawberries," and the title and headings are revealed to be partially inspired by do Valle's verses that open the second section: "Those who know God / feel what's inside / and are friends of the strawberries / that never die," from the poem "Os morangos são eternos" ("Strawberries are Forever"). The poet is memorialized not only in the title, headings, dedications, and epigraphs, but also within the fictional universe of the story "The Day Jupiter Met Saturn."
Tragedy and death, including do Valle's suicide, surrounded Abreu and were ever present on the tip of his pen. (Abreu himself was diagnosed with HIV in 1994 and died two years later.) The third story in the collection, "The Day Uranus Entered Scorpio," is like a countercultural companion piece to The Big Chill, a 1983 film directed by Lawrence Kasdan. In the film, a group reunites fifteen years after they graduated from college together after one of their friends commits suicide, with iconic R&B records from the 60s and 70s serving as the soundtrack. In Abreu's story, a group of people with an undefined relationship to one another put down their cigarettes and stop quoting from their books to rally around one of their own who is having a suicidal breakdown, with Pink Floyd playing in the background. 
The characters in Moldy Strawberries don't seem to be "concerned or embarrassed about being Caricaturally Representative of a Generation" ("Companheiros"). Abreu employs many different styles and settings to bring them to life, including stripped-down dialogue, stream of consciousness, hallucinations in solitary confinement, character studies based on photographs, conversations among dissociative personalities, phone calls, and a therapy session. The author bestows extreme depth, tenderness, and range upon his characters, as we witness them slip between lucidity and confusion, hope and despair, companionship and solitude. For example, in "Beyond the Point," the narrator begins brimming with a sense of confidence and anticipation on his way to a lover's house, but the more he drinks, the more his confidence erodes: 
So frigid my legs and my arms and my face that I thought of opening the bottle to have a sip, but I didn't want to get to his house, half drunk, breath stinking, I didn't want him to think that I'd been drinking, and I had been, every day a good excuse, and I was also thinking that he would think I was broke, arriving on foot in all that rain, and I was, stomach aching with hunger, and I didn't want him to think I hadn't been sleeping, and I hadn't, dark circles under my eyes, I would have to be careful with my lower lip when smiling, if I smiled, and I almost certainly would, when I saw him, so that he wouldn't see the broken tooth and think I'd been letting myself go, and I had been, avoiding the dentist, and I had been, and everything I'd done and been that I didn't want him to see or know, but thinking that gave me a heartache because I was realizing, in the rain, that maybe I didn't want him to know that I was me, and I was.
Even at their most fragile, broken-down, brink-of-death moments, Abreu reminds the characters (and the reader) that "in this moment you possess the unbearable beauty of something entirely alive" ("Still Life").
Abreu's writing, as translated by Dantas Lobato, is lush, intimate, visceral, and unflinching. Its treatment of sex, substance abuse, and violence is unrestrained by clinical distance or moral panic. It's romantic, baroque, gothic, and grotesque all at once. Frequent motifs include candomblé, bats, vomiting, schizophrenia, and, of course, fruit; among the varied themes are sexual awakening ("Sergeant Garcia"), closetedness ("The Survivors"), homophobic violence ("Fat Tuesday"), and being driven mad by fear and repression ("I, You, He"). The stories also exist in dialogue with the music, poetry, books, films, and paintings that are treasured and quoted by the characters. Music is a particularly essential narrative element, and Abreu included instructions for a number of the stories to be read with specific songs or artists playing. (Dantas Lobato has created a playlist to accompany the book.) One example that stands out is "Passing Through a Great Sorrow," where the main character sits alone in his apartment listening to "Désespoir agréable" ("Pleasant Despair") and "À l'occasion d'une grande peine" (which inspired the story's title), two melancholy solo piano pieces by French composer Erik Satie; it's quietly suggested that the protagonist is languishing with HIV, as he observes his own skin flaking off from elevated levels of uric acid.
While Moldy Strawberries is not afraid of the dark, it does offer glimmers of hope and triumph. In "Transformations," the main character's existential emptiness, nicknamed "The Great Absence," suddenly dissipates when he finds love, is truly seen, and feels like a flesh and blood person for the first time. In "Those Two," a pair of male coworkers are fired for complaints about their "unusual" intimate friendship, though they have never physically consummated their obvious love and affection for one another. But instead of going their separate ways, heads hung low in shame, they leave together in a cab, essentially riding off into the sunset toward their newfound freedom while their miserable former coworkers remain confined by their narrowmindedness and look on, bitterly, from the office window.
Dantas Lobato has masterfully transposed Abreu's writing into English like an art installation, carefully re-assembling the unbearably beautiful mess of it without attempting to tidy it up or erase what strays outside the lines of form, convention, or polite society. Moldy Strawberries is a heart-wrenching translation and a moving tribute to Abreu, who is hopefully now reunited with all his dead friends, singing their favorite songs in a field of fresh red strawberries.
Emily Hunsberger
Philadelphia