Tenerife: Baile del Sol/Olinyoli. 2021. 224 pages.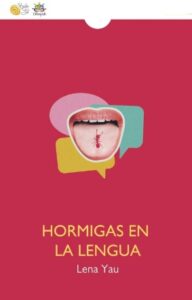 Memory sustains identity. Without the scaffolding of memory, we fall apart, we become pure present and wander aimlessly among debris that we cannot recognise. For that reason, recovering what we were plays a central role in diasporic fiction in general, and especially in the literature of the Venezuelan diaspora, which is being forged in the shadow of an unprecedented catastrophe. A collapse that has shattered millions of lives and removed the possibility of building a place to which we are rooted, where we can all recognise each other. 
That is precisely what Lena Yau does in her novel Hormigas en la lengua: she invites us to enter into that complex labyrinth of our memories and experiences. She calls on us to navigate a "textile palimpsest," a cloth that is woven and unwoven before our eyes, leaving us with the sensation of facing a fleeing landscape. The novel is an emotional map that shows us the paths of disparate yet complementary characters. Childhood friends who have grown up together, presented to us in a tight plot that we consume greedily, recognising on our own tongue that space of affect that we too once navigated.
Food, hunger, thirst, or disgust towards certain tastes are at the core of this novel in which eating––ingestion, as Lena Yau would say—is a metonym for memory, and so for identity. Like with Proust's stubborn madeleine, here remembering is sparked by the contents of childhood lunchboxes, by the loves and loathes of girls at a convent school who refuse to eat or who eat too much. It is no coincidence, then, that the novel begins with a barbecue in Caracas and ends with an outrageous drinking binge in Stockholm. Two points that mark the trajectory of a diasporic community clinging to the past that unites them.
Between these two gatherings, we witness the reconstruction of the scattered memories of a group of characters who meet and miss each other both in person and online. Among them is Pino Chica, who serves as the backbone of the story, because her childhood joins the meeting points of all the other characters. She is the one who insistently recounts her life in order to "repair from below" a thread that is unravelling. She is the blogger Tenemaka, who learns ladino to take on the legacy of her Jewish grandmother, and who, through her blog, brings together a community that finds one another again in the comments below her notes and poems. But she is also the one who lacks appetite, who barely tries a mouthful, who lives off ham and olives, who is fed up of being defined by what she eats or refuses to eat.
Then there's Douglis, the working-class character who bursts in to overturn the order and redirect the course of everyone in her path. She is the chatty, playful, rabidly vernacular voice who makes room for herself between the complaints and needs of those around her. She moves in forbidden spaces, and refuses to accept her destiny as a poor girl. She shows no resentment, and unfailing humour. Douglis builds her food empire through her way with words and by exploiting the desires and caprices of those who have everything but keep searching for what they are missing. She is the one who eats live ants and dried cicadas, chalk, mangoes, and hibiscus. Nothing that needs to be bought or prepared, because she knows all too well that "the fish dies by its mouth."
But there's also Jordi, the incontinent one, the one who was born with an insatiable hunger, who speaks and writes without pausing to consider the consequences. His loose, scatological, pantagruelic tongue leads us to one of the most tremendous flights in this story packed with them. A path on which we come face to face with humour and excess, but also with the most unadulterated social and racial prejudices. At the other extreme is Pelayo, the poet policeman, who needs to strictly audit what he eats so as to not get off balance and lose control completely; who maintains a sinister secret life, but who also yearns for affection and clings to an impossible, unrequited love, on the other side of the world.
There are the relatives too: the grandmas, the parents, the aunts, the cousins, the neighbours, the local shop owners; the village it takes to raise a child and to populate a world. Among this group, who are condemned to be dispersed, words fill distances; they are a substitute for the longed-for closeness, for the impossible presence. Words that enter the text from distinct origins, because this is a community of immigrants, of children of immigrants raised with other immigrants, for whom the street, the home and the school are places where accents and languages intersect. Spaniards, Italians, Portuguese, Hungarians, French, Poles, Greeks, Argentines, Chileans, Colombians, the list goes on. They all coexist in memory and at the table, in the bustle and exchanges, which always imply a here and a there, which multiply endlessly.
This is a novel of found spaces and times, which sometimes need to break into lines: verses which interrupt the prose, emphasising that it is impossible to contain within a rigid form the richness of a discourse that spills over the page. A stream of words that show, in their materiality, that memory is a territory full of uncertainties and that identity is built from gaps and repetitions, from hunger and satiety, from words that are like food. Because "words and food return [us] to what has been lost," but "how to return when what is lost is made of water?"—when those lives built between here and there are like mangroves, whose "roots [are] in the air, in the ground, in the sea," which live "between two waters / Salt and fresh."
Hormigas en la lengua tells us a universe of stories, which, instead of closing in, opens up to the four winds, the five senses, the past and the future, lands near and far. A multiplicity of stories full of iterations, of returns to the same recurring themes, to the same narrative nodes, the same stitched seams. A web of stories that are tied and untied in a generous, multiplying game, like a well-served table. A cascade of stories that flow, like all waters, to the sea, leaving us wanting to keep reading, with the taste of hibiscus on our tongue.
Raquel Rivas Rojas

Translated by Katie Brown