The Guadalajara International Book Fair (or FIL, for its initials in Spanish) celebrated its thirtieth anniversary in the last week of November and the first few days of December 2016. Nine days of activities, a turnout of over eight hundred thousand people (twenty thousand of whom were international book industry professionals), more than two thousand publishing houses; but, above all, the exhibition of more than four hundred thousand books helped the literary encounter earn its title as the "biggest book fair in Spanish."
In the rest of the book world, the FIL falls only behind the Frankfurt Book Fair in importance, and this is no coincidence. Taking place a month and a half after the fair in Germany, the festival organized by the University of Guadalajara is the meeting place for professionals from the big leagues of the book industry. The book fair is the biggest event of the year for the city, transforming the Expo Guadalajara (where the FIL is hosted) into an enormous bookstore measuring thirty-four thousand square meters. What's more, the organization offers over five hundred book presentations, an academic program of talks and conferences (on history, philosophy, translation, education, and law), a children's area with theatre, music, and storytelling for younger readers. . . In brief, an offering in which practically anyone could find something to enjoy.
Since Latin America was the special guest at the fair, part of the academic, cultural, and literary program is centered on Latin American authors, with a pavilion dedicated to books and crafts from the south, center, and north of the continent. Distribution among these countries is always a key theme of the event. A frequent comment among writers and readers is that in order to read an author from a neighboring country, said author must first pass through Spain. The director of the FIL, Marisol Schulz, commented in our interview on the importance of connecting these countries, almost all of which are united by the language of Cervantes:
Marisol Schulz: Obviously, one of the missions of the FIL is to increase awareness of literature in Spanish, and not only in Latin America. In 2016 the region was much more visible, but at a global level, there are also writers here from Spain, and even Spanish-language authors from the United States.. One issue is raising awareness of literature, and another is distributing books, which is what writers often complain about. An article by the Argentine author Leila Guerriero recently published in Babelia, the cultural supplement of  El País, pointed out that writers travel more than their books. Writers go to conferences, book fairs, festivals. There is a level of internationalization among them (in the case of certain writers, not on a massive scale). But this doesn't mean that their literature is as well known in one place as in another. It has more to do with the mechanisms of the book trade and distribution, with an emphasis on literature. Social networks and digital publications are now more important than publishing houses. Presses have to limit the number of titles they publish by month: bookstores can't sell any books beyond that limit.
At a literary press that publishes five books per month, the sixth will be condemned not to reach the bookstands. It's a system of distribution and sales, beyond the presses and writers. It all has to do with inertia and dynamics. Very often – speaking as a publisher – a press will go for an author from, say, Peru, but if the bookseller doesn't know that author then he won't put them on the new release table: he'll prioritize writers who are already well known and who can travel to the bookstore to promote their book. Trying to incorporate new authors into the book market is much more complicated than one might imagine. It doesn't depend on the publisher or on the writer: the writer can travel, build an audience, and make herself known, but books can't.
Jorge Pérez: Speaking of making new authors known, at the last FIL there was a program called "Los Ochenteros," with Latin American authors born in the eighties, some of whom had only published one book, like Paulina Flores (Chile, 1988) and Joel Flores (Mexico, 1984). How do new voices come up on the FIL's radar?
MS: When we talk about building readerships and raising awareness of literature, that's one of our missions: to maintain a radar. With Latin America as our guest of honor, in essence, we are trying to see what happens between different generations. Not only the Ochenteros: in the Poetry Salon we had Antonio Gamoneda, an author we must continue to promote, as well as authors who are well known in their own countries but not internationally. A big part of the fair's content works to localize and seek out new writers, to see what happens. There are mechanisms like social networks, publishing houses, the press, and travel as well. The FIL team travels to other book fairs, learning about and absorbing what's going on at an international level. This is part of our efforts throughout the year. We don't work just for a month! We begin working on the program two years in advance, looking for authors. . . we have to keep up to date with everything that happens on the literary scene.
JP: You mentioned Antonio Gamoneda, a canonical writer, but there are also veteran authors whose books circulate very little outside of their own countries. I'm thinking of the Central American writers who came to the previous fair, Horacio Castellanos Moya (El Salvador, 1957) and Rodrigo Rey Rosa (Guatemala, 1958).
MS: Their books don't circulate in Mexico, but they certainly do in their own countries. Horacio Castellanos Moya has been published by major presses with an international presence. There are many authors who fall outside that category: Gabriela Cabezón Cámara, for example, an Argentine writer who is very little-known. Or authors who work through different presses, like Luisa Valenzuela or Gioconda Belli. The work of promoting literature on an international level is inexhaustible, without measure. There are a lot of countries, and it's difficult to ensure that every writer is known in every country.
JP: In particular, within Latin America there is one country that towers above the other in terms of its presence at the FIL, with its own section, not only in the 2017 festival, and with a singular language to boot: Brazil. How is this relationship?
MS: This is the fifth year of "Destinação Brasil." The fair organizes it, but we always need alliances and mutual understandings. For the "Destinação Brasil" program to take place, we rely on the support of the Brazilian Embassy in Mexico and the Brazilian Ministry of Culture. Thanks to this support, Brazilian authors can travel to Guadalajara. I wish this was the case for all the countries all the time! The Brazilian government has taken a lot of interest in the promotion of Brazilian authors outside of the country. Brazil, as part of Latin America, has the issue of language. There is a great deal of interest in helping authors to travel, and a strong support for translation. They're fantastic, they give us the possibility to bring authors whose books have been translated to Spanish. That's part of the fun at the fair: they find an audience in a language outside their own.
JP: The fair's choice of Latin America as the invited region also coincided with an unprecedented political moment that emphasized the importance of looking at ourselves and reading ourselves.
MS: It was a coincidence to select Latin America as the special guest just after we learned that Donald Trump won the U.S. election, we didn't do it with that intention: the intention was literary, to promote and recognize our countries as siblings. It happened at the perfect moment, we didn't know and we couldn't imagine, even under the strangest circumstances, that he would win. It was an unimaginable idea at the end of 2015, when we announced that Latin America would be our guest. Not for one moment did we imagine that we would be entering times of such friction in the relationship of the United States with Latin America and Mexico. Faced with all these threats, the existence of a physical wall, all the hatred toward Mexico and Latin America, with Trump promoting hatred toward our countries and Latinos in general. He didn't turn his eyes toward us, they were on us from the start: he just put his finger on the issue. Politically, it was a great moment to maintain our connections. It was politicized, and that wasn't the intention, but in the face of all this hatred we must generate unity.
JP: Besides amusement, literature serves to start conversations, to help us get to know other people.
MS: And we want to start a conversation with U.S. writers who are opposed to what their president says: who feel close to us culturally, who can tolerate difference. Millions of people with Latin American heritage live in the United States, with or without papers, and they are part of U.S. culture. We promote dialogue, regardless of political or economic circumstances, which are not in our favor. Back when we announced Latin America as our guest, all of us would have sworn that Trump wouldn't even become his party's candidate. It has been surprise after surprise, stumble after stumble.
JP: The FIL has also made waves in the United States, in California.
MS: There is a sister book fair in Los Angeles, LéaLA, which is organized completely differently, with goals and intentions different from the FIL's, although we share points of view. Because of economic circumstances it's currently in standby, paused but not canceled.
JP: Beyond Latin America, at the FIL there are programs promoting European literature, Korean literature, etc. How do they form a part of the literary program?
MS: It's similar, the desire to bring the Spanish-reader closer to the literary world. It gives us the possibility of exploring other literatures in other languages, translated into Spanish. Thanks to the "Festival de Letras Europeas," with the representation of the European Union in Mexico, we have hosted some of the great authors of that continent. Often they are writers who are completely unknown in Spanish, not only in Mexico but in the entire Spanish-speaking world. Here, they start to find their audience. Because the fair's impact goes far beyond this city and this country. Thanks to embassies and people who have approached us, we have also featured Korean literature, and there is a possibility of including Scandinavian countries that want to be present. Last year there were Iranian, Indian, and Taiwanese publishers who wanted to bring their books to the fair. Publishers come from countries that want their authors to have a presence at the FIL, and this is noteworthy: we go beyond Latin America, bringing other languages to the audience that attends or is aware of the fair.
JP: Along with raising awareness of literature, the fair offers a dedicated space for publishing professionals.
MS: We want to be a meeting point for publishers. In 2016, publishers came from forty-four countries to participate in professional development programs. That is one of the pillars of the fair. The FIL would be nothing without its literary program, but it wouldn't be international if it didn't include an area for professionals. That section is what brings the FIL its recognition among international book fairs. There are professionalization programs designed for all people who live off books or who participate in any of the stages of their production: illustrators, agents, translators, distributors, publishers, etc. They come to this meeting place to have conversations with their peers, through professionalization programs or the professionals' salon, where they buy and sell publishing rights in many languages. It's an all-encompassing project that is also planned year-round, and it takes place on three of the nine days of the FIL.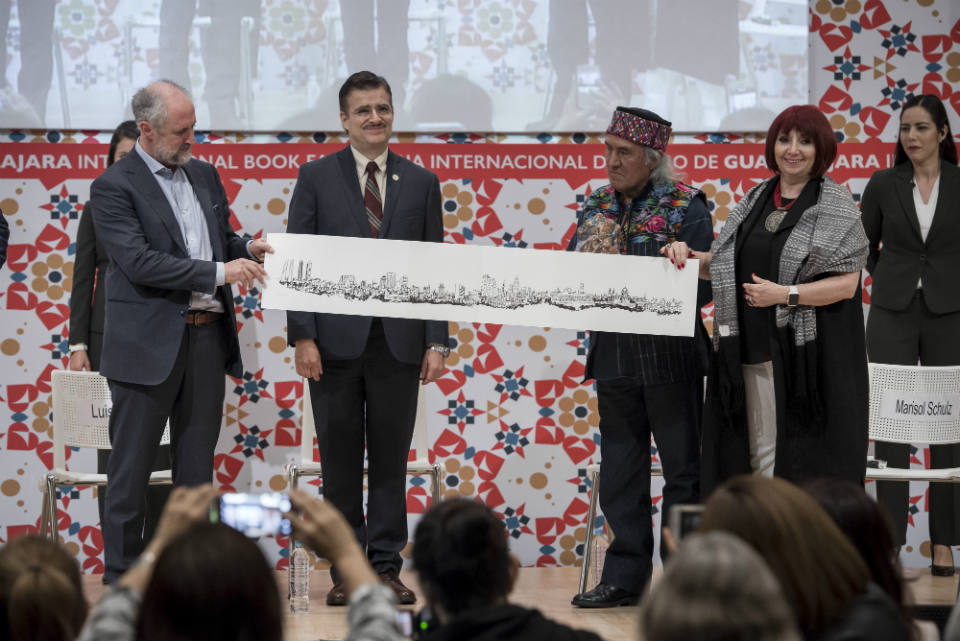 PRIZES
The FIL also promotes awards for literature, journalism, architecture, graphic art, and book collecting. The fair's opening event includes the presentation of the Premio FIL de Literatura en Lenguas Romances (born as the Juan Rulfo Prize, but with a new name after a dispute between the family of the author of Pedro Páramo and Tomás Segovia, who received the award in 2005). Norman Manea is the most recent winner; past recipients include Nicanor Parra, Juan José Arreola, Eliseo Diego, Julio Ramón Ribeyro, Nélida Piñón, Augusto Monterroso, Juan Marsé, Olga Orozco, Sergio Pitol, Juan Gelman, Juan García Ponce, Cintio Vitier, Rubem Fonseca, Juan Goytisolo, Tomás Segovia, Carlos Monsiváis, Fernando del Paso, António Lobo Antunes, Rafael Cadenas, Margo Glantz, Fernando Vallejo, Alfredo Bryce Echenique, Yves Bonnefoy, Claudio Magris, and Enrique Vila-Matas.
OCHENTEROS
As well as Paulina Flores and Joel Flores (no relation, both of whom are mentioned above), the FIL's radar hopes to follow the trails of these Latin American writers born in the eighties: Pedro J. Acuña (Mexico, 1986), Carlos Manuel Álvarez (Cuba, 1989), Ave Barrera (Mexico, 1980), Carol Bensimon (Brazil, 1982), Liliana Colanzi (Bolivia, 1981), Camila Fabbri (Argentina, 1989), Carlos Fonseca (Costa Rica/Puerto Rico, 1987), Arnoldo Gálvez (Guatemala, 1982), Enza García Arreaza (Venezuela, 1987), Damián González Bertolino (Uruguay, 1980), Camila Gutiérrez (Chile, 1985), Mauro Libertella (Argentina, 1983), José Adiak Montoya (Nicaragua, 1987), Francisco Ovando (Chile, 1989), Marcela Ribadeneira (Ecuador, 1982), Carlos Rodrigues (Brazil, 1985), and Óscar Guillermo Solano (Mexico, 1983).
Translated by Arthur Dixon
Photo: Marisol Schulz, director of the FIL Guadalajara.