Mugre rosa. Fernanda Trías. Montevideo: Literatura Random House. 2020. 276 pages.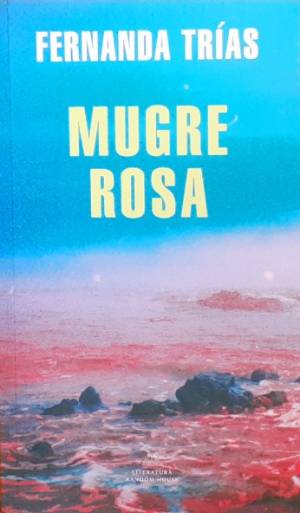 Like a premonition, Fernanda Trías (Montevideo, 1976) has taken a risk with a dystopia that reminds us of the present. An invisible plague and an environment in a constant state of degradation are the sinister stage of Mugre rosa [Pink slime]. This ominous novel predicts a universe similar to the one that began with the pandemic, one charged with contradictory uncertainties, and it acts like a potential environment where the author can take her obsessions to the extreme and once again consolidate the oppressive and suffocating form that stands out in all of her work.
The protagonist city is reminiscent of Montevideo: the visual and geographical descriptions are similar, but the names of places are slightly modified, a choice that isn't consistent throughout all of the allusions to the Uruguayan capital and also isn't of great relevance. In the landscapes and trips around the city, the presence of the river prevails, like a stream of antitheses. Life and death seem to be the only possibilities proposed by urbanism as a horrible exteriority, while the everyday is suspended in a routine marked by certain changes that will alter the path of the characters' intimacy.
The structure of the novel is supported by a system of interconnected tensions. The protagonist, in her forties, maintains three codependent relationships: with her mother, with her ex-husband Max, and with Mauro, a child she cares for like a nanny. The story is constructed drop by drop, made up of fragments from different time periods in the woman's life where the subtleties of human behavior are exposed, interspersed with paradoxes, dialogue, and reflections that seek to provoke, to grant a certain air of mystery.
The apparent confusion that these temporary lapses cause increases the text's suggestiveness. The cruelty of children, life before the plague, the unfamiliar present, and an immediate future that accelerates the story all unfold like layers of the poetic sinister. That culmination of a first-person determined by her connections and faced with a new form of altered life demonstrates how our behaviors become disrupted in the face of imminent solitude.
In an environment contaminated by horror and sometimes disgust, these characters share their miseries, and fear becomes the engine that destroys them while keeping them alive. The protagonist's survival instinct forces her to move around the city in order to visit her mother who lives in a faraway neighborhood, see her ex who is in the hospital, and return home on time to save Mauro from himself and from his syndrome, which keeps him consistently hungry. Distance and oppositions as conflicts increase the pressure in a world where food is scarce, with an insatiable child, in a city where movement is increasingly illegal and inaccessible, with a mother in a faraway neighborhood, in the midst of a plague, with a hospitalized ex.
Aside from exploring universal themes like fear and solitude, these interlinked conflicts also trigger concrete actions that move the plot forward. Finding food, for example, is a feat when faced with a child who is starved for nourishment. Meat appears at various points in the novel in different ways: steak, panchos, and cold cuts are like distant memories, while Carnemás is a constant present. This new brand of "pink slime" is a canned meat product, the easiest food to acquire and produced by the company Procesadora Nacional—not unlike the Corned Beef that was exported to British soldiers during World War I by Frigorífico Anglo in the city of Fray Bentos, Uruguay.
The idea of caretaking is not only present in the search for food. The protagonist is a woman who takes care of others—or tries to—and cares for others more than she does for herself, once again in order to avoid ending up alone. Motherhood predominates as more than something biological, but as the act of mothering and taking care of others, which is one of the novel's main themes, as evidenced by the protagonist's lasting memory of Delfa (who appears to be her childhood nanny) and mother-daughter quarrels, the impossibility of not thinking about her ex's care, and the transformation process of a woman from someone who is a caretaker for a living into a substitute mother who can't step away or stop caring for the child.  Like a hyperrealist portrait of caretaker and dependent relationships, Trías draws attention to the importance of choice—of whether or not to choose the forcefully-assigned roles of being a mother or a daughter, or of being a woman who takes care of children or the sick—and the difficulty of making those choices or deciding to abandon these roles in an unusual way.
The promise of Brazil as an escape flickers and fades, and the over-connected contact with the outside world accompanies the doubts and resolutions found in encounters with different taxi drivers and in the persistence of the derisory television publicity and media, where government officials discuss the advancement of the plague in a way that is as perverse as it is similar to how it is currently being done in the author's home country.
Fog clouds the characters' determination, as though a fatal destiny were inevitable and staying in a permanent dynamic of symbiotic connections was the only possibility. As though no one was able to stray from a straight line traced with a flawless ruler, as if it was only possible to live and accept fatalities in a new nature where human relationships—after forgetting coexistence with other humans on Earth—are the last ray of hope left to destroy.
Leonor Courtoisie
Translated by Isabella Corletto