Lo oscuro que hay en mí. Horacio Convertini. Buenos Aires: Alfaguara. 2021. 256 pages.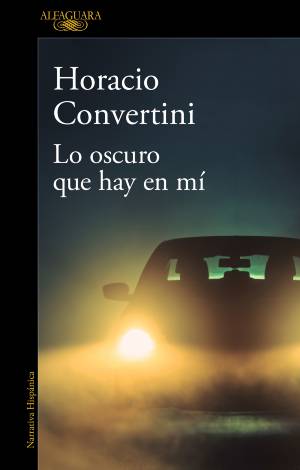 When the day-to-day strikes us as unsubstantial and the future appears to promise little, it is not odd (not as odd as it may seem) that we seek escape in the past. Revisiting our own past can give way to a change, a reinterpretation of our identity that allows us to modify the present. Is that not, perhaps, what psychoanalysis is all about? In Lo oscuro que hay en mí , the new novel by Horacio Convertini, the protagonist decides to look into that which lies hidden behind the apparent normality of his family's past, though not exactly from a psychiatrist's office.
Luis Daverza is a public employee with very few aspirations. His father, "El Gringo" Daverza, a traveling salesman, was the one who gave Luis that position and convinced him of the advantages of working in a municipal office, with a secure monthly salary and where the possibility of being fired is practically null. Luis is married to Virginia, and both live a life without surprises, yet neither of the two is very satisfied with it.
This disconformity is exposed when, after the death of his father, Luis discovers a bag of one hundred thousand dollars in the apartment that "El Gringo" rented. That money ignites the desire for social climbing in Virginia, while for Luis it will awaken an interest in revealing who his father actually was and what secrets that solitary and reserved man hid behind a job that, at a glance, was overly calm. It could be said that Luis has a hunch that his life might take a 180-degree turn after that instant and, having already determined to shake himself from his apathy, understands that he must unravel the mystery around his father in order to shape his own destiny.
Then, he starts to recall memories, from his childhood, of shared moments with that frugal man from whom he rarely received more than apathetic advice. Memories that allow Luis to give a more precise meaning to the incidents that keep happening in a vertiginous way. Conversations, phrases heard during his childhood around the family table, images thought trivial at first that remained engraved in his memory and now act as clues, signs that will help in the search for the missing pieces of his father's unknown past.
In that search, Luis is also trying to decipher his identity, that which is part of him even if he says otherwise, and which can be both a salvation and a condemnation at once.
It is not easy recognizing oneself in others. Luis sees himself as different from his father, even though the reader can notice that the similarities between the two are plenty. Luis has inherited a certain frugality in relation to other people from "El Gringo," and a noticeable devotion to family. In the middle of the mediocracy in which he finds himself, what motivates Luis to continue forward is his love for Virginia, even though their routine has worn away at their relationship and living together has become more difficult over the years.
However, that is not the only thing Luis inherited from "El Gringo." The father and son have something else in common, something that the protagonist will come to notice within himself little by little. A particular talent that could have just as well remained undiscovered until the day he dies, but that, from the moment he decides to dig up his origin, will gradually go on revealing itself.
The noir genre suits Convertini well. His experience as a journalist (he was also head of the Crime Report section of the newspaper Clarín) might in part explain his ability to generate suspense with an amazing range of resources. In previous books, he had already worked with the genre and also with middle-class characters, without any goals or anything that makes them stand out, whose routine is disrupted by an unexpected circumstance that they must deal with.
In the case of Lo oscuro que hay en mí, the Costumbrism that frames the novel serves as a background which, little by little, unfolds the mystery. As if from the very daily life of the Buenos Aires middle class itself, Convertini manages to paint a chiaroscuro and make the rift more noticeable between the running themes of the first chapters and the strangeness, the singularity, which in a subtle way, page by page, continues gaining ground.
The structure is as precise as it is effective, with interspersed chapters, each one very different from the other, that build distinct subplots and temporal units. That difference between some chapters and others is not haphazard, but rather produces a type of syncope that strengthens the rhythm and gives weight to the story. On the one hand, the suspense, which gives the novel a thriller-like quality, continues to grow until it blows up exponentially. On the other hand, it accentuates the intimist perspective focused on the desires and frustrations of Luis Daverza more and more. Those two aims, which in the first few chapters progress through different routes, end up converging. Thereafter, the narrative tension carries the reader to the end, without stopping.
Ariel Urquiza
Translated by Jared Peterson