Quito: El Ángel Editor and El Taller Blanco Ediciones. 2021. 135 pages.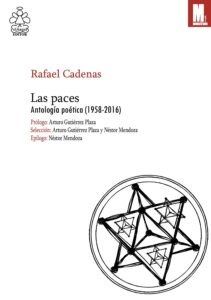 Once again, we are in the presence of Rafael Cadenas. His peaceful gaze settles on the face of the one writing this: "How are things in Maracay?" My answer is a sort of masked question affirmed in the almost-inaudible voice of the poet: "Not good," and then he takes a sip of water from the glass he is holding with his right hand while his left rubs the leather of the briefcase hanging from his body. I watch him shift to a corner of the window of La Poeteca and there he stays. I go behind him and we watch the plaza together. He smiles. He touches my arm and takes his leave amidst the people who chat and turn to greet him. Rafael Cadenas leaves the premises. The joy of having seen him lingers in the air. Of having had him as a companion for a while in that Caracas of a few months ago.
Now, again, I am with Cadenas. An anthology, published by El Ángel Editor and El Taller Blanco Ediciones in Quito, Ecuador in 2021, accounts for the work of the Larense poet from 1958 to 2016, titled Las paces, with two excellent essays by Arturo Gutiérrez Plaza and Néstor Mendoza, respectively, a prologue and epilogue that turn out to be a luxurious read thanks to their depth and beauty. And here are his books: The Exile Notebooks (1960), False Maneuvers (1966), Exposure and Memoranda (1977), Lover (1983), Dealings (1993), Open Envelope (2012), and About Basho and Other Matters (2016). 
This, then, is a selection that contains only Cadenas's poetry. His essays, aphorisms, and writings in which the author reflects on the surrounding reality are part of another universe, such as Annotations, published by Fundarte in 1983, and On Language, along with other publications that have wandered to and fro among readers. Rafael Cadenas went on to say: "I am simply a man who doesn't breathe well," according to the epigraph I am referencing to write this review. 
In the volume Entrevistas, published by Ediciones La Oruga Luminosa / Colección Voces Secuestradas in May of 2000, directed by Orlando Barreto from San Felipe in the state of Yaracuy, Cadenas tells Enrique Arenas he does not go by any conception of poetry: "…I have never worried about having a conception of what poetry should be, but I lean toward the direct expression of feelings and not toward expression through a motif. Perhaps the latter is superior. However, I believe that it is off-limits to me, or at least very difficult."
The word "difficult" or "I forget the expression" are part of many statements that Cadenas has made during open interviews and even in private. As such, we are in the presence of a man who finds in sobriety a conception that is not based on a preconceived disposition, but on his nature. Cadenas is a man who moves through brevity, through sharp silence in poems where depth expresses the brokenness of an abundant, verbose, and overwhelming reality.  
Juan Carlos Santaella, quoted by Patricia Guzmán in the same book, Entrevistas, emphasizes: "I do not understand why Cadenas has sometimes been reproached for a sick self-absorption when, on the contrary, his poetry, just like his reflections, are impetuous, frank, devastating." Indeed, the poetry of Rafael Cadenas is direct and unambiguous, not taking curves. In one of his poetics, the one most repeated by many readers, he says: "Let each word carry what it says. / Let it be like the tremor that sustains it. / Let it maintain itself like a heartbeat." And in Dealings, he insists: "I've never known all I wanted / about words. // Neglected at one time ,/ they don't seek me out."
"I too, Auden, have / the best dictionaries that money can buy. // Pieces that line up / out of breath. // Our life is tough, / lags, / seethes. // I don't want style, / but honesty." That honesty, which moves away from style, is the poetry that encompasses all of Rafael Cadenas's work. To complete the above, Arturo Gutiérrez Plaza specifies:
His search is framed, therefore, in other fields, refusing to fall into either antipoetry or counterpoetry. Distant also from nationalistic invocations and with a perspective that surpasses the narrowness of the regional, rather than taking an interest in his role as a poet, his inquiry, as a guardian of language, perhaps consists of reconciling word and silence ontologically.
For his part, Néstor Mendoza writes: "His contrasting role as a poet could be, who knows, to unveil the ability to socialize and rediscover the unseen of the present in every daily exercise; and to bring us closer as citizens, as men and women capable of a consensual understanding, above any body of dogma."
All of Cadenas's poetry might seem to be poetics. Poetics that extend from his first "island" to the last one that appears in the immense sea of his words. This anthology collects the sober and wise spirit of the Venezuelan poet, who, from his work as an essayist, sees and collects himself in each of his reflections. 
Alberto Hernández
Translated by Lauren Biglow
The Middlebury Institute of International Studies at Monterey