Santiago: LOM ediciones. 2022. 161 pages.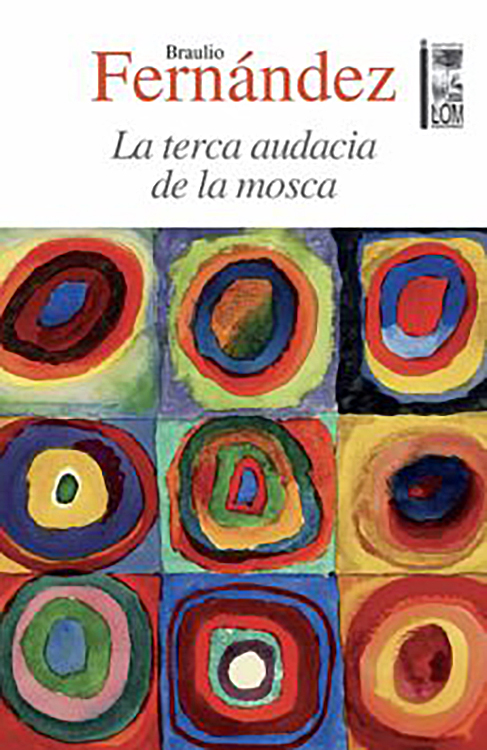 Braulio Fernández Biggs holds a Ph.D. in Literature and is a storyteller, translator, teacher, and  researcher. He has published Corazón de buey (1993), El ciego y los tuertos (2015), Orfeo y Eurídice (2016), and Una novelita inglesa (2018), to which he now adds a volume of short stories, La terca audacia de la mosca (2022).
La terca audacia de la mosca, divided into twelve stories with different subjects, covers themes such as the world of children, spanning from children's games, metaphorized in the cruelty of the world and the magic of miracles, to a final tribute that recalls an afternoon of jazz in Oklahoma City. 
The structure of the stories is similar, circular, and they bite their tails through formulaic repetition: a technique that helps the reader constantly maintain the tension and not lose the point of view from the inception of the fragment.
"A TASTE FOR CINEMA AND THE ELIZABETHAN ERA ARE EVIDENT IN THIS TEXT, WHEREIN FERNÁNDEZ BIGGS PRESENTS STORIES IMMERSED IN THOSE ENVIRONMENTS"
The book reveals a series of autobiographical elements that could be read as in complete accordance with events that befell the world during the COVID-19 pandemic; however, the book, completed in 2016, evidently echoes other historical, cultural, and lived relationships, like the author's trips to the United States, tributes to friends, or references in the form of epigraphs. A taste for cinema and the Elizabethan era are evident in this text, wherein Fernández Biggs presents stories immersed in those environments, which always have a familiar aspect about them. The main character, often the omniscient narrator (sometimes transformed into that character), relates events that, from their perspective, are sometimes metaphorically inaccessible.
The tone of Fernández Biggs' writing is extremely fluid, with events unfolding sometimes as a proper narrative and other times through short dialogues, but always with remarkable and piercing speed.
Likewise, the atmospheres found in these stories tend to take the reader to recognizable yet distant places. It can, however, be inferred, as previously stated, that there is a correlation with events belonging to the circumstantial world that traverses the autobiographical and mythological.
From this compilation, I particularly appreciate the recurring use of childhood as a narrative device, which grows ever more symbolic and elusive. This triggers surprise and suspicion, the incursion into the realm of the forgotten, the return to mythical places, and the search for origins.
For example, "¡Evohé!",1 the story that opens the compilation, is precisely a tale of haste, where childhood is blurred in a world of adults. On the other hand, "Oklahoma" and "Todos debemos aprender del jazz (una dedicatoria final)" capture auto- and metafictional experiences of a Fernández Biggs who reminisces and pays homage to two of his best friends, passing them into the world of fiction and expressing gratitude for their presence in his life.
La terca audacia de la mosca, a homeric title for a work of internal exploration, is a disquieting compilation that captivates from beginning to end and invites the reader to immerse themself in a multifaceted plot that demands much more than merely attentive reading.
Translated by Marit Eiler
1
Translator's note: "Evohe" or "Evoe" is an exclamation of Bacchic frenzy, meant to praise or invoke the Greek god Dionysus.