La perra. Pilar Quintana. Bogotá: Penguin Random House. 2018. 108 pages.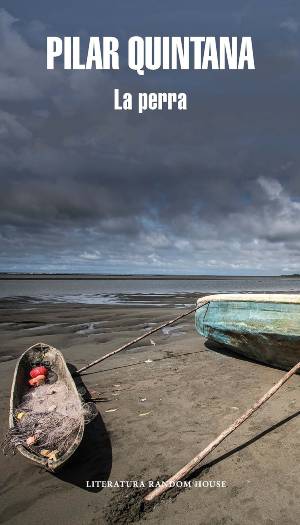 One could say that the desire to create lies at the core of human existence. By creation I refer to the aspiration to give life to a work or a project, and of course, to the experience of motherhood that some women regard as the pinnacle of their personal and couple realization, or as part of their vital process. However, in La perra (2017), soon to be available in English translation by Lisa Dillman as The Bitch, Colombian writer Pilar Quintana explores this truncated desire and how this frustration brings back the protagonist's memories about loss, violence, isolation, and loneliness. For those readers accustomed to novels set in urban landscapes, Quintana recreates a wild narrative universe in which the voracity of the jungle, rain, sea, and humidity frame the daily life of the characters of this short novel. The protagonist, Damaris, and her husband Rogelio, both Afro-descendants, live in a village composed of "…one long packed-sand road, with houses on either side. All of the houses were rundown, raised up on stilts, and had wood-plank walls and roofs black with mold" (11) near the Buenaventura port on the Colombian pacific coast. Although this is Colombia's most important connection to international markets and one of the most biologically diverse regions on earth, at the same time, it is one of the poorest regions in the country due to the historical neglect of the national state. This historical neglect is associated with  structural racism against Afro-descendant and indigenous populations who predominantly inhabit this part of the country.
La perra begins with an anecdote that triggers the plot of the novel and places on stage the story's two main characters, Damaris and Chirli. In the aftermath of the death of a female dog that has left a litter of puppies, Damaris adopts the only female and names her Chirli, as she would have liked her daughter to be named. Facing the dog's death, the narrator states that "[p]lenty of town dogs died by poison. Some people said folks killed them on purpose but Damaris couldn't believe anybody would do such a thing and thought they ate the rat bait people put out by mistake…" With Chirli's arrival at the protagonist's house, we enter the domestic space of the main characters and Damaris's inner world. The narrative moves around Damaris's daily life as she prepares food, sweeps and mops the floor, organizes the house, cares for Chirli, and remembers some of her painful life events. Among them, she recalls and copes with the frustration of her inability to get pregnant. These emotions have given her a permanent sense of not fitting in her relationship with Rogelio and her relatives.
It is important to highlight Quintana's interest in portraying how the cultural values associated with motherhood negatively affects Damaris. It is believed that women should get pregnant during the first years of marriage since children symbolize the success of the marital union and its reproductive capacity. Failing to accomplish that has frustrated Damaris and Rogelio as "people started saying 'Where are the babies?' and 'Sure taking your time,'" but she was the one who looked for solutions and then was blamed for the failure: "But two more years went by and then they had to tell anyone who asked that she just wasn't getting pregnant. People started to avoid the topic and Aunt Gilma suggested Damaris go see Santos [a witch doctor]." At that time, Damaris was in her early twenties but now that she is almost forty years old and her family considers her too old to have a baby. Although some women and feminist movements have criticized this social imaginary about motherhood and the female body, Quintana offers the reader a unique and creative way to address this issue: from the subjectivity of an Afro-descendant woman who lives in a liminal area and carries the social precepts of her family on her shoulders.
As a secondary narrative thread, Quintana problematizes the perception of remoteness and difficult access that urban centers such as Cali and Bogotá have imposed upon the Pacific region besides the Buenaventura port. The narration of a traumatic event that affects the Reyes, a well-off family originally from Cali that resides in Bogotá, opens a conversation about the potential of the region as a tourist destination, tensions over land ownership, and the class and racial gap between locals and tourists. The Reyes and Damaris's family were neighbors for  almost twenty five years until the Reyes abandoned their vacation house and never came back. As time passed, Damaris and Rogelio became the housekeepers with the hope that the Reyes would return some day. One of the most outstanding features of Quintana's novel is that social and racial issues are metaphorically intertwined with and narrated from Damaris's point of view. Her memories from childhood and efforts to keep the Reyes's house intact, just as it was left, symbolizes the obstinacy of memory and the difficulty of coping with trauma.
Since its first edition in 2017, this short novel has been reprinted five times and has become an editorial success not only in Colombia, but also in Latin America in general. The first English edition is expected to be launched this August under the title The Bitch. "La perra" —the original title of the novel in Spanish— has a double meaning. On one side, it means "female dog," while on the other it has a pejorative connotation; it is an insult against women, like "bitch" in the English language.  In the context of the novel, it is a provocative title that invites us to rethink our relationship with animals, frustration, and social expectations. Beyond its commercial success, La perra is one of the most important contemporary novels in Colombia as it broadens the places, voices, and subjectivities from which everyday life, femininity, and motherhood are depicted and narrated.
Liz Moreno Chuquen
Idaho State University
The English translation by Lisa Dillman is now available from World Editions, and a translation preview appears in this issue of LALT.
Liz Moreno Chuquen is an assistant professor in the Department of Global Studies and Languages at Idaho State University, where she teaches Critical Theory, Latin American Film and Literature, and Advanced Composition in Spanish to undergraduate and graduate students. She specializes in Afro-Latin American Studies and Visual Culture. Specifically, her research deals with the intersection between race, space, non-official archives, and cultural production by and about Afro-descendants in Argentina and Colombia.