Los días del encierro. Carlos Orlando Pardo. Ibagué-Tolima, Colombia: Pijao Editores. 2020. 100 pages.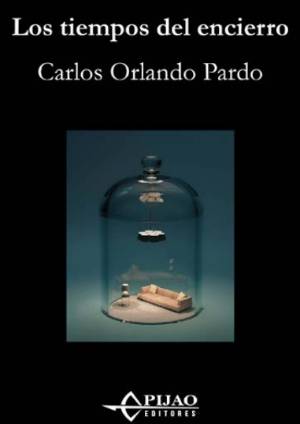 In his most recent book, Los días del encierro [Lockdown days], Colombian writer Carlos Orlando Pardo elaborates a text in which he lends visibility to life during the times of Covid-19. He does this in the style of chronicle, newspaper report, and narrative. In this book, all contemporary readers will immediately recognize the context of the text because it resembles their present.
In Los días del encierro, Carlos Orlando Pardo positions himself as a character-narrator who writes from Tolima, Ibagué in Colombia as part of a thirty-day writing exercise. Thus, even without knowing how the situation will end, Carlos Orlando Pardo writes the first book about and during the pandemic, all in hybrid form. The book is made up of 70 short texts that offer a global overview of the 2020 stay-at-home order. From the opening pages, the text informs its readers that it "plays not with originality but with popularity." The narrative form of the book highlights how our current experience is global, since we all maintain an  extensive online social network that facilitates international communication.
Furthermore, digital technologies nurture and inform the content of the text. Carlos Orlando Pardo is like a ragpicker among all the modalities of writing that circulate on the internet, where he collects and accumulates all that linguistic digital waste. Carlos Orlando Pardo "[…] collects memes, press reports and fragmented stories, dives into people's occurrences, reproduces breakdowns, phrases, and makes a smoothie to recreate a moment." This is what allows readers to go from one story to another. Although it doesn't seem to be a common thread, the present itself is the great story: made up of digital fragments that form a mosaic, which, in its entirety, gives visibility to the days of confinement that the reader himself is experiencing.
At a structural level, Los días del encierro has the format of a newspaper, an internet search, or novels such as Limbo by Agustín Fernández Mallo and Don Quixote by Miguel de Cervantes, or even The Bible. This is because each fragment tells a brief story. Each fragment is a mini universe. As an example, here is a sequence of sentences that account for the content of the book; "Everything was crazy and the world was a madhouse" (32), "Finally I see that inequality shines like a blinding sun that I wish would move the rich to help" (32), "All the lawlessness is coming to the fore and the news says it as if it were an announcement of the weather, and that in the United States, 50 million people are starving. Some continue to chase the American Dream when this same anguish also continues to spread over these parts of the world" (33), " My back hurts, says another, but my country needs me and I will continue to lie down. Well, go to sleep, tomorrow it is time to rest again" (49), "The agony of waiting lengthens and grows a lot, the same as poverty shot up, even more in the recession. For now the makeup is falling and each one is left with their true face like the cardboard boxes they mass produce in Guayaquil to replace the coffins that have run out" (49), "The disinformation moves as fast as the pandemic, but in the midst of everything, what was pleasing was that it really was not the end of the world but the beginning of a new one"(52), "Some put the thumb-up sign simply to approve "(54), "At least there is good news because for those who don't have Internet, some teachers will give their classes on the radio"(55), "I am hungry for justice because, as Gandhi says, 'there are people so hungry in the world that God only appears to them in the form of bread' I think of Balzac who one day wrote: 'Hunger makes the wolf go out of the forest'"(57), "The Zoom disappears" (61), "Fear like the fear of now, if you went out and a tiny monster, son of Satan, swallowed your lungs little by little" (67), "I just sat there looking at the images of a baby elephant that cried for five hours when separated from its mother and a rhino that was walking peacefully in Nepal" (71), "[…] saving lives or saving money, among the ways of looking at the world" (78 ), "In the end I decided to go hand in hand with Dante himself and I went to his hell and his paradise going through the circles of that strange world" (79), "Many are the pieces of advice that get up early and arrive at the house without ringing the bell. Some speak of the definitive goodness of masks because they reduce how much we can see of the faces of assholes, who form 50% of us, and others even worse…" (93), "No, some of them contradict: we are not in the same boat but in the same sea. Some are on a yacht, others on a boat, some on life jackets and others swimming with all their strength" (95), "and the days were understood as simple photocopies of traced-out routines" (99).
In this conglomerate of quotes, we can find many current topics. Many sentences can be read like micro-fiction. Everything is short. This gives a certain rhythm to the reading, and while it can seem like a quick read, the book requires pause and contemplation. Reading it too quickly would be missing the details. Just like Joris-Karl Huysmans in Against Nature (1884), Carlos Orlando Pardo is at home, just like Des Esseintes who secludes himself at home to present the reader his tastes in life. Carlos Orlando Pardo heads to his cell phone and computer to present his tastes to the reader. The book also highlights the importance of digital platforms found on social networks such as Facebook, WhatsApp, Zoom, and Google Maps. On the other hand, throughout the text there are endless literary references to the European and Latin American literary canon. There is an emphasis on how the coronavirus is affecting major cities such as Paris, Washington D.C., Bogotá, New York, and Guayaquil, and on on offering a biocentric vision by giving visibility to the environment and animals. Some of the fragments take the reader into Colombia's past, referring back to la violencia and the Armero tragedy. Finally, the Latin American spirit in the face of uncertainty is what comes to light in Los días del encierro. Time and again, the character-narrator returns to the family nucleus to obtain the strength that gives him the spirit to continue. That Latin American spirit is the ability to know how to laugh and have a good sense of humor even when everything seems to have gone to hell.
In the book, perhaps the most important theme that stands out is the feeling that one can face death at any given time, and according to Carlos Orlando Pardo, this is what led us to fear and panic as a global community. Perhaps this is what led Carlos Orlando Pardo to write this first book about the pandemic. This book, now and tomorrow, will be read by many because it accounts for that strangeness we experienced a few months ago, and that we continue to live through, now, without knowing when it will all end.
Julio Enríquez Omelas
Julio Enríquez Ornelas completed his Ph.D. at the University of California, Riverside. He is an Assistant Professor of Spanish at Millikin University, where he was named a Coleman Fellow and James Millikin Estate-Professor in Education. His research centers on Mexican Studies, Latinx Studies, and Colombian Studies. His critical and creative work has appeared in Hispania, Journal of the Midwest Modern Language Association, Textos Híbridos, Alchemy: Journal of Translation, El BeisMan, "The Open Letter" by Ediciones Patito, and Suburbano.