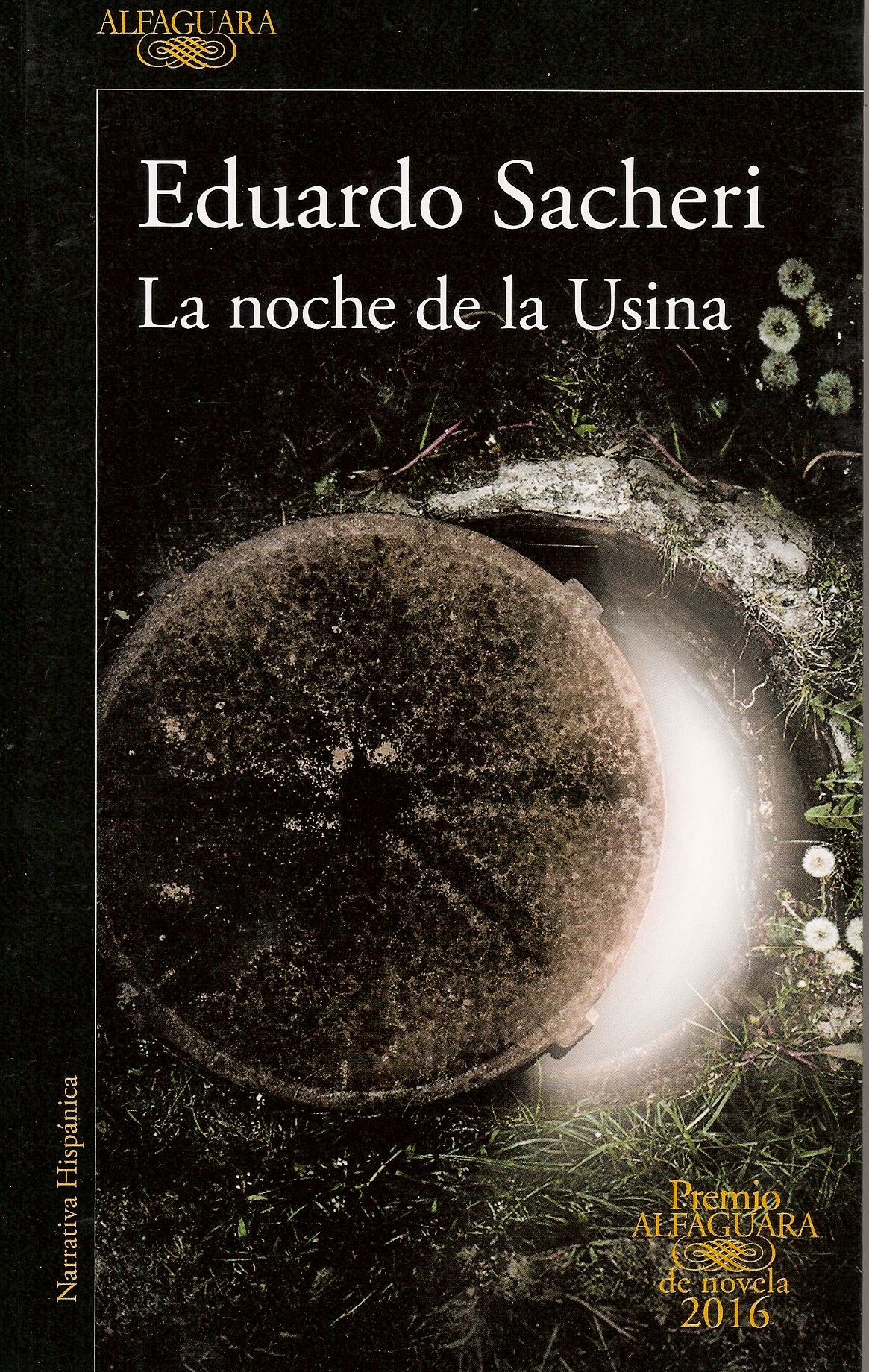 La noche de la usina. Eduardo Sacheri. Barcelona: Random House, Alfaguara. 2016. 362 pages.
The new novel by Eduardo Sacheri (Buenos Aires, 1967) – prospectively titled The Night of the Heroic Losers in English – which was awarded the Premio Alfaguara 2016, takes us to the Argentine crisis of 2001, when the government of Fernando de la Rúa imposed a set of economic restrictions known as the Corralito1 and thousands of Argentines lost access to their savings. It is, therefore, a novel of the crisis of neoliberalism, the savagery of capitalism, and the shady financial dealings that allow a small group to take advantage of the majority and get rich quick. It's a novel about economic ambition and the human obsession with accumulating wealth.
The novel's action takes place in a town called O'Connor, near General Villegas, in the province of Buenos Aires, just where the Pampas begin. It's a little town full of simple people, where everyone knows everyone else and there are no secrets. The novel's story is rooted in this small-town context, where a banker and an unscrupulous businessman steal the savings of a group of lower-middle-class men who want to make a deal that would benefit their town. The main character is Fermín Perlassi, who was a soccer player in his youth before going to Buenos Aires to play for a city team and later returning to his hometown. With the money he earned in the capital, he bought a gas station and earned his living peacefully, minding his business with his wife and son.
The novel is written in a conversational style, narrated in the third person by an omniscient narrator who shows obvious affection for the novel's poor characters. The narrator often uses phrases indicating doubt, beginning with "let's say," "maybe," "perhaps," etc. That is to say, the narrator speaks in a somewhat uncertain tone, as if he were not completely sure of what he was telling, or as if he were trying to understand the events as he narrates them. This gives the novel an air of familiarity, a sense of interpersonal confidence, as if we were sitting together in a café listening to the author himself tell us the story. Sacheri is known for his novel La pregunta de sus ojos [The question in their eyes] (2005), which Juan José Campanella reimagined on film as El secreto de sus ojos [The Secret in Their Eyes] (2009), going on to win the Oscar for Best Foreign Language Film in 2010.
The businessman, Fortunato Manzi, is a lively and successful character who takes advantage of any opportunity to make money. Among his various business ventures is a gas station situated near the entrance to town by the side of a new highway; thanks to this location, his gas station claims much of Perlassi's business. Manzi, conspiring with Alvarado, the bank manager, claims the dollars that Perlassi and his friends deposited while they were buying La Milagrosa, an abandoned factory, whose silos they want to use to store their grains. On that very weekend, the Argentine government declares the Corralito, and on Monday the men wake up to the news that they can't get their money out of the bank. A few months later, they realize that Manzi has built a vault out in the countryside in which to store their dollars, and the six honest men go through many hardships to get their money back.
Fermín Perlassi's wife is Silvia, a calm and caring woman who dies in a car accident on a morning when they are both out running errands. Silvia's death destroys Perlassi, who never recovers from this pain. Although he is left with his son, Rodrigo, with whom he tries to establish a good relationship, Perlassi is almost a dead man: he has lost his money and his friends' money, not to mention his wife. These somber events provide the complement to the tragedy that gives rise to the entire story. The only way Perlassi can redeem himself is by getting the money back.
Antonio Fontana is a close friend of Perlassi's, and in his house he runs a "gomería" – a shop where he repairs wheels and tires. He is a devotee of Raúl Alfonsín, the former president of Argentina, and he is one of Perlassi's key accomplices in the novel. Francisco Lorgio is the third main character: the owner of a transportation company, he is financially comfortable and he has a son named Hernán with whom he maintains a troubled relationship. Lorgio suffers from the sadness of the immigrant, the sadness he saw in his parents who emigrated from Italy and never managed to completely adapt to Argentina, a nostalgia with deep and heavy roots. The fourth member of this group of friends is Alfredo Belaúnde, the railway station manager, who drives a two-horsepower Citröen so old that all his friends laugh when he goes so far as to call it a car. Between the four friends and other town residents, they manage to pull together 242,000 dollars to invest in buying La Milagrosa, with its abandoned silos on the outskirts of town, so they can get them back in working order and save the grains from the upcoming harvest. Four friends, already getting on in age, plan to make a business deal that will simultaneously help local farmers to store their harvest and sell their crops.
There are few literary references in the novel. On page 94, when the friends are discussing the pit that Manzi dug in order to hide all their cash, Perlassi mentions the short story "Cavar un foso" [To dig a grave] by Adolfo Bioy Casares, included in the book El lado de la sombra [The side of the shadow] (1962). On page 331, Rodrigo, Fermín Perlassi's son, references The Centurions, a novel by Jean Larteguy, but La noche de la usina is not a particularly literary novel. Like all of Sacheri's work, it is a novel about human problems, designed to be read easily and understood by all of its readers. Neither is it a novel with many cinematographic references, but when Perlassi is thinking about how to rob the vault, he sits down to watch heist movies in search of ideas. The films he watches are pirated Hollywood movies, confiscated by the government and lent to him by a friend. In all respects, the novel is directed to a wide and general audience.
Perlassi and his friends don't want to steal Manzi's money; they want to recover what he stole from them. Their idea is to take their $242,000 and leave the rest, but, when the moment arrives – since things don't go exactly according to plan – they leave with all the money in the vault, planning to return Manzi's share. At the end of the novel, Hernán, Belaúnde's son, disappears with the extra money. And so, we can say that the main theme of this novel is integrity, honesty, something that the Argentine government revealed itself to lack and something that is in short supply in our times.
This is also a novel about love and friendship. Rodrigo Perlassi, while pretending to be looking after the plants at Manzi's office, falls in love with his secretary, Florencia, a very beautiful woman, but he never confesses his love for her. Many months pass, and in the novel's epilogue he bumps into her on the street in La Plata, the city where he studies. At that moment, Florencia tells him that she is in love with him and they get together. But the true love story of the novel is the story of Fermín Perlassi and his wife, Silvia, which ends tragically in the car accident I mentioned above. Perlassi never gets over this tragedy, and the novel shows us a man who has lost everything, but who tries to find himself again through a sort of vengeance, bringing about justice for himself and his friends.
La noche de la usina is a novel with a relatively simple structure that is easy to read, interesting, and written in a commercial style like almost all the recipients of the Alfaguara Prize. At the same time, it impressively reflects the tragedy of a corrupt society in which a small group of honest men must try to defend themselves from falling victim to the savagery of capitalism.
Nicasio Urbina
University of Cincinnati
1The Corralito, meaning "small enclosure" or "playpen," was a measure implemented to stop a run on banks in Argentina. The measure limited the amount of money customers could withdraw from dollar-denominated accounts.