Función del diálogo en la narrativa de Ernest Hemingway. Alfredo Bryce Echenique. Lima: Universidad Ricardo Palma, 2018. 98 pages.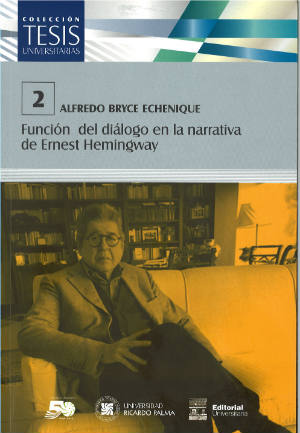 In October 1964, a young Peruvian lawyer named Alfredo Bryce Echenique left Lima for Paris, likely with some unanswered questions, but also with high hopes. He had just finished law school at the Universidad Nacional Mayor de San Marcos, motivated, perhaps, more by familial pressure than a true calling to practice law. At the same time Bryce had studied literature with distinguished Peruvian intellectuals from his era, having Luis Alberto Sánchez, Estuardo Núñez and Alberto Escobar, among others, as professors. He also read the work of one of his first literary masters, Ernest Hemingway, and had written this monograph for his degree. I dare imagine that during all those formative years at San Marcos, the legend of an adventurous and bohemian Hemingway in Paris had ripened in Bryce's mind, and by 1964, his heart was set on one thing: reaching the banks of the Seine, just like the renowned American author had before him, to live intensely and try his luck at the age-old art of story-telling.
We know full well how Bryce's trip to Paris and his true calling as a writer turned out. Not only is Bryce one of the most widely read authors in contemporary Peruvian literature, he has also contributed key texts to the Latin American literary canon. These include Un mundo para Julius [A World for Julius] (1970), La vida exagerada de Martín Romaña [The Exaggerated Life of Martín Romaña] (1981) and No me esperen en abril [Don't Wait for Me in April] (1995). Humor and the remarkable orality of Bryce's prose in these texts are two indispensable qualities of his writing, whether for narrating the grandeur or misery of the Peruvian upper class or for exploring the vicissitudes of alienation and the romantic escapades of his many Peruvian characters in Europe.
We know that all writers, before becoming writers, are first careful readers. They are likely endowed with a keen critical eye for availing themselves of the masters' expertise. This book fully chronicles this point. In it, Bryce carefully examines the importance of dialogue in Ernest Hemingway's stories and novels, highlighting its evolution into a crucial aspect of his narrative style. Subsequently, Hemingway handed down masterpieces in the short story genre such as "Indian Camp" (1924), "The Killers" (1927) and "The Snows of Kilimanjaro" (1936), to name three examples. Adding to these, Hemingway also made major contributions to the novel with works such as The Sun Also Rises (1926) and A Farewell to Arms (1929). In all these texts, dialogue fulfills a primary narrative function and, as Bryce shows, Hemingway's technique evolves over time and throughout his work. Dialogue settles in amid carefully worked prose, which, between its coldness and concision, always endeavors to be an objective and direct tool for depicting reality. Simple, precise words and a striking economy of expressive resources make up Hemingway's narrative language, leading him to develop the so-called "iceberg technique." This narrative style presumes that if language is rooted in an obstinate concision, it will always suggest much more than it seems to at first sight. For Bryce, Hemingway both "possesses a great ear which seizes, like a trap, all of language's colloquial accents and expressions" (27), and reduces, with his dialogue, "language to an essential pattern of expressions, questions and answers characteristic of the speaker, producing … an illusion of reality that is superior to what reality itself would give us." (27). Hemingway's originality in the art of story-telling lies exactly in this meticulous work with language.
In addition to examining Hemingway's technical and artistic contributions, Bryce's study also situates Hemingway's work in the proper context of American and European literature of his time, two worlds that had little knowledge of one another at the beginning of the twentieth century. For example, Bryce highlights the importance of authors such as Nathaniel Hawthorne, Herman Melville, Willian Dean Howells, and Henry James in the development of American literature. Above all others, he points to Mark Twain, a writer Hemingway admired for his colloquial use of language and the orality of his prose.
In addition to these predecessors, Bryce also comments on the role of other members of Hemingway's generation in renewing American literature in the first half of the twentieth century. These include William Faulkner, John Steinbeck, Erskine Caldwell and John Dos Passos. Of these authors, Bryce asserts that "Hemingway was … the most popular of those who elevated the American novel to a first-rate position… He was the most imitated author in and outside his home country, and his style was globally recognized." With Hemingway at the helm, American literature opened an important new space for a contemporary European readership, fostering a dialogue rich in artistic influences and new expressive possibilities on both sides of the Atlantic.
In many ways, this monograph is an invitation to re-read Hemingway's work and then to re-read Bryce as a writer in the making who is searching for his own narrative voice. While doing so, it is important to remember that we are in the 1960s, that is, in the future writer's formative years. Bryce is immersed in reading and learning the trade, and Hemingway is a crucial influence for him in that context. Perhaps the best evidence of Bryce's process of searching is his first book Huerto cerrado [Closed Garden] (1968). In this work, a handful of stories show Hemingway's influence in Bryce's concise and terse style. The stories narrate different learning experiences in the life of Manolo, a young man from Lima who is the stories' protagonist. Nick Adams, the protagonist of Hemingway's stories in the collection In Our Time (1925), which Bryce carefully analyzes in his study, is the model for Manolo. If Hemingway's work attracts the young Bryce to try his luck at writing short fiction, it also gives him a foothold for discovering his own voice for story-telling. Huerto cerrado contains the exquisitely constructed story "Con Jimmy, en Paracas," one of Bryce's most celebrated texts.  In it he debuts the exceptional orality of his prose, an element that would define his future literary work, most notably his novels.
Ernest Hemingway is, then, one of Bryce's first literary masters, as well as a first point of entry into Bryce's literary universe. Throughout his career, Bryce would repeatedly recall Hemingway's presence during his early years as a writer. In that sense, this book is a superb testimony of the beginning of their literary friendship, as well as another opportunity to reflect on the significance of two authors who, after forging their own literary paths, left their mark on the art of story-telling.
César Ferreira
University of Wisconsin-Milwaukee
Translated by Amy Olen
University of Wisconsin-Milwaukee