La Construcción Poética de lo Sagrado en "Alturas de Macchu Picchu" de Pablo Neruda. Roberto Onell. Hildesheim-Zurich-New York: OLMS. 2016. 400 pages.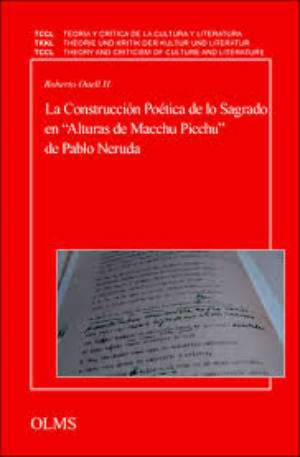 Neruda's poetry is a fountain of ebullient verses containing both tellurism and symbolism; they so characterize his poetic works, which await interpretation to reveal profound literary and cultural dialogue. Thus, his poetry crosses over from particular categories to universality: this is also how Roberto Onell understands it. In his book, he undertakes a rigorous and illuminating study of the poem, "Alturas de Macchu Picchu" in Neruda's Canto general (Mexico 1950). Its purpose is to determine the identity of the speaker alongside the revelation that he is "a man become a prophet, and a prophet become a messiah."
Onell invites us to accompany him on a hermeneutic journey to reveal the richness and complexity of Neruda's poetic language. It becomes evident that, among other aspects, "Alturas de Macchu Picchu" is "sucesivamente anunciada, sugerida, prefigurada, invocada, referida, cantada, alabada, y, en el fondo, poetizada" [successively announced, suggested, preconfigured, invoked, referred to, sung, praised, and, behind it all, made poetry]. (261). The results of this investigation can only be understood thanks to the methodological analysis chosen and implemented in its twelve parts, and in each one of the twenty-four verses that compose the poem. This process culminates in the application of reading methods that carry out and achieve the closest and most faithful approximation possible of the textual reality. To that end, and consistent with his objectives, Onell chooses to carry out a deductive analysis made possible by a heuristic reading and other hermeneutic methods. He also employs the concept of close reading, which allows him to attend to each constituent element of the poem and its meaning with exceptional delicacy. This takes place amidst full consistency and rigor in both literary and philological terms (367), given that that this is the only way that "ponen de manifiesto la función reveladora de una verdad que se ofrece sólo en el texto" [they make manifest the revelatory function of the truth that is only offered in the text] (24). In order to show this and confirm its starting point, the author structures his book into five parts, from which we refer to the first two, with a primary focus upon the second.
On one hand, in the first part, Onell proposes his objective and hypothesis, at the same time that he refutes the argument of various critics that associate the speaker of this poem directly with Neftalí Reyes. Though he probes this question throughout his analysis, it ends up completely refuted by the end. He places enormous emphasis upon bibliographical review, which he employs chronologically to the principle proposals from a reading of "Alturas de Macchu Picchu" and related ones from Canto general, where he emphasizes the notion that the "I" figure as Christ is seen only as a likeness and not an identification (57). On the other hand, in the second, longer part, one encounters his poetic analysis, whose care and indispensable methodology, referred to above, demonstrate that every detail affects meaning. I emphasize from this section the resonant, rhythmical, grammatical and metrical pre-understanding that the author achieves before analyzing a single part of the poem, given that, thanks to it, he expands his reflection into dimensions that normally are not considered sufficient in the heat of interpretation, provoking a wave of in tiny hypotheses to prove. Thanks to all of this, the poem is revealed as a sort of dynamic, sacred opening, whose conclusion is an ecumenical calling waiting masterfully in the wings.
I believe that this study reveals the intensity with which "Alturas de Macchu Picchu" was created. It demonstrates at the same time that with an adequate literary method, it is possible to contemplate this poem just as Neruda expressed: "Cúpula del silencio, patria pura."
Jennipher de los Ángeles Román Navarro
Universidad de los Andes
Translated by Michael Redzich