Como si existiese el perdón. Mariana Travacio. Buenos Aires: Metalúcida. 2018. 138 pages.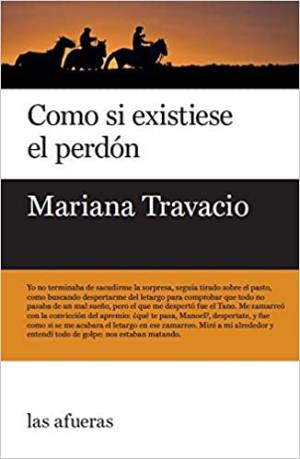 Mariana Travacio's Como si existiese el perdón [As if forgiveness existed] (Metalúcida, 2018) is a gripping and fast-paced novel that is hard to put down and even harder to stop thinking about. Divided into 62 short chapters, the novel is brief yet precise and intense. The brevity of each chapter is deceptive: they read quickly, but their effect is long-lasting. Violent and deeply psychological, the adjective that perhaps describes Travacio's narrative best is cinematic. Like scenes in a movie, each chapter is a powerful vignette that builds suspense and encourages binge-reading. But Reader, beware. You might perceive echoes and begin to question whether you have already encountered these characters before.
Set in the Argentinian countryside, the novel reads like a contemporary gaucho-style western. The characters are never explicitly referred to as gauchos, the literary figures akin to cowboys and popularized in nineteenth-century folletines [newspaper serials] in Argentina and Uruguay. Despite this omission, they come really close to the figure: like nineteenth-century gauchos, the characters in Como si existiese el perdón ride horses, play the guitar, drink, and see ghosts. Above all, they are ruled by the honor code of gauchos whereby justice equaled outlaw revenge and where brotherhood is the highest order. The emptiness of the land is reminiscent of the literary portrayals by urbanite nation-builders who sought to "fill" the deserted plains with fictions before settling on filling the land with profitable cattle.
The deserted land, the dust, and the plains contribute to the deeply unsettling feeling that the characters are trapped at the edge of a cycle that is both natural and pre-determined. In this sense, the novel is a western. It explores the psychological frontier between boyhood and manhood, between protection and action, between honor and revenge, and between myth and destiny. Revenge emerges as a natural consequence both because the landscape enables it and because it is expected, a destiny. Forgiveness, as the title indicates, is an illusion. Characters don't question their impulse to avenge those whom they have lost, rather, they accept the destiny they must fulfill in the never-ending cycle of revenge.
Told by Manoel, a young man who grew up having lost both his parents at an early age, the novel opens with the image of a dry, sleep-inducing wind from the North. The wind fills Manoel, whose biggest fear is to die of thirst. Manoel's strongest bond is with El Tano, the man who raised him. A father-like figure, El Tano teaches the boy about life as well as death and loss. Manoel is also cared for by El viejo Antonio, the carpenter tasked with making cribs for babies and coffins for men. One day, the Northern, dusty wind brings a forastero, a stranger who is one of the seven Loprete brothers, owners of the "campos de agua," distant fields of water and which Manoel, who grew up in the desert, cannot even conjure up in his imagination. Loprete's death sets the plot in motion. As his body is buried under the dry, dusty soil, Loprete's death uncovers the reason for Manoel's orphanhood. The Loprete brothers will seek revenge, and so will Manoel and El Tano, who team up with other men to carry out their destiny. Through a series of violent scenes that coalesce with flashbacks about past revenges, the narrative explores the various meanings of brotherhood and friendship.
The intense desire for revenge that Manoel feels is mirrored in his somewhat lack of interest in women, who are largely absent from the narrative. Except for daughters and sisters, whose nurturing roles are rather stereotypical, the absence of women is quite literal too: Loprete had arrived in Manoel and El Tano's town looking for a woman he had "lost." This loss is echoed in El Tano's confession that he too had arrived in town looking for a woman he couldn't find. Absent women also include women whose bodies are gone but whose ghosts haunt their husbands to the verge of madness, and women whose bodies remain but whose minds are gone.
The novel abounds in repetitions and echoes, characters that mirror each other, phrases that have been previously uttered. Within the narrative, characters are linked to one another by repeated gestures, mirrored circumstances, and shared events. Outside the novel, Como si existiese el perdón echoes gaucho stories such as José Hernández's long narrative poem, Martín Fierro (1872, 1879), Eduardo Gutiérrez's popular outlaw novel Juan Moreira (1879), as well as Ricardo Güiraldes's nostalgic portrayal of the disappearing gaucho in Don Segundo Sombra (1926). Above all, Travacio's novel reminds me of Jorge Luis Borges's short stories about gauchos, in particular "El fin" (1953), and "Biografía de Tadeo Isidoro Cruz (1829-1874)" (1949). In these, Borges narratively "kills" Martín Fierro only to give him a new lease on fictional life through "virtually inexhaustible repetitions, versions, perversions." It is hard to avoid the echoes and repetitions in Travacio's Como si existiese el perdón without taking into account the long shadow that Martín Fierro, and Borges, cast over Argentina's literature and the literature that followed it.
The new lease that Travacio grants gaucho westerns such as Como si existiese el perdón joins other contemporary works by Argentinian women writers such as Perla Suez's El país del diablo (2012), which recently won the Rómulo Gallegos Prize, Gabriela Cabezón Cámara's Las aventuras de la China Iron (2017), translated in English by Fiona Mackintosh and Iona Macintyre, and shortlisted for the International Booker Prize, and Selva Almada's El viento que arrasa (2012), translated into English by Chris Andrews. Looking toward the interior of the country and of the psyche, Travacio's novel sits at the intersection of several literary genres that cut deeply through psychological echoes, repetitions, and transgressions in an unsettling and unforgettable way.
Manuela Borzone
Lafayette College, Easton, PA
Proofread by Jenna Tang