Cipriano. Marta Orrantia. Bogotá: Literatura Random House, 2020. 224 pages.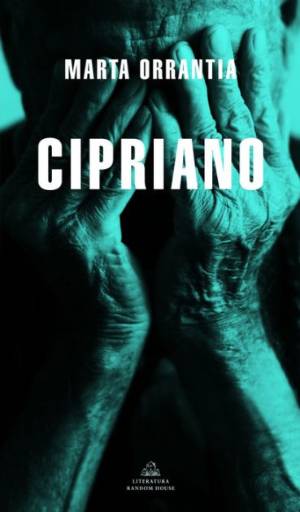 In Cipriano, her third published novel, Marta Orrantia wagers on a character entirely lacking in grandeur. She chooses to delve into the life of an antiquated, reclusive man whose story seems too commonplace to be told. This is, perhaps, the works' greatest success. Through the small sufferings of old age and everyday sorrow, the author succeeds in exploring the character's deeply human nature. This is no extraordinary man; rather, his pain and his contradictions are universal.
Cipriano has lost everything. At the age of seventy-six, he receives a phone call from an airline: his daughter has died in a plane crash. But that's not all: the remains of another passenger traveling on the same flight also match his DNA. Now Cipriano, recently widowed, a run-of-the-mill old man, gray and solitary, must grieve two losses: that of a daughter who stopped speaking to him years ago and that of a son he never even knew. And so begins his painful but revelatory quest to find out who his children really were.
Just a few months before, he thought he had everything sorted out. He had lived a small life, with a mediocre marriage and a simple job. He harbored few resentments, which he tried not to revisit too often. He was resigned to wait for death, at the margins of a world that struck him as ever more difficult to understand.
From the moment he gets the news, the old man paces circles in his miniscule apartment like a wounded animal, suffocated among the furniture and the photos of a life he lived, but that no longer belongs to him. He's afraid of the telephone. He eats little. He avoids the pain, filling in crossword puzzles and sudokus in the wee hours of the morning. During these days of emptiness, he is forced to reflect for the first time. What became of all that time he spent as a father and husband and brother? All he can do now is remember, in order to make sense of what once was. He scours his mind and finds only emptiness. He discovers how little he knows of the people who inhabit his past. In the midst of this disquiet, he turns to his only connection: his brother Néstor. Together, they set about the impossible task of rebuilding other people's lives: they fill out forms, visit offices, collect his daughter's belongings, tirelessly investigate the identity of his possible son, follow clues, debate, reproach each other, come closer together, and unearth a long-lost complicity overshadowed by secrets and silence.
Néstor and Cipriano confront misfortune step by step, with the patience of those who have lived through a great deal. They pick apart the stitches of a grudge held since their youth, and each begins to glean the other's tragedy. One has been left without a family; the other lives only to care for his wife, who has Alzheimer's. Each, in his own way, has lost his past. All they have left are memories and the fraying bond of brotherhood. This makes remembering one of the main actions in this novel, as it is perhaps in all novels about old age. Through these characters, Orrantia presents the possibility of remembering as an act that generates reality. The people, moments, and emotions that Cipriano and his brother salvage from the past serve them as a guide, not so much to know what once was, but rather to build a less fragmented present.
The story of this everyday man is no different from those of many anonymous old men and women who cross our paths every day. There is, perhaps, a Cipriano in every family, in every office, in every bus station. This one is extraordinary because he is built through the simultaneously critical and compassionate gaze of Marta Orrantia. The character brings the reader face to face with the abysmal solitude of the elderly; with the reality of someone who lives in a world he no longer forms part of; with the harshness of death as an ordinary event, and memory as the final resource with which to bear the present.
For this novel's protagonist, life is something that has always simply happened to him; his misfortunes have always been the fault of others, and of women in particular. Women—his daughter, his wife, his past loves—are a mysterious, indecipherable force. He prefers to think of them in these terms, rather than attempting to approach them as human beings. Cipriano embodies a distorted masculinity that is deeply rooted in Colombian culture. He carries within himself a machismo passed down by countless generations. He has never allowed himself to come to terms with his own emotions or to question the decisions that led him to this lonely old age. Only through loss is he compelled to recognize the wounds he has left on others. He finally tries to get to know Juana, his daughter and the only person he has ever let himself love with true generosity. Thanks to loss, he is challenged to understand her as a human being, to see her as a reflection of himself. The accident, his greatest tragedy, also becomes the catalyst of his transformation; it brings him closer to Juana and gives him the possibility of another son, from years earlier, somewhere, who perhaps was born with his same laugh or the same features on his face.
At the end of his life, Cipriano discovers that he still has a ways to go on the inside. Hopelessness seems to have offered him more than it took from him, and he is finally able to ask himself about his own mistakes. Through the act of remembering, the character transforms, renegotiating his identity and his relationships. With a touch of cowardice and selfishness, the gruff man begins to turn inwards. Of all transformations, this is perhaps one of the most subtle and powerful that literature can offer. Fiction is full of young people who become adults, or characters who suffer midlife crises or discover their own broken hearts. We meet few characters like Cipriano, with no aspiration to grandeur, with no life ahead of them, but still committed to the mammoth task of looking at themselves in retrospect and acting as a link between what was and what will be.
Andrea Beaudoin Valenzuela
Translated by Arthur Malcolm Dixon