The novels of Rodrigo Fresán have received major prizes in translation into other languages: his overall body of work won the Prix Roger Caillois in France in 2017, and The Invented Part was awarded the Best Translated Book Award in the United States in 2018 and was a finalist for the Premio Babel-Laboratorio Formentini in Italy in 2020.
His brimming, spellbinding books, which sometimes cover more than two thousand pages (as in the case of his triptych), can sometimes intimidate his readers. I think, though, that just one sentence of his is enough to reveal their true wonder. Like opening a little window to let in Peter Pan, or placing a new recollection in the palace of memory, here three of his translators reflect on the brilliant twists and turns of his work, all from one single sentence. Not an easy task because, as Giulia Zavagna tells us, "Fresán is many things, and his books are written, rewritten, and written about all the time. It's all there, like in a huge house you never want to leave because, bit by bit, you find everything you need."
María José Navia
Isabelle Gugnon, translator into French:
It's difficult to pick out just one sentence from the long and ever-growing body of work of Rodrigo Fresán, who is a big fan of inserts and last-minute addenda. The sentence I chose does not necessarily represent his obsessions, but it does, like many of his sentences, contain a good measure of his referential, light-footed, and sprightly style. It's from his latest novel, Melvill, on the genesis of the life and work of Herman Melville through the life and death of his father, Allan Melvill:
"Toda existencia, incluso la más en apariencia (pero sólo en apariencia) intrascendente (tanto la que se desprende del polvo colorido de las alas de una mariposa o brota del espiráculo de un leviatán) debe ser narrada; porque ignoramos los muchos modos en que esta pueda llegar a influir o afectar a la épica universal del más grande de los hombres por venir y vivir".1
This sentence does not present any apparent difficulty in understanding, but it does in translation; it is sinuous and playful. Intersected by two parentheses that appear as hooks (Fresán adores them), it makes the reader wait before minimizing "existencia," almost discounting it, classifying it as "intrascendente." But, at the same time, the first parenthesis warns the reader not to take stock in appearances, while the second seems to list a series of pretty images that could come from some sort of bestiary. The second parenthesis actually contains two references to authors whom Fresán cites often: Vladimir Nabokov and Herman Melville. The novel, titled Melvill, can be understood, veiledly or unveiledly, as talking about his white whale. The reference to Nabokov leads us straight to the passion for lepidopterous strolls of a writer to whom Fresán refers in almost all of his novels (in The Dreamed Part, he has him appear as the protagonist of a story inserted into the novel). Thus, as examples of "insignificant existences," the author seems to have found other lives. He then insists, in italics, that existence must be narrated, "debe ser narrada." But before it can be, seemingly neutral existence has passed through Fresán's pen and no longer corresponds to reality. Here he addresses the fallacy of any ostensibly realistic piece of writing. Pulled out of the imagination, literature cannot be realistic. But even so, who knows? Perhaps it can influence (albeit not in its own time) the entire "universal" moment yet to come. Is the sentence's ending meant to be ironic, or is it simply saying that anything artfully written, inspired by any life, if it is ignored in its own era, might be understood as a work of genius by a great man who has not yet been born and who will have to be a great reader too?
Despite its transparency, the sentence is ambiguous if it ends here. But Fresán continues with another reference, this time to the Tralfamadorian books of Kurt Vonnegut, who appears in all of his books, as if in a game: the dream of some "immensely small" volumes in which all stories fit. Everything mixes together: reality, fiction, literary references, trivial lives and great men—past, present, and future—through the act of reading and writing, in a sentence that is simple "en apariencia (pero sólo en apariencia)." 
Will Vanderhyden, translator into English:
Choosing one sentence that was particularly challenging/fun/difficult to translate from the ever-increasing number of Rodrigo Fresán's sentences that I've translated over the years has, appropriately, been difficult and fun and challenging. There are a lot of different ways I could have gone with this prompt: I might have delved into the challenges of rendering Fresánian wordplay or of unpacking his irrepressible referentiality; I might have explored the pitfalls of attempting to recreate his use of alliteration and juxtaposition or of sustaining multiple levels of meaning across his slippery extended metaphors. Essays could be written on the digressive and recursive nature of Fresán's style and on the intricacies of his sentences that, like Matryoshka dolls, nest within them miniature iterations of his larger project.
In the end, I chose a sentence from The Remembered Part, the third volume in Fresán's Parts triptych. It wasn't included in the original edition of La parte recordada but was one of many inserts that Fresán added during the process of translation. It appears in a series of sentences and paragraphs that describe a book the protagonist imagines writing, a book that is also, in a way, the book we are reading, and also, in still another way, all books. 
The Spanish version goes like this:
"Un libro que cometiese de manera perfecta y perdonable el crimen y pecado: probar fehacientemente que las vidas tienen una lógica y un orden que existe; que las vidas son, en realidad, novelas o libros de cuentos; que nacen y mueren, sí, pero entre un punto y otro empiezan y terminan varias veces y, en ocasiones, cierran sus partes y puertas dejándolas abiertas; que, mirando hacia atrás, descubran ese hilo secreto de destino corrigiendo y redactando toda secuencia (A y luego B y luego C) en trascendente consecuencia (A y por lo tanto B y por lo tanto C) y dotando así de sentido al pasado."
And this is how I translated it: 
"A book that would commit the perfect and pardonable crime and sin: proving irrefutably that lives have a logic and an order that exists; that lives are, really, novels or books of stories; that they are born and die, yes, but between the one point and the other they begin and end multiple times and, sometimes, they close off their parts and doors by leaving them open; that, looking back, they discover that secret thread of fate correcting and redacting all sequence (A and then B and then C) into transcendent consequence (A and thus B and thus C) and thereby giving meaning to the past."
I made a slight change to the syntax of the introductory clause. A more "faithful" version might have been: "A book that would commit the crime and sin in a perfect and pardonable way…" I found that construction to be awkward in English and, really, on another day, I might have taken further liberties and rewritten the clause like this: "A book that would commit the perfect crime and forgivable sin …" But, in the end, I decided it was important to maintain the alliteration and, though it may seem confusing, to have "perfect and pardonable" modify both "crime and sin." Woe betide the capricious contingencies of translation! 
The sentence has a typical Fresánian structure (the list) and features some of his characteristic orthographical tendencies (the liberal use of semicolons and parentheses). It has a primary, extended metaphor ("lives" as "novels or books of stories") and a secondary, implied metaphor ("lives"/"novels or books of stories" as structures with "parts and doors" that are closed off by being left open). 
Beyond specific translation challenges, what interests me most about this sentence is the way it distills the paradox at the heart of Fresán's Parts triptych. It's no coincidence that the triptych's protagonist writes a book called The Impossible Story: what he's hoping to do—to prove "that lives have a logic and an order that exists"—is impossible, as the sentence's final turn so exquisitely demonstrates. Any "logic" and "order" that lives have is constructed, a fiction that memory creates post facto, "looking back" and discovering "that secret thread of fate correcting and redacting all sequence into transcendent consequence." 
The protagonist of the Parts triptych is obsessed with the idea of escaping the darkness of his own past by rewriting it, and Fresán uses this obsession to explore the ways in which we all do that when we remember, when we make memory: giving in to the impulse to see our past how we want to see it, to turn it into a narrative that explains and justifies us to ourselves. To distill it down even further: "The past is a broken toy that everyone fixes in their own way."
Giulia Zavagna, translator into Italian:
To write this is to accept defeat from the start. Because it's hard. It's really hard to choose a single sentence with which to talk about the work of Rodrigo Fresán. I think I would find it hard to even choose a single paragraph, a single story, or a single novel—his work is that organic and full of intertextual references and characters (and songs, and films, and books) that appear, disappear, hide, and are chased through his pages, between commas and parentheses. It's hard because Fresán is many things, and his books are written, rewritten, and written about all the time. It's all there, like in a huge house you never want to leave because, bit by bit, you find everything you need.
It's hard for me as a reader because to isolate one sentence means, at the same time, to leave aside thousands of others that already form part of a sort of inner library of mine, to which I return again and again. I wonder if I should choose a sentence about writing; there are so many and they are so brilliant. Or perhaps one on reading, the fil rouge that passes through all his work in curves and spirals and knots and loops. I wonder if I should choose one of the countless sentences full of humor, the ones that make you think about how much fun the author was having while he wrote and how much fun you're having reading. Because Fresán's books can be very, very funny. Or one of the countless sentences full of melancholy, the ones that in two lines—sometimes less, two words—break your heart. Because Fresán's books can be very, very moving. I wonder if I should choose a long sentence, one of those that leaves you out of breath but jumping for pure admiration. Or a short sentence, one of those that go by all but unnoticed but still light up a whole new meaning. I wonder, even, if I should choose a sentence written by Fresán, or one written by Fitzgerald (Francis Scott, but also Penelope), Barthelme, Nabokov, Emily Brontë, Melville, Battiato, The Beatles: one of those that say so much about his work and his literature, crystallized in epigraphs or slipped between the lines, as if in invisible conversation.
And it's even harder for me as a translator due to the difficulty of illustrating, with a single sentence, the incredible journey that is coming face to face with a book by Fresán. Translation is many things; one of them is the impossible attempt to get into the head and the imagination and the language of another. Translating Fresán is translation squared: getting into the mind of a writer whose characters write and read all the time, a writer who is rewriting all the time, expanding his work and his world. I wonder if I should choose a sentence built out of that wordplay that kept me up at night. The one I had to rethink and rewrite the most, or the one that convinced me from the start and stayed as-is. I wonder if I should choose one of the sentences that gave me imposter syndrome (there are so many!) or one of those that, sitting at my desk at six in the morning, made me feel invincible (yes, once in a blue moon it happens to translators too). 
The fact is, I can't help but put off this choice—I, who choose and discard sentences and words all the time as a job—because I was lucky enough to translate just two books by Rodrigo Fresán, and this was, without a doubt, the most absurdly difficult and the most incredibly enjoyable work I've ever done. A book is many things; one of them is something that changes your life. And if every translation changes the way you read, your habits, your tics, and your preoccupations, my encounter with Fresán changed everything.
He says it himself in The Invented Part, one of those books full of spellbinding sentences: "one of those books that, with time's rapid passing, time's running, charges you the entrance fee of learning everything all over again: a brand new game with rules and […] a breathing all its own, a rhythm you have to absorb and follow if your goal is to climb up on the shore of the last page."
Sections by Isabelle Gugnon and Giulia Zavagna translated from Spanish to English by Arthur Malcolm Dixon
1
Translator's Note: To aid in comprehension, here is a (quite literal) translation into English of this sentence, attempted by Arthur Malcolm Dixon, translator into English of the Spanish portions of this text: "Every existence, even the most apparently (but only apparently) trivial (so much so that it falls off the colorful dust on a butterfly's wings or spouts out of a leviathan's blowhole) must be recounted; for we know not the many ways it might come to influence or affect the universal epic of the greatest of men yet to come and to live."
Photo: Argentine writer Rodrigo Fresán. © Basso Cannarsa / Opale.
After traveling around Latin America and working in the publishing field,
Isabelle Gugnon
has been working for years on translating Spanish-language literature. She is the translator of Rodrigo Fresán, Juan Gabriel Vásquez, Manuel Vilas, Antonio Muñoz Molina, Samanta Schweblin, Diego Vecchio, Dolores Reyes, Lorena Salazar Masso, Layla Martínez, and Fabián Martínez Siccardi.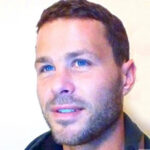 Will Vanderhyden
is a translator of Spanish-language literature with a BA in History from Lawrence University and an MA in Literary Translation from the University of Rochester. He has translated nine books of fiction for publication and his translations and writing have appeared in online and print publications like
Granta
,
Two Lines
,
The Literary Review
,
The Scofield
,
The Arkansas International
,
Literary Hub
,
Bomb Magazine
,
Purple
,
Future Tense
, and
Southwest Review
. His translations include work by Carlos Labbé, Rodrigo Fresán, Fernanda García Lao, Juan Villoro, Laura Fernández, Dainerys Machado Vento, Camila Fabbri, Juan Ignacio Boido, Andrés Felipe Solano, and Rodolfo Enrique Fogwill, among others. He received a residency fellowship from the Lannan Foundation in 2015 and National Endowment for the Arts Translation Fellowships in 2016 and 2023. In 2018, his translation of
The Invented Part
by Rodrigo Fresán won the Best Translated Book Award for fiction.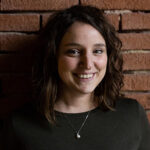 Giulia Zavagna
is a literary translator from Spanish to Italian. She has translated Julio Cortázar, Amparo Dávila, Rodrigo Fresán, Rodrigo Hasbún, Cristina Rivera Garza, and Camila Sosa Villada, among others. Her translations have also been featured in newspapers and magazines such as
Vanity Fair
,
The Passenger
,
La Repubblica
, and
La Stampa
. She is the editor of
SUR
, where she publishes classic and contemporary Latin American authors. She lives and works in Rome, where she every now and then offers literary translation workshops.