Carlos Labbé: Coreografías espirituales 
This is a story where the new is not at odds with the best of tradition; a fertile prose that drinks from the fountain of the classics and projects itself toward the future without becoming vain; a novel without a genre that pays respect to all genres. Bowed before a screen, a paraplegic vocalist writes the story of a famous rock band with his eyes and eyelids. Faced with this shameful text, the rest of The Group decides to begin correcting the chapters. The clues in English and Mapudungun, however, lead toward an earlier memory of the order of the Empire and the Counter-Empire that keep the world in submission. Carlos Labbé's new novel is indeed a musical autobiography; it is also a fable of the political movement that managed to bring justice to a nation, the sentimental story of a love triangle and the fragmented geneology of a rural family that raises a single, urban son. A mirror of the possibilities of the confessional story, Coreografías espirituales amplifies the work of one today's most relevant and unclassifiable Hispanic narrators.
.
.
Roberto Bolaño: Sepulcros de vaqueros
An indefatigable author, Roberto Bolaño disentangles himself with equal skill both in his lengthy novels that have brought him such fame and in his short stories and novellas. This volume includes three previously unpublished nouvelles: "Patria" [Homeland], "Sepulcros de vaqueros" [Cowboys' tombs], and "Comedia del horror de Francia" [French Comedy of horrors], in which the very best of the Chilean author's literary genre is present: Evil, violence, history, literature, irony, Mexico, Chile, love, suspense, searching… all of which shape his most celebrated characters, such as the ubiquitous and savage detective, Arturo Belano.
.
.
.
.
Héctor Aguilar Camín: Day In, Day Out
A drunken confession. Years dissolve in a blur of sex, drugs, and violence. With echoes of Raymond Chandler's The Big Sleep, Héctor Aguilar Camín's Day In, Day Out explores the lives of two darkly alluring sisters and the men pulled into their orbit. While attending the funeral of an old acquaintance, dissolute writer Serrano runs into a former rival, a doctor of criminology known simply as el Pato [the Duck]. The encounter throws Serrano back to the erotically charged bohemian nightlife of 1970s Mexico City, when both men vied for the attention of Liliana Montoya, an enigmatic nightclub singer who may have ordered a murder to defend her sister's honor. As Serrano digs into a past filled with excess and deceit, he finds himself questioning Liliana's sanity – and his own. Day In, Day Out is a vivid chronicle of lust, obsession, and madness that will appeal to fans of literary crime novels and Latin American fiction.
.
.
.
Rodrigo Hasbún: Affections
Inspired by real events and set against the optimism and turbulence of the 1950s and 1960s, Affections is the story of the fascinating Ertl clan, headed by the egocentric Hans, once the cameraman for the Nazi propagandist Leni Riefenstahl. Shortly after the end of World War II, the family flees to Bolivia to start over. There, the ever-restless patriarch decides to embark on an expedition in search of the fabled lost Incan city of Paitití, enlisting two of his daughters to join him on his outlandish quest into the depths of the Amazon.
In the aftermath of the journey, each family member is set on a course that will change their lives forever: Hans pursues a number of colossal, doomed projects; his daughter Monika, heir to his adventurous spirit, joins the Bolivian Marxist guerrillas and becomes known as Che Guevara's avenger; his wife and two younger daughters are left to pick up the pieces in their wake. As their connection to one another weakens, so too do their ideas of family, tradition and even revolution.
.
.
Remedios Zafra: El entusiasmo
El entusiasmo is a generational book about those who were born at the end of the twentieth century. They grew up without an epic, but with expectations, until crisis laid the foundation for a new stage that has become structural; the stage of precariousness and disillusionment. It is therefore a book with a timely vocation, an essay about the shaky contemporary subjects in cultural, creative and academic works, framed by the neoliberal agenda and a world online. It is an essay that asks how vocation and enthusiasm are now exploited by a system that favors anxiety, conflict, and dependence upon the benefits of competitive hyper-production and speed.
.
.
.
.
Valeria Correa Fiz: La condición animal
What is it that makes us different as a species? Of what does the human condition consist – knowing that we are fragile, exposed and mortal? How would we be if we did not fear the unknown "bad"? That is what each one of these stories seems to ask. Valeria Correa Fiz has written with a visceral prose, physical and charged with turbidities, directing us toward our own fears, insecurities, and tremors. The darkest angles of the human being – madness and death, love and sickness, obsession and violence and inevitable tenderness – a brutal book. A book that hurts, just as good literature always hurts.
.
.
.
.
Sylvia Molloy: Citas de lectura
"Of reading as an act of possession: I read and I overpower that which I am reading; that is to say, I embody the voice of the speaker, I adopt his diction, I make his circumstances my own, I fill hiatuses, I invent situations, characters, words. I read and the text exists exclusively for me; it does not exist without my reading. I give it voice, I give it myself. What Paul de Man says of the autobiography as an act of personification is finally applicable to every book: with my reading, I give life to everything that does not have it – I personify."
.
.
.
.
Horacio Convertini: Los que duermen en el polvo
Because his own life is worth little, Jorge has returned to his old neighborhood, which has been transformed into a fortress where an advance party of opportunists and mercenaries resists the invasion of "the pests." There, sleeping in a walled off house, wandering through the streets of a devastated Buenos Aires beneath the permanent wailing of sirens and helicopters, Jorge survives his own demolition, made up of the memories of Érica, his disappeared wife. Just when he believes that he has found solace with a young woman, a series of mysterious deaths will place him at the center of a web of betrayals and show him the face of truth that he so long searched for.
With a sustained rhythm and characters as solid as they are complex and endearing, Horacio Convertini reflects on the value of that which has been lost in a context that threatens annihilation.
.
.
Claudina Domingo: Las enemigas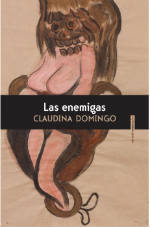 Las enemigas is a book of nine psychologically and fantastically inclined short stories that explore three fundamental themes: bonds with maternal roots, death, and twins. In several of the stories, the interdependence of the mother and death gives rise to tragedy; that is, the presence of a mother that devours the soul of the child, a manifestation of the enemy impulses that exist in every experience of maternity, and that society attempts to hide. In other cases, the absence of the maternal figure is explored, along with its psychological effects in individuals that face internal confrontations due to this deficiency. Every story has a death more as a gravitational center than as an end. As a result of that death – one's own, that of the mother, of the daughter, of the brother, of the enemy – the characters are thrown into a transformational psychological process, the basis of each story's plot. Las enemigas has as a secret structure, that of the Aztec legend of Mictlán, as expressed in the Rios codex: the nine houses that the soul must visit in order to attain eternal rest, which coincide with the nine months of human gestation. Every story may be read as a fictional representation of each one of these difficult passages of the human soul, in the context of Mexican life at the beginning of the twenty-first Century.
.
Carlos Velázquez: La efeba salvaje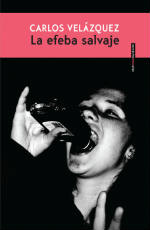 In the six stories that make up this book, betrayal is revealed as one of the evils that rule our time. A man who is addicted to cocaine and gambling finds solace with a blonde and decadent heiress. Stormtrooper, the nickname with which Carmela has baptized her first male child, transforms into the incarnated version of Rober's worst nightmares. Alberto has attracted to the nucleus of his life a three-meter tall shadow that appears to him at night, before the desperate gaze of his fiancé Aída. Fat Tony (better known as Porcel) finds in love's misfortunes the only effective antidote to his accelerating count of triglycerides. In order to pull his daughter out of the depression that has befallen her, Ed relies upon the dark tricks of Mr. Mojo Risin, an Indian who resuscitates horses.
La efeba salvaje strengthens the trajectory of Carlos Valázquez as one of the sharpest, most talented and original modern writers of prose. The rhythm and the language of his stories has achieved, in a short amount of time, the difficult task of building a voice that you can only discover by reading it.
.
Raúl Ruiz: Diario
"I think more and more about the presuppositions that accompany a diary such as this. One must tell oneself that somebody will see it. One must affirm that it will not be sufficiently important to justify that somebody's curiosity. But there is another thing: there is the magic of those things which took place, magic in the fact that the footprint that they left in a diary is impartial. Fascination for that near inexistence smashed to bits by the omnipresence of chronology. It is another thing to return to the diary, reread it and resist the temptation of correcting it, of eliminating stated facts and things, and the vicious pleasure of knowing oneself capable of murdering blurred vicissitudes. These nomadic bubbles."
.
.
.
Roberto Careaga: La poesía terminó conmigo
Roberto Careaga, notebook in hand, followed lost clues about the life of Rodrigo Lira as though it were a detective's puzzle. He pursued the biographical relationships of every story and managed to piece together a significant part of the poet's first years. He explores his youth in the university and the hardest dimension of his existence: romantic frustrations, psychiatric crises, insertion into the world. Written with direct language, avoiding sweeping interpretations, it shows various layers of reality in the seemingly superficial facts. To read it is to witness a fascinating individual destiny and to taste of a somewhat deranged time.
.
.
.
.
Eduardo Halfon: Saturno
In Saturno, an unhinged narrator laments and reproaches his silence before a severe and all-consuming father. This is a bitter letter directed at a father, in which the the author considers the tragic narration of the last days of a long list of suicidal writers.
This nouvelle, published in Guatemala in 2003 and unpublished until now in Spain, this is the book that announced the entry of Eduardo Halfon into literature.
.
.
.
.
Martín Caparrós: La Historia
An unknown Argentine historian discovers a mysterious book in a French library that might contain the foundational myth of his country. The historian decides to dedicate his life to the study and annotation of that text, which explains everything about an obscure civilization whose influence reached into the thought of the Enlightenment and modern revolutions.
This chronicle, entitled La Historia, along with the notes corresponding to its interpretations, presents in vivid detail the life of that imaginary civilization. Their sexual customs, gastronomy, burial rites, commerce, wars, literature, architecture, loves, sicknesses, industry, theology, courtly intrigue, and their end… It is a summary of modern knowledge, a crucible of false quotations – or are they true? – attributed to Voltaire, Kyriakov, Sarmiento, Quevedo, Nietzsche, and Bakunin. La Historia presents a stimulating challenge to the reader, a monumental novel that works as a mirror, showing us a deformed reflection of our own age: its acquired prejudices and truths, its false glitters and just glories.
.
Ricardo Romero: El conserje y la eternidad
A man who works at night as the custodian of a building in Buenos Aires writes his experiences in order to understand himself and the life he leads. That life includes occasional murders as a form of nourishment. This is a novel that explores the nature of the monster while the monster himself discovers it. The night custodian uses writing to know himself, and the very writing changes him; thus, just as many of us do not know ourselves, the custodian does not know anything about himself beyond that which he writes.
.
.
.
.
Marco Denevi: Cuento Selectos
Entering into the literary universe of Marco Denevi offers, as is the case with few contemporary Argentine authors, the simultaneous experience of reading's purest and most primordial passion. We submerge ourselves in his fictional world, delivering ourselves up as we follow with marveling attention his wise dosage of facts and his steady control of the vivid characters and ingenious situations that he creates. He confronts some of the postmodern era's most characteristic problems, which, at the root of the fall of Reason, dissolve into the categories and the presuppositions that, for three and a half centuries, sustained the entire Western world, from science to subjectivity.
.
.
.
.
Susy Delgado: Poesía guaraní contemporánea
Guaraní poetry produced during the last several decades has been forming a path towards reunion with cultural sources heretofore underappreciated and looked over after a long period of being deeply associated with the customs brought by the conquistadors. The first of these sources is the great collection of indigenous poetry that expresses indigenous myths, practically unknown until the twentieth century. Uncovering these poetic legends meant rescuing the foundational values of Guaraní culture, especially the supreme value of the word, which has markedly affected new Guaraní poetry. The second source corresponds to the linguistic aspect of the new poetry; that is to say, the gradual ascension of a mixed language, the natural product of mestizaje. It has been reflected in poetic expression since the very first colonial years, long before being sentenced to such a strong disqualification and subsequent setting aside in the last few decades. Its rise signals not only the choice of a living tongue in these times of globalization – anarchical and chaotic in many respects – but also a reunion with the heritage of popular poetry that caught admirable voices, voices that left their legacy deep within the sensibility of the people.
Edited by Michael Redzich