Urgente. Beira Lisboa. Caracas: Editorial Eclepsidra. 2020. 55 pages.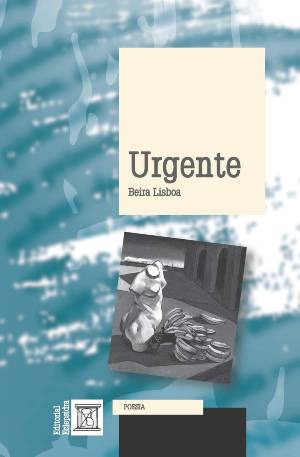 Urgente [Urgent] is the first verse collection by Venezuelan poet Beira Lisboa. If I had to summarize the start of this poetic journey in one word, that word would be brevity, as if the poems bore an immediate need to communicate something without uselessly stretching out their discourse. Indeed, one of these texts' most valuable aspects is the fact that, despite the small number of lines in most of them, as well as their concision, a constant strength blooms up from every page.
The author succeeds in capturing concrete scenes from everyday life, from the daily routines of passers-by, in order to reduce them to minimal, eloquent words. Within the heap of themes and literary strategies delved into in this book, two that stand out are the presence of death and the ironic questioning of the divine. Regarding the former, the dead emerge throughout the collection, laughing and seeming to intercede in our world through jokes, dead people in the form of "ripped photos/ piled up in the street/ by the trash," or death analogized as a house containing only absence. Divinity does not exist in Urgente—or, better, said, the quality of the supreme is called into question, and this is reiterated from its first words on. Not for nothing is the reader welcomed to the book with a poem that shows God's skirt not as something to venerate, but as an object of little value, which might serve as a metaphor for faith diminished. Even the laws of nature are overstepped, rather playfully—we see God waiting in line to get into the graveyard; a God who comes down from the heights to become as vulnerable as any other visitor.
Likewise, it is curious to see how everydayness is shattered in a setting as commonplace as the Metro: there, a surreal scene comes together as we observe a passenger, completely naked, walking down the platform at rush hour while those around him warn him not to kill himself. Tension-filled flashes like this one, compressed into a scant four verses, serve to synthesize moments that could well be deemed irrational, but not therefore impossible.
The lack of reverence is also applicable to poetry, as Lisboa shows later in a play-on-words between "poceta" ("toilet bowl") and "poeta" ("poet"), or in some lines that urge their own writer to finish them quickly in order to turn to some more important task.
It is relevant to note that the prologue of Urgente was written by poet Juan Calzadilla, a prolific Venezuelan author who was co-founder of El Taller de la Ballena ("The Whale's Workshop"), an avant-garde artistic and literary group of the 1970s. The fact that Beira Lisboa's first book comes with introductory words from one of Venezuela's most recognized poets speaks, among other things, to the affinity that exists between the two poets' bodies of work. This is no mere coincidence. Cazadilla has served as a mentor to Lisboa—a fact which is plain to see in the work of this poet who, as part of the new generation of Venezuelan women writers, seems eager to take on the task of assimilating and granting continuity to her teacher's poetic legacy.
It is laudable that Beira Lisboa's poetic debut should take place through a book published in a context dominated by the fleeting, where immediacy seems so relevant when it comes time to enjoy a literary work, as if this sphere were marked by some inherent urgency. It is a happy coincidence that her verse collection's title might reference an era when the amount of content is overwhelming, when it seems there is not enough time to patiently savor it all. Whatever the case may be, Urgente is a fascinating doorway into Lisboa's poetics, characterized to date by her texts' remarkable minimalism, and an invitation to closely follow her future endeavors.
Yéiber Román
Translated by Arthur Malcolm Dixon