Una selección personal / A Personal Selection. Juan José Arreola. Prologue and notes by Vicente Preciado Zacarías. Translated by Ramón Elizondo Mata. Colima, Mexico: Puertabierta Editores. 2016. 173 pages.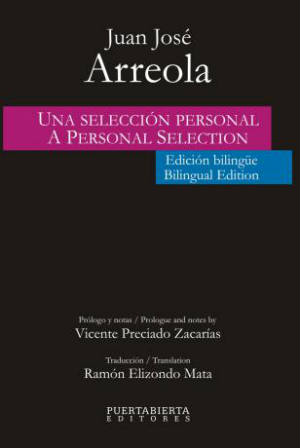 Next year we will celebrate the 100th anniversary of Mexican writer Juan José Arreola's birth. He was a master short story writer who renovated the genre in Mexican and Latin American fiction during the 1940s and 1950s. He also published a novel, La feria (1963). In his short fiction he mixed and match cultural references, times and spaces, genres and texts. This became a trademark of his style, relating to the fantastic in so far as this literary mode was, for him, an invitation to free the imagination from the quotidian, take the reader to faraway lands, and create unexpected resonances. Arreola excelled especially in the stories found in his first two books, Various Inventions (1949) and Confabulario (1952). His work has been classified traditionally into four thematic areas: (1) the questioning of social rules, often paired with a critique of the idea of progress and technology (e.g. "The Switchman"); (2) the focus on the relationship between man and woman (e.g. "Eve"); (3) a preoccupation with moral and theological issues (e.g. "The Convert") and (4) reflections on art, the creative process and teaching (e.g. "The Disciple").
In this bilingual volume, Vicente Preciado Zacarías and Ramón Elizondo Mata offer an anthology of texts in order to get Arreola closer to English speaking readers. In the prologue, they emphasize Arreola's "difficult" style: "It is nearly impossible to read more than five of Arreola's lines without being forced to consult the books and authors he cites indirectly" (12). Preciado Zacarías also points to the fact that the only other available translation into English of Arreola's works, Confabulario and Other Inventions, by George Schade, dates from 1964, is out of print and "regrettably, it has many mistranslations" (14). Indeed, it was time for a re-introduction of Arreola's stories into English. As an added benefit to this volume, Preciado Zacarías had many conversations with Arreola in his hometown of Zapotlán as attested by his book Apuntes de Arreola en Zapotlán, first published in 2004, and therefore was able to annotate the many references in Arreola's texts, giving readers in Una selección personal/A Personal Selection the closest thing we have to an annotated edition of Arreola's work.
The chosen stories apparently were selected by Arreola himself, although we cannot quite confirm this (the Spanish prologue says "en forma directa" and the English version, "quite indirectly"). The stories included in the volume —"Autrui", "The Switchman", "The Prodigious Milligram", "On Ballistics", "Paul", "God's Silence", "Starring all People" and "Prophylaxis"— are representative of the four areas identified above, perhaps (2) less so. They show that, more often than not, as a writer Arreola acts as a mad, or at least obsessed, scientist, and takes an idea to its ultimate consequences. In this process, he juxtaposes layers upon layers of cultural codes and, hence, meanings. He had a penchant for the absurdity of the human condition, paired with a taste for irony and humor. In his most famous tale, "The Switchman", a traveler arrives at a train station wanting to go to T. The switchman patiently convinces him to calm down while he tells him stories about the railroad. The old man asks the traveler: "Why do you insist precisely on T as your destination? You should be contented with merely boarding the train. Once on board, your life will definitely follow some course" (34). We also find a masterful horror tale that begins: "Monday. The systematic persecution of the unknown man goes on. I think his name is Autrui" (17); a fable about ants in "The Prodigious Milligram", three tales dealing with God and religion in different, tragic and funny ways —"Paul", "God's Silence" and "Starring all People"— and a tale that mixes dialogue, history, cultural references and humor to tackle the subject of ballistics, a story that, according to Preciado Zacarías, was Arreola's favorite text.
The book makes two important contributions: first, it rekindles an interest in Arreola's fiction through new translations of his stories; secondly, Preciado Zacarías' careful annotations give Arreola's readers further insight into his creative process and into his dialogue with universal culture. Then, there's the question of the translation. Schade's had been the standard for many years. Let's take a look at a couple of sentences. This is the beginning of "Paul" (Schade's version): "One ordinary morning, when everything appeared perfectly normal and while the hum of the Central Bank's offices spread like a monotonous downpour, Paul's spirit was visited by grace" (171). Compare with Elizondo Mata's version: "One morning like any other, when things looked as always, and the hum of the Central Bank's offices kept spreading like a monotonous downpour, grace descended upon the spirit of Paul" (115). There is very little variation here, perhaps with the newer translation trying to be less literary. Now, let's compare the beginning of "God's Silence": "I don't think this is usually done: leaving letters open on the table so that God will read them" (Schade, 188); "I think this is unusual: leaving open letters on the table so that God may read them" (Elizondo Mata, 139). The Spanish version reads: "Creo que esto no se acostumbra: dejar cartas abiertas sobre la mesa para que Dios las lea" (Una selección personal/A Personal Selection, 129). Once again, there is little variation, with Elizondo Mata trying to be more colloquial perhaps. After many years, Schade's versions of Arreola's stories stand the test of time, as does his poignant introduction. Preciado Zacarías and Elizondo Mata provide no evidence of Schade's supposed "mistranslations". It's hard to claim that these new versions upend definitely the old ones. And we find serious mistakes in Una selección personal/A Personal Selection. For example, "Profilaxis", the last story included in the anthology, ends with this sentence: "Y las últimas sobrevivientes podrán acostarse sin peligro en la fosa común a todos los Padres del desierto" (171). The story is well annotated by Preciado Zacarías. But Elizondo Mata translates the sentence this way: "And the last female survivors will be able to lie harmlessly in the common grave of all the Parents of the desert" (173). The mishap of translating "Padres" as "Parents" —and not "Fathers" or "Priests"— weakens the claim of this translation being the best one available. Nevertheless, one thing Una selección personal/A Personal Selection proves is that Arreola's fiction is alive and well in the 21st century, still searching for readers.
Pablo Brescia
University of South Florida