Soliloquios/Ciudad de Fuego. Edgardo Rivera Martínez. Lima: Debolsillo, 2018. 220 pages.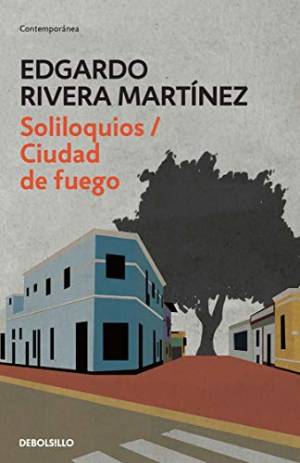 Shortly before passing away in October of 2018, Edgardo Rivera Martínez submitted to his publishing house this excellent volume of tales composed of four novellas. Three of them—Ciudad de Fuego [City of fire], Un Viejo Señor en la Neblina [An old man in the mist], and El Visitante [The visitor]—appeared in a single volume under the general title of Ciudad de Fuego in 2000, while Soliloquios [Soliloquies], the novella that opens the book, is an unedited text, the last story the author wrote.
El Visitante was first published in 1974. Its protagonist is an inveterate traveler who, one morning, runs into Lena during one of his strolls on a Lima pier during a fog front. The strange character is the "possessor of a unique beauty, with a bit of androgyny that disturbs and surprises," as well as "an ancient and now obsolete graciousness." The protagonist and Lena will develop a unique friendship. Later, Fernando, Lena's husband, will join them and soon the protagonist will start to frequent their home. The entire story of El Visitante is constructed around the monologues of each one of these three characters and their fragmented consciousness, all of which contributes in weaving a world as bewitched as it is enigmatic. The interior journey of each one of these characters is complemented by the foggy story of Lima, a city full of a mist and sadness that slowly consumes those who inhabit it. In El Visitante, the figure of the protagonist stands out, personifying the figure of the fallen angel, an emblematic and mysterious character in the entire corpus of Rivera Martínez's narratives. Thus, his fleeting visit and sudden disappearance in the novel make him a being who lives in a permanent limbo, a type of lone wolf "that wanders through countries and cities in a useless search of the quantum that could carry him, some time, to dreamland, to extinction, to nothingness."
The motives of the trip and of utopia go hand in hand in Ciudad de Fuego (1979). Its anonymous protagonist is a solitary man dedicated to diverse jobs in a library. He cultivates the hope of arriving at an ideal city, taking as a model The City of the Sun (1602) by the Renaissance thinker Tommaso Campanella. Upon opening the story, we discover that the long-awaited trip to this place of utopia will occur that day at 5:00 p.m., the hour at which the protagonist will forever abandon the place where he works, to undertake a trip toward "an elevated hill on which the [perfect] City lies." Convinced of his illusion, the librarian will break with the solitude of his daily world and will undertake, like so many other characters by Rivera Martínez, his utopic adventure.
Un Viejo Señor en la Neblina (2000) is a story with mythological and fantastic tinges. It relates the story of Juan Clodoveo, a character as chivalrous as he is unbelievable. He tends to spend the afternoons on the roof of his mansion-in-ruins in downtown Lima. From there, he contemplates the gray horizon of the city at the same time as he creates origami figures that he then will give to his neighbors. The protagonist lives obsessed with the myth of Icarus and Daedalus and the dream of flying. For that reason, his sudden disappearance at the end of the story makes one think that he succeeded in realizing his most precious desire, that is, to plow through the heavens with some large paper wing enshrouded in a dense Lima fog.
Worthy of separate mention is Soliloquios, the new story by Rivera Martínez. In it, he relates the life of Laura del Valle Brandsen, a divorced, upper-class lady from Lima who recalls her family and love experiences in Peru as well as in Europe. At the beginning of the story, it is indicated that Laura, a fifty-year-old woman, initiates on September 5th, 2012, the telling of her life to a tape recorder, an exercise that will later serve her for a novel. The tale on which Laura embarks is organized into 64 brief fragments. These preserve the freshness and spontaneity of oral language upon evoking key moments in her life. The story's listener is her father, Mr. José Claudio del Valle Otaiza, a 75-year-old widower with whom Laura shares her house in the neighborhood of Barranco.
In love with Lima and Paris, as well as good literature and music, Laura is also a lover of the Peruvian Andean world, more than anything the Mantaro Valley, admiring its songs and handicraft. Her unique relationship with Justina, the indigenous girl who works in her house, makes her a woman genuinely open to knowing other realities and customs. Laura's is a true cosmopolitanism that never forgets its roots and that is always open to dialogue with other cultures. Thus the decision to adopt Alvarito, a boy of Andean origin, as her own son at the end of the story.
Edgardo Rivera Martínez was not only a novelist of great narrative inspiration, as his novel País Jauja [Jauja country] (1993) demonstrates; he was also a fine cultivator of the short story and of novellas. For those reasons, the re-release of this collection of texts, full of characters that live in fantastic worlds and give shelter to very personal longings, is worthy of the highest praise. This volume will allow the literature of an essential author of Peruvian letters to become available to new readers and will keep alive his proposal of a new cultural mestizaje for contemporary Peru. Thanks to utopia, myth, and the high-quality exercise of "cultural interweaving" (in the author's own words), it is possible to think about, as do many of Rivera Martínez's characters, a new Peruvian nation that recognizes its rich, multicultural legacy.
César Ferreira
University of Wisconsin-Milwaukee
Translated by Jeffrey Oxford
César Ferreira is Professor of Spanish at the University of Wisconsin-Milwaukee. He is a member of the Academia Peruana de las Letras and serves on the editorial board of World Literature Today. His most recent publication is the volume Narrar lo invisible: aproximaciones al mundo literario de Sara Mesa (2020). In January 2020 he received an Honoris Causa from the Universidad Ricardo Palma in Peru.