Reconstruction of the Father and Other Writings. Iris Kiya. Reina Jara Barrientos, tr. Dallas: Dulzorada Press, 2020. 180 pages.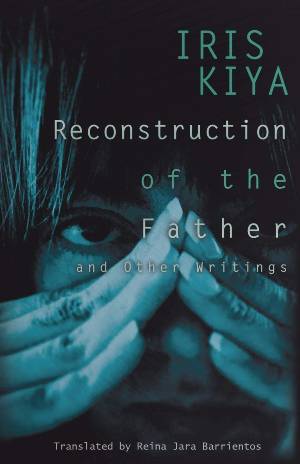 Although much has changed over the past ten or twenty years, there is no doubt that the traditional Latin American canon has historically been distinctly over-represented by writers born with a Y chromosome. Both product and reflection of the predominantly patriarchal cultures and societies in which it was forged, one result of this lengthy parade of masculinity was that the stories it produced were also overwhelmingly male, featuring caudillos and adventurers, generals and gauchos or even writers and artists who tended to be wary of domesticity and fond of brothels and blood sports. Women (not always and not exclusively) were relegated to secondary roles or, when protagonists, were liable to be ciphers for male fantasies and/or resentments. Today, that historical bias is rapidly being corrected, with many great women writers from the past finally being given their due and new generations frankly wiping the floor with their male counterparts, telling their own stories and earning critical and commercial success while they're at it.
In this context, the choices made by the young Bolivian writer Iris Kiya, as revealed in the texts included in this collection, are particularly fascinating: she has taken on a quintessentially male subject; the relationship between fathers and sons, refracting it in these brief poems and scattered texts through several other apocryphal male characters described as "compilers" who supposedly chanced upon them and felt compelled to gather them together. It's an unnecessarily romantic trope (there's really no need for the artificial ambiguity, the texts are plenty ambiguous in themselves) and while we're criticizing I should note that I had to read the book in the original Spanish—the translation doesn't appear to have been done by a native speaker.
But back to fathers and sons: once one has cut through the layers of introduction and misdirection by writers both real and invented, the texts typically begin with prose paragraphs recounting vivid scenes from the narrator's past that seemingly collapse through weight of emotion into poetry. The first section, "Reconstruction of the Father," recounts, with bitter, caustic humor ("I come from a family of nonentities"), the narrator's pain and resentment over having been abandoned by his father and its consequences, combining a laconic prose style with powerful imagery, while the second two purport to be collections of poems by writers heavily influenced by mid-twentieth century American writers and artists (Robert Capa, Chet Baker, E.E. Cummings, and William Carlos Williams all get a mention, among others), but themes from the first section keep intruding amid the more atmospheric references, especially that elusive father. Also striking throughout are the writers' continuous dismissals of their female relatives and other women with the honorable exception of one Javiera, who gets the full pedestal treatment.
So what's Kiya getting at with all these meta-textual fun and games? The answer would appear to lie in the uses of pastiche, an oft-overlooked literary form that can be both affectionate and cruel, loving and angry, a means of acknowledging a debt but also protesting an injustice. In Reconstruction of the Father, Kiya is doing all these things, establishing a dialogue with different iterations of the father, perhaps most pointedly with the idea of literary forefathers with all their faults and virtues, the kind of dialogue that will ultimately be familiar to many readers wrestling with pasts both personal and universal.
Kit Maude