Lima: Alfaguara, 2022. 640 pages.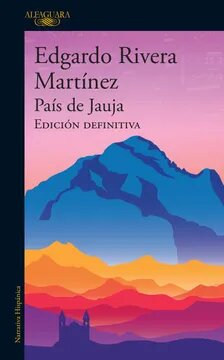 The publication of a new edition of País de Jauja is always something to celebrate. While there are many reasons to honor this novel, the fact remains that after three decades, Edgardo Rivera Martínez's first novel is an essential book in contemporary Peruvian literature, not only for its rich subject matter, but also for the quality of its prose. Fortunately, during Rivera Martínez's lifetime, his readers' recognition confirmed his great narrative talent. In the late 1990s, País de Jauja was voted the best Peruvian novel of the decade in a survey conducted by Debate magazine. In 2013, Rivera Martínez was awarded the National Culture Prize in recognition of his contributions to Peruvian literature.
Rivera Martínez nourished his calling to the art of storytelling from an early age. He was born in Jauja in 1933 into a provincial, middle-class family, thanks to which he had a stimulating family library at hand. With the help of his mother, he also cultivated a love of classical music. As a child, the author was well-acquainted with the local culture of Andean campesinos, especially in terms of the myths, music, and dances from his area of the Peruvian Central Andes. At the same time, Jauja was a destination for tuberculosis patients from Lima and Europe until the early 1950s due to its temperate climate. This resulted in the formation of a cultured society the writer experienced first-hand. This came to an end with the emergence of streptomycin in the late 1940s, but all these lived experiences would set the stage for the configuration of the novel's narrative universe.
Rivera Martínez's first books—notable stories gathered under titles such as El unicornio (1963), El visitante (1974), and Azurita (1978)—were a well-kept secret for many Peruvian readers over the years. All these books were published in short runs with limited circulation. Nonetheless, when carefully read, they portray an imaginary that, faithful to the author's artistic principles, is rigorously constructed and reveals immense narrative depth. In 1982, the magazine Caretas organized its first "1000-Word Story" contest. Rivera Martínez won out of the hundreds of participants with one of his most iconic stories: "Ángel de Ocongate." An old friend from the National University of San Marcos in Lima—Mario Vargas Llosa—presented him with the award. This story is perhaps the most anthologized of all his work and served as the title of his next book, Ángel de Ocongate y otros cuentos, published in 1986.
The visibility of Rivera Martínez's work took a big leap forward in May 1993 when País de Jauja went to press. Published by La Voz Ediciones, the novel's first edition sold out in a few weeks and was highly praised by critics. Nearly three decades later, and because of this book, Rivera Martínez clearly occupies an important place in the history of the contemporary Peruvian novel. Certainly, the idea of writing a story about an adolescent who lives between the Andean and Western worlds was developing in the writer's creative consciousness for many years. Early in the 1990s, Rivera Martínez dedicated himself to writing about the life and transformations of young Claudio Alaya Manrique. Claudio is an aspiring artist, a budding writer who is also a great lover of music. In the summer of 1947, and with the help of a personal diary, Claudio begins to observe ever more carefully the immediate world around him. Here I refer to personal matters, such as love and sexuality, as well as the start of a process of understanding his Andean roots, and all the links these roots establish with the Western world. As a result of this happy communion, a subject emerges with his own identity who can adopt a harmonious and genuine view of the diverse worlds that nourish him as an individual. This wide-reaching view allows Claudio to return again and again to his most intimate roots, which come from the Andean world, and to assess with fresh eyes his place of origin and identity. 
Rivera Martínez always referred to País de Jauja as a novel about a "happy world." His definition is spot-on. País de Jauja distances itself from the hard and painful view of the Andean world offered by indigenista writers of the first half of the twentieth century (such as Ciro Alegría and José María Arguedas, among others). In Rivera Martínez's writing, Jauja is not only a space of romantic discovery for the young Claudio; it is, above all, a place of contact between the Andes and the West. It is an idyllic place where characters from varied backgrounds live in cordial harmony. In other words, in Jauja, the legend of the amarus shares the same settings as classical myths, and Mozart and Bach's fugues are heard alongside Andean rhythms. Additionally, the lyrics of yaravíes are recited along with poetry by César Vallejo orJorge Eduardo Eielson. At the heart of this new and energizing mestizaje, Claudio's voice opens the door for an intense and rich dialogue among the many characters in the novel. To all of this, Rivera Martínez adds his skilled lyricism, nuanced with intelligent touches of irony and humor. 
With País de Jauja, Edgardo Rivera Martínez accomplished what all great writers hope to create: one's own universe. In this new edition of the novel, which includes insightful commentaries by Jeremías Gamboa and Françoise Aubès, as well as an impressive collection of photos, Jauja remains a mythical space in the contemporary Peruvian imaginary. At the same time, the novel calls on us to consider our origins, because underlying the nostalgic view of the Andean world is the configuration of a new mestizaje for Peru. Through a utopic lens and a celebration of all we are, Rivera Martínez's novel wagers on a possible nation.
Edgardo Rivera Martínez wrote the city of Jauja into our imaginations with his first novel. However, his fiction is a bet on Peru as a multicultural nation; a country capable of affirming its Andean roots, and therefore, the owner of a new and necessary mestizaje. That País de Jauja's many readers support this proposal is evidence that, in present-day Peru, much work toward this end still remains. 
Translated by Amy Olen
University of Wisconsin-Milwaukee