Editor's Note: This text is available in the original Portuguese and in English translation. Click here to read in Portuguese.
***
Longe, aqui: Poesia incompleta 1998-2019. Maria Esther Maciel. Belo Horizonte: Quixote + Do Editoras Associadas, Tlön Edições, 2020. 324 pages.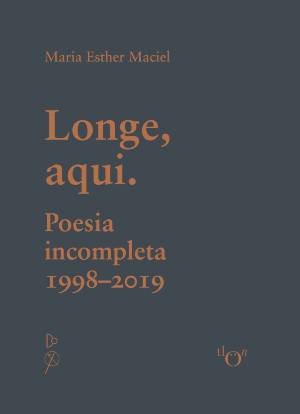 In 2020, when routines were affected by a pandemic that brought not only physical illness, but also widespread psychological impacts, in which mistrust has spread from political landscapes into humanity at large, poetry continues to resist and provide fresh inspiration. With this backdrop, Maria Esther Maciel reminds us of the poetry present in everyday life, in the little things, with the release of her book Longe, aqui: Poesia incompleta 1998-2019 [Far, Here: Incomplete Poems 1998-2019], published by Quixote + Do e Tlön. The book brings together poems from O livro das sutilezas [The book of subtleties] (2019), O livro de Zenóbia [The book of Zenobia] (2004),  and Triz (1998). It also presents new poems, unveiling a new chapter in the author's poetic invention. Moreover, with a revised Triz complete with new poems (1990-2001), one book comes to us updated along with another, as Maciel comments in her book.
Born in the fertile cradle of the Brazilian cultural landscape, Maria Esther Maciel (1963) now resides in Belo Horizonte. A poet, chronicler, essayist, fiction writer, the native of State of Minas Gerais has published both nationally and internationally and has received many awards and recognition, including a nomination as finalist for the Jabuti Prize in Literary Theory/Criticism with the book A memória das coisas [Memory of things], in 2005, and finalist in the Novel Category, in 2009. In addition, Maria Esther Maciel works as a Full Professor of Comparative Literary Theory at the Federal University of Minas Gerais (UFMG) and as a Collaborating Professor in the Graduate Program in Literary Theory and Literary History at the State University of Campinas (UNICAMP). Maciel holds a Doctorate in Comparative Literature from UFMG, and Postdocs in Film Studies from the University of London and Comparative Literature from the University of São Paulo.
The first segment of Longe, aqui considers O livro das sutilezas, a text in which a garden overruns the pages with delicate comparisons of an "Artichoke" to a book; its petals are the chapters, falling away like pages. "And at the end of the last chapter, suddenly the unexpected delight appears: a tender, fleshy bud—the heart of the flower that becomes living fruit" (p. 27).
The section "III Hildegarten" offers the reader a reimagining of entries from the book Physica by Hildegard von Bingen, with illustrations by Julia Panadés. Here, we find Rue, Mauve, Cinnamon, Hemp, Nettle, Arnica, Lavender, Myrrh, Clover, and Cumin. But what we encounter is not an etymological dictionary; the organization and presentation of these elements breaks all of the rules, introducing a poetic universe that goes beyond, with a hint of irony, who can say. All of this with the subtlety of the elegance of everyday life that brings beauty to our days. As if "Every time the Great Kiskadee appears, she writes a verse that gradually grows and transforms into (it seems) a poem" (p. 29).
The next book continues in the realm of poetic botany, with illustrations by Elvira Vigna. O livro de Zenóbia blends poetry and prose, and in this fictional text the linguistic limits of each genre are breached. Zenobia was born on the Palmyra Plantation (1922) and lived in Belo Horizonte where she became a Biologist specializing in Botany. Upon returning to her birthplace, she dedicated her life to the cultivation of medicinal herbs—evidenced in biographical notes at the end of the work. Through this character, we follow the mundane events of an unexceptional life, from childhood, through love affairs, to her mature and feeble-eyed 82-year-old self. Nonetheless, this poetic novel, or rather, this narrative poetry, leads the reader to rediscover the marvels of everyday life. Like the embrace that makes us feel infinite (p. 129). Or another powerful image, "She dreamed of  a wingless bird" (p. 107). Thus, like any personal story, hers passes through the losses that orbit memory. The tragic and the poetic, what is real and what is a dream, define Zenobia's life.
"Zenobia's Recipes" depicts the poetic alchemy of the kitchen with recipes and recommendations, "Before you start eating, don't say a word" (p. 153). Nor are these recipes merely for feeding the body, of course not, after all "They say that no destination is so unbearable that a reasonable soul cannot find at least one comforting thing. Sometimes an almond cake or an endive and salvia salad save us from the worst misfortunes. Or even a very simple dish, like roasted eggplant" (p. 155).
And if O livro de Zenóbia evades easy classification, it also contains Zenobia's notebooks, entitled "Happy Hours," with itemized lists, like a record of harmful herbs, bewildering fish, rare cities, spices and herbs, endangered birds, orchids and bromeliads, and even favorite words. These lists playfully mingle with forms of classification already known to the reader, originally included in the appendixes of the work's first edition.
The book Triz was written amidst the intensity of the loss of the poet's father, to whom she pays homage. Without relying on facile sentimentality, the work introduces the suffering felt with the loss of a loved one. The hollowness of loss is not filled; rather, it melancholically interpolates with the movement of the verses.
Her collected work dialogues with several authors—Lygia, T. S. Eliot, Éluard, Mallarmé, Octavio Paz, among others—revealing the author's erudition and inviting the reader into an open literary game of sorts. Adding to the different voices of universal literature, Longe, aqui reveals diverse "selves" through multiple writing. These "lyric selves" and their complexity share a strength which illuminates these dim days. Likewise, the poet does not get trapped in fixed rules, introducing a poetic atmosphere characterized by hybridity. In it, the world is full of possibilities, poetic possibilities.
All things considered, and for everything else unsaid here, the book possesses a subtle beauty. Amidst spices, plants, and lists of favorite words, these poems invite us to appreciate the all-encompassing dimensions of life, thanks to the small things.
Elys Regina Zils
Translated by Ryan B. Morrison