Uruguay: Editorial Yaugurú. 2021. 62 pages.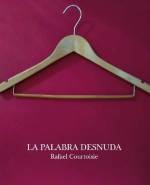 In La palabra desnuda, a book comprising both its titular work and Diario de un clavo, words revolve around poetic language and things transfigure into reflections of desire. Accustomed to playing with words and ideas, poet, fiction writer, and essayist Rafael Courtoisie (Montevideo, 1958) attempts to transform verse into a linguistic erotica. Unlike Sartre, he sees words as actions, not things, objects, or phenomena. Through a conversation held aloud with silence, the first book consists of aphorisms (or syllogisms) searching for meaning and the hidden melody of words. Here, the poem is an act that plays with thought. It is never a search for ideas or processes, but rather for enlightenment and desire. In his poetic work, where he analyzes the body and writes about the world, words are, as Heidegger put it, "the house of Being." Put differently, the words in his work laud language and celebrate ontology in a Heideggerian style. Here, things converse with bodies. The dialogue between matter and elements creates a melody that is secret but lively, fiery, and invigorating: the body and its nakedness, the face and its mask, the skin and its desires. Fruits and vegetables, objects and minerals are all signs that acquire meaning in his poetic universe.
This is how the natural world exercises its power over the social world. Here, the realm of things remains hidden, not behind musical signs but behind signs of thought. The poetry of ideas is what we find in La palabra desnuda, another book where philosophical insights enlighten Courtoisie, pushing the limits and boundaries of imagination. At some moments, his poetry dazzles. At others, it overwhelms the eye, at times blinding. Each text is an act, a wish to exist, and a discursive desire. As a poet, Courtoisie seeks to revive the meaning of language before the meaning of things in such a way that he is always naming, designating, and signifying. Indeed, a poetic being does not stop naming things, as if he were a god or an omniscient being. Logos searches for its material nature, while act becomes word at every moment.
Vessel and content, meaning and significance unleash a battle of signs in which the poetic voice of the author plays an ontological word game. To put it another way, in this work, the poet undresses the words and extracts their wisdom and vitality. He draws out the root of reason and uses the body to create poetry. He does so in such a way that in the poetic work of the author of Estado sólido (winner of the Loewe Poetry Prize), verse and words are brought to life by the body and its desires and further still by the skin and its incandescence. "Una palabra desnuda acaricia el silencio./ El silencio es la piel de las palabras./ A veces mejor no hablar./ Hay que callarse para decir" [A naked word caresses silence./ Silence is the skin of words./ Sometimes it's better not to speak./ You have to be quiet in order to speak].
As you can see, these syllogistic sayings, with a poetic air that evokes Wittgenstein's Tractatus Logico-Philosophicus, are, in the style of Pessoa or Juarroz, read like a philosophical poem or like a certain philosophy in verse. This is, in fact, poetry in an aphoristic key but subsumed into a secular tradition. It becomes parody or side notes on philosophical, even phenomenological tradition. It is precisely in this telling, in this way of enunciating, that the world the Uruguayan poet creates (and recreates) is placed in orbit, not without ceasing to sing in hushed, mirroring tones on every page.
By contrast, in Diario de un clavo, we come across a parody of Judeo-Christian biblical tradition.  The poetry is more personal, ironic, and demythologizing. It deals more with the Latin epigrammatic tradition, whose rhetoric notes the poetic articulation that acts as a counterpoint to La palabra desnuda. Here, we have another expressive technique to conceive the poem and its form. It is a humorous, highly erotic book that is filled with adages and well-known set phrases through which the verses flow with greater expressive freedom: "Cada cosa del mundo/ Es el mismo clavo/ Que la noche/ De una u otra forma/ Todos vamos a soñar" [Everything in the world/ Is the same nail/ That at night/ One way or another/ We're all going to dream about].
The nail is the pretext, the poem's protagonist and center of discourse. It's the source of the imaginative outpouring that the poem's time and space articulate. In this way, Courtoisie is a poet of things who is capable of making poetry out of the most trivial objects. For him, things are not objects, but words. They're signs. As a "poet of things," he is reminiscent of the French poet Francis Ponge. Ponge's work, The Voice of Things, is a poem written with words, but that extols and acclaims all things: the physical elements of the mineral and plant world. This is how a nail takes on various meanings and senses: it exists and lives alongside all other objects. It marries objects. It turns into substance and signs. "La soledad de un clavo no es como la soledad de una piedra. La piedra está quieta, en su lugar, viene del tiempo y se va al tiempo" [A nail's loneliness is not like that of a rock. A rock is still, staying in its place. Time gives it life and brings its death], says Courtoisie. With verses filled with lists, in a forest of synonymy peppered with signs and euphonies, Diario de un clavo is a feat of fantasy and imagination. It's a verbal ride made up of metaphorical games. The nail is, in this way, personification acting as pretext for the power of poetic imagination: "Un clavo vivo/ Desnudo/ En la oscuridad/ Es un relámpago" [A living nail / Naked / In the dark / Is a bolt of lightning].
Between La palabra desnuda and Diario de un clavo lies a chasm and a will for style. With both books, Rafael Courtoisie keeps taking fervent strides to answer his calling for breakdown and the search for expressive registers. He takes on a challenging, imaginative odyssey where the fantasy of verse meets the tempo of adjectivization. In his poetic work, in sum, words are stripped down to their sensitive curves and symbolic versatility.
Both books of poems come together in this collection, but have different registers. La palabra desnuda encompasses both works, forming a poetic symbiosis with great imaginative power.
Basilio Belliard
Translated by Gabriela Muñoz