La carretera será un final terrible. Andrea Mejía. Bogotá: Planeta. 2020. 164 pages.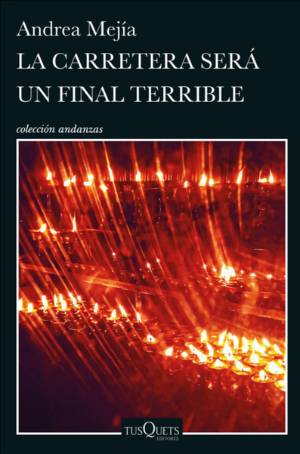 La carretera será un final terrible [The road will be a terrible ending] is the first novel by Colombian writer Andrea Mejía, who made her debut with the celebrated short story collection La naturaleza seguía propagándose en la oscuridad [Nature continued to propagate in darkness]. Her new book is an introspective work that reads like a psychological mystery. Its central character is Ana, a woman that lives in the silence and obscurity of a mountain in the Andean highlands. Ana seems to enjoy her solitude and the contact she has with nature on the rugged paramo, where the cold, wind, and rustling of the woods serve as the backdrop. But, with a descriptive and observational style, Ana gradually allows glimpses that her peaceful existence is merely an outward appearance.
Ana writes. She has taken refuge in her country house ten thousand feet above sea level to write. To rest. To return to being who she once was. At least that's the idea. In reality, Ana barely writes anything. Thoughts of those who were once part of her life take shape as ghosts that provide her with destabilizing company. Ana remembers her times with them. One of them is her sister, who lives in France and must undergo a risky operation.  Another is her husband Luis, who is off in Europe having some kind of affair with a woman much younger than Ana—so young, in fact, that she is closer in age to Luis and Ana's daughter Raquel, a college student with whom Ana has lost all contact. Ana has a cell phone with which she tries, in vain, to get through to them. Calls and messages are broken off, incomplete—failed attempts at connection. In Ana's present, the people she loves exist as fragments of text messages and phone calls. So, she takes up more meaningful and real conversations with the ghosts that inhabit the darkness of the mountain—and her past.
In 1941, Virginia Woolf took her own life, understanding that she couldn't go on as a writer, or as a woman, or as a wife. Her illness, sometimes called "headaches," caused her to hear voices and lose concentration. These voices were also ghosts, like the ones that haunt Ana. In Woolf's case, they were memories of her parents and siblings. Her mother, Julia Stephen, died when Virginia was thirteen. By the time she turned twenty-four she had witnessed the death of her father Leslie and her siblings Stella and Thoby. At fifty-nine, Virginia decided to put an end to her own existence, fearing a decline into the obscurity of madness.
Although in Ana's case her ghosts are still alive in another setting, her only moments of lucidity occur when she revisits episodes from her past with them. We don't know what dramas severed Ana from her loved ones, and therein lies one of the novel's greatest strengths. The silences, pauses, and shadows that permeate Mejía's writing let us understand that we don't need to discover what is already known. The author leads us down a path intended to shed light on Ana's current situation. Is this the onset of some sort of dementia that she refuses to accept, a madness bearing down on her like the dark skies that loom over her country house? Time and again she repeats to herself: "Take away my sickness…" Ana writes musings, ideas, and memories of dreams in a notebook, because she knows, as Woolf would say: "In illness words seem to possess a mystic quality." This is why Ana seeks refuge in the gloom of the mountain, far from the glare of city lights.
In Ana, we also see echoes of Maria Wyeth, the heroine of Play It as It Lays, by the American writer Joan Didion. From a psychiatric hospital, Maria evokes memories of her life as a socialite in 70s Los Angeles—her love affairs, her difficulties reconciling her role as the wife of a high-powered film producer with her desire for freedom, all these reminiscences unfold into a disheartening portrait of the hypocrisy and vacuousness of American high society. With minimal resources, we glean that Ana belongs (or belonged) to Bogotá's intellectual elite, working for years as a university professor. Trying to reconnect with her daughter, Ana returns to the social sphere, where she senses her condition as pariah. She doesn't fit in with her old circle and struggles to play their haughty social games. Although Ana makes these efforts for the sake of her daughter, she knows she has lost her place in a society she no longer understands.
In Play It as It Lays the road is a recurring setting. Maria drives recklessly along freeways because they serve as escape routes and as a way of connecting to new and old worlds. They are shortcuts on her journey to self-destruction, a destiny that emerges after the brutal blow of her parent's death. (Her mother perishes in a car accident, a likely suicide.) In Mejía's novel, we overlook the fact that Ana, quietly and almost without knowing it, seeks her own ruin. Through her conversations with the ghosts of her past, we see her grappling with the idea that she doesn't deserve to live, or that she has been unable to face up to what it means to live, to be in the present. For Ana, the road marks out a before and after, and when the road that connects her county house to Bogotá becomes blocked due to a harsh winter, her need to escape this peaceful habitat becomes nearly a matter of life and death.
Andrea Mejía employs a sensitive, minimalist style whose fundamental element is the detail: a white petal falling onto a table, dried mud on a pair of rubber boots, a tiger on a sweater reflected in the mirror. These details become symbols in the mythology of Ana. Set against this backdrop of mountain, rain, mist, darkness, shadows, creaking wood, and silent pets, the atmosphere is tinged with a touch of the Japanese—not Japan's contemporary literature of megacities, high-speed trains, and technology, but rather its rural and suburban literature. In some scenes, you feel as if you are reading one of the diary entries that comprise Tanizaki's The Key, and in other moments you feel that your perspective is none other than the view through the knee-high camera lens of Yasujiro Ozu, as you contemplate Ana looking through a rain-spattered window. Mejía combines these elements into a panorama that shines despite the darkness, shadows, and days resembling endless nights.
The atmosphere that Andrea Mejía conjures, combined with her careful and meticulous style, also calls to mind Japanese folk tales like the ones compiled by Lafcadio Hearn for western readers, in which men and women share experiences with fantastic beings amid forests, lakes, mountains and, especially, the night. There is a particularly interesting literary resemblance between the Yuki-Onna tale and Ana's story: in the Japanese folktale a mythical woman, white as snow, appears before woodcutters in the forest; she is endowed with breath that causes death, but she also possesses the power of absolution.
La carretera será un final terrible reads like a portrait in chiaroscuro, in whose shadows and grayness can be found the power of what both the protagonist and the reader don't know about her past—and, especially, about her present and conscience.
Giovanni Figueroa
Translated by Alex Halatsis
Giovanni Figueroa (Sogamoso, Colombia, 1980) is a journalist and writer. He has worked as an editor for several journalism and communication agencies. He has also taught Spanish and writing classes. He has published the novel La casa de agua (Lobo Blanco Editores, 2020), the short story collection Once bajo la lluvia (Ediciones Oblicuas, Barcelona, 2018), and the book of humorous chronicles Historias optimistas sobre personas con muy mala suerte (co-written as part of the Echemos Vaina project, 2017). Several of his short stories have been published in Colombia and Spain. In 2004, he received first prize in the International Short Story Contest organized by the Spanish-language book club of the United Nations.
Alex Halatsis is an MA candidate in Translation at the Middlebury Institute of International Studies. A native Californian, he taught English for six years in Spain and studied Modern Languages and Literature at the Complutense University in Madrid. He now lives in the Bay Area.