Heretics. Leonardo Padura. Trans. Anna Kushner. New York: Farrar, Straus and Giroux. 2017. 528 pages.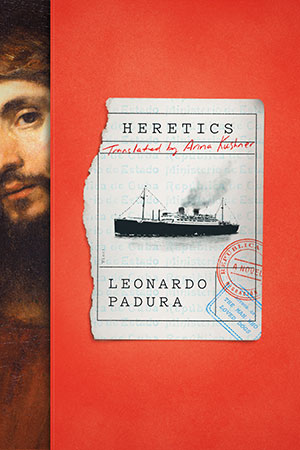 This rich and brilliant evocation of Jewish history will only burnish the already extraordinary reputation of the author of the acclaimed The Man Who Loved Dogs, about Trotsky's assassin, and the popular series Havana Red, Havana Blue, and Havana Gold, featuring PI Mario Conde (see WLT, May 2013, 12–17). Conde ties together this novel's many skeins of history, religion, politics, and philosophy in his search for a missing Rembrandt portrait of Christ and a missing girl, crossing generations and locations, from 1939 Havana to the present day, and going back to seventeenth-century Poland and the Netherlands to trace the Jewish diaspora.
Its four-part structure—"The Book of Daniel," "The Book of Elias," "The Book of Judith," and "Genesis"—interrogates the meaning of heresy in its many contexts. On one level Leonardo Padura explores lost faith in the Communist utopia created by Castro and the Cuban Revolution. On another he portrays one man's rejection of Judaism in 1939 when he sees the Saint Louis, with his family and nine hundred other Jews, sail back to Europe from the Havana harbor; all aboard perish in the Holocaust. Padura sees historical precedents in the pogroms of seventeenth-century Poland and the Netherlands. Even as Jewish prohibitions against idolatry cause the painter Elias Ambrosius, who studies under Rembrandt, to face excommunication and exile, the much more heretical and dangerous Sabbatai Zevi roams the Middle East with fervent and ever-increasing support for his messianic claims.
Heretics, Padura's evocation of contemporary Cuba, with its detailed networks of friends, lovers, and families, considers the effects of twenty years of hardship and the struggle to survive. Conde uncovers tribes of Havana's disaffected young—goths, freaks, and emos, whose philosophy consists of not having the "shitty life you have and had." As one called Pale Face explains, "We aren't going to pay tribute to anyone, man or god." The dangers posed by fanaticism, whether in the name of politics or religion, far outweigh the challenges of freedom. The catch is that with freedom comes the necessity to use it wisely.
Elizabeth Fifer
Lehigh University
Published in World Literature Today, September 2017