El ojo en la mira. Diamela Eltit. Buenos Aires: Ampersand. 2021. 109 pages.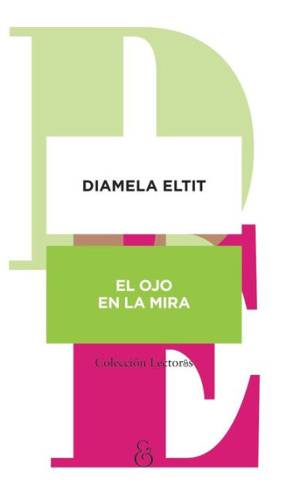 Readers of Chilean writer Diamela Eltit who already know and admire her for her novels, artistic happenings, and essays on art, literature, and politics, will find in El ojo en la mira (2021) a text that, for the first time, engages with a most intimate space through readings that have affected her life and writing. The back cover states: "Without any cosmetics. A woman looks at herself in the libraries of her life throughout time […]. Without posing, without establishing hierarchies, until she penetrates the realest part of herself and of the era."
El ojo en la mira is an open book in the broadest sense of the word. In the opening lines, she invites us into a very intimate space that she shares with her closest friends to initiate a reflection on her own writing process. The image of ten-month-old Diego, reflected on a turned-off iPad—like Narcissus looking into the fountain—triggers the process of reflection around the concept of image that can be uncertain and treacherous.
Why does Diamela Eltit reflect on the subject through this personal narrative in times of social and pandemic crisis? In her book La pose autobiográfica: Ensayos sobre narrativa chilena (2018), Lorena Amaro argues that first-person narratives, the narratives of the "I"—those that flash through the iPad held by a ten-month-old baby—have been carried out in practice and media dissemination through "autofiction." However, she calls those furthest from virtual platforms, which emerged from a sustained memory, autobiographical "poses" : "A memory that, when communicated, knows how to give itself to others in various ways: soft, terrible, attractive, or strange; the investiture of memory, the language that is communicated, constructs images, representations, poses of the elusive self." We are faced, then, with a text that avoids repetitive and serial poses, that intends to be diluted into a "we," but that maintains a great distance between the "I" and "the others." It is what Eltit calls "selfie literature," a product of the ecstasy of private property in Chilean neoliberalism.
The construction of an intimate space as a counterpart to the mediated public bustle is essential. However, it is not a protected sphere in self-absorption, but an active distance that looks at the past to recompose a present, building a "literary self-reflection" to propose new theoretical perspectives that allow for the comprehensive integration of the narrative in a critical and experiential way. In this journey, putting "el ojo en la mira" [the eye on the target], as the book's title says, we encounter authors of the Latin American and Chilean tradition. Some very recognizable and obligatory references such as Marta Brunet, José Donoso, and Carlos Droguett, but also—and I would like to emphasize this—completely forgotten authors. On the same page, we observe the articulation of nomadism as a space in Lazarillo de Tormes and in the "undervalued" novels of Chilean rogue Armando Méndez Carrasco, such as Cachetón Pelota and Chicago Chico, relating to literature "from below" by means of a temporal compression that places the works on the same level of analysis. From this place of enunciation, Eltit affirms the following:
Literature is founded in writing, in its unfolding, its withdrawal, its reformulations, in its fierce permanence. Writing over the centuries is a kind of mutant animal that bears, in its constant modifications, the historical trace of a plenitude, at once obsolete, still relevant, and too futuristic.
It is precisely that "mutant animal" (with different forms, genders, and voices) articulated in her own perception of reading that can address the question previously posed. This multiplicity of forms that configures this space for literary self-reflection has a common feature of storytelling, in various ways, an experience with literature and reading. The experiential event, therefore, is not the exposition of elements of private life, but rather the experience of reading—at the time of its development—time and the story, with irreducible distance, is articulated in a narrative mode and not in the arrangement of events, be they historical, personal, or fictional.
Although the text does not contain chapters, but rather the title and a list of works mentioned, we can draw out three significant moments. The first can be observed from the beginning of the story through an affected narrative, that is, stories about perceptions of readings that allow for aesthetic and political questions in a convulsed and changing text. For such a reason, it is not by chance that the author starts with her reading of Freud's The Interpretation of Dreams, a necessary text for the psychic and social analysis that connects body and objects: "In reading Freud, I was certain that such a text is like a risk zone." As readers, we already have the horizon of expectations that opens up the possibility of reading this story intertextually with the other works from the author. The proposal of a "double reading"—the official one, imposed by academic and private institutions, with friends and passion—is a mark of the institutional exodus that the author carries from her reading beginnings as a communal relationship between friends and accomplices who comment upon and lend books clandestinely.
The second aspect is the relationship with authors and works through what we might call literary genealogies. As mentioned previously, the book contains a list of authors. However, throughout the story, they appear in an interwoven form to rescue those readings that she calls "theoretical or conceptual [that] have been necessary to generate an analytical space to think about cultural dilemmas." Eltit recalls a few authors as a form of literary identification to reflect on the experience of her own reading. The goal is not the organization of a registry, but rather to show a fragmentary aesthetic of narrative identity always open to a chain of identifications, stories, representations, and records. For this reason, it is possible to find meaningful relationships between authors that, from a classical, theoretical understanding, would not make sense: "I'm fascinated by literary experiences, the twists and turns of unexpected textual organizations. In the same vein, I think Truman Capote wanted to get more literature out of literature. Of course, In Cold Blood was an experience and an immersion in crime. Marx claimed that crime 'produced' police, law, the prison system, but also fiction; and quoted Shakespeare's Richard III and Sophocles' Oedipus Rex, among other works."
Finally, I would like to highlight what Eltit calls "minority aesthetics," through a poetics of objects and her experiential experience, reading historical events such as inequality, feminism, women's suffering, and the Chilean dictatorship, among others. The biopolitical reading of the body becomes a discursive zone built of fragments that are presented as a perfect synecdoche in the account of her appearance in publicity—or the ironic story of her own name in various works—while she was a literature student. The appearance of the protagonist of Lumpérica in detergent, wax, and cream commercials, to supplement a salary while studying and writing, was recorded in those hands that showed the effectiveness of the product, but that later would allow the camera to focus on that part of the fragmented body of L. Iluminada, the protagonist of Lumpérica.
Reading El ojo en la mira by Diamela Eltit proposes a transition that takes us from the literary "I" to an "us" as a community of readers, not as simple summations of individuals, but as an articulation of experiences that go beyond the personal space of the narcissistic anecdote and install a space that opens questions and expands the valuation of the world from an aesthetic dimension.
Mónica Barrientos
Universidad Autónoma de Chile
Translated by Jenna Tang