My Love
Die, My Love
don't die my love book
Ariana Harwicz
Die, My Love. Ariana Harwicz. Trans. Sarah Moses and Carolina Orloff. Edinburgh: Charco Press. 2017. 123 Pages.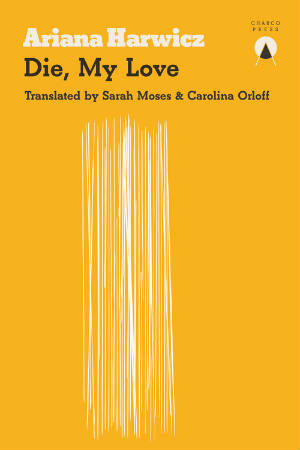 Largely narrated from the perspective of a woman hiding out in overgrown backyard weeds as she looks in at her own house, Die, My Love, the first appearance in English of Ariana Harwicz, is an intimate examination of one woman's struggle with mental health. First published in Argentina in 2012 as Matate, amor, this novel has been made available in English by the incredibly talented Sarah Moses and Carolina Orloff through its publication with the Latin America-focused Charco Press for which it was one of two inaugural texts. The novel has made a significant impact in its English rendition, being shortlisted for the Republic of Consciousness Price and longlisted for the Man Booker International Prize.
Violence—the imagining of it, the physical infliction of it, and its effect on the psyche—dominates this slim novel from its opening line: "I lay back in the grass among fallen trees and the sun on my palm felt like a knife I could use to bleed myself dry with one swift cut to the jugular" (1). The novel immerses the reader into the mind of a woman struggling with post-partum depression, who teeters on the edge of reality, and who lashes out violently. Through the narrative perspective of a new mother and wife living in France, it examines the marginalized position of the mentally unstable and foreign in a rural landscape. The birth of her baby and the death of her father-in-law give way to extended meditations on life and death that seem to endlessly torment this woman. This is a novel that walks the line between the interior and exterior, bringing the reader inside a mind spiraling out of control while also depicting a sort of voyeurism as the narrator examines her own life from the outside, as can be seen in lines such as the following: "I don't go in because I'm a stranger, an outsider: I don't know how to speak without causing offense, I spy on people's homes and I haven't showered in days" (51). There is an unsettling sense of both intimacy and distance as Harwicz is able to catch that disquieting moment when you step outside yourself to become a witness to your own reality.
Perhaps the most striking element of this novel, especially in regard to Harwicz's particular use of language, is the overwhelming presence of animals and the narrator's constant comparisons of herself to them. Lines like "I want to snarl, to howl, but instead I let the mosquitoes bite me" (2), "Looking in at them, I feel like a spider the moment the water hits" (50), or "I heard a gunshot and turned my head furtively, ingenuously, like a faun" (52) abound throughout the novel and function not only to depict the particular sensations that the narrator experiences but also to blur the line between animal and human. In his seminal The Animal that I Therefore Am, Derrida questions the boundary we have created to distinguish human from animal, suggesting that the simplified human differentiation from the animal has allowed humans to explain what it means to be human but that it dangerously homogenizes our understanding of the animal kingdom. The distinction between the two types of beings, he argues, is much more complicated than generally understood and is rarely explored. In her constant use of animal metaphors and similes—and even her references to such barriers: "And as my family gradually succumbs to the radiation of infidelity, I stick my hand through the barbed wire that separates beasts from men and hope the horse will gallop with its jaw hanging open and release its desire" (56)—Harwicz plays with this idea, blurring the line between animal and human, especially in the case of a human losing her ability to control her own instincts. Intense emotion merges with animal drives and imagery as Harwicz draws a fragile line between human and animal, revealing the animal side of humans in sexual drives, anger, and depression without the intellectual and analytical ability to make sense of those drives.
Ariana Harwicz has been likened to writers like Nathalie Sarraute and Virginia Woolf. Mid-century Latin American writers like Clarice Lispector or Amparo Dávila could easily be added to this list due to the focus on mental illness in women and the blending of reality and elements of the fantastic. Beyond the comparisons that may be made to previous generations of writers, Harwicz is one of the strongest voices in a contemporary trend of female Latin American writers that include Mariana Enriquez, Gabriela Wiener, Selva Almada, Mónica Ojeda, or Samanta Schweblin who create these dark, violent, intimate portraits that attempt to make pain and suffering visible through writing. Directly connected to the suffering that so many of these writers explore are questions of contemporary politics and geographic displacement. Many contemporary writers are moving around quite a bit, living in countries far away from home—Schweblin is in Berlin, Wiener and Ojeda are in Madrid, Harwicz is in France—and this sense of geographic displacement and distance can be intensely felt in their writing. In the case of Die, My Love, Harwicz inserts the reader into the mind of a young woman living far from home who is suffering from psychological turmoil. The result is a striking, if not shattering, text that explores the darkest corners of the human psyche while also pushing at the possibilities of writing.
Sarah Booker
University of North Carolina at Chapel Hill