Cincinnati. Historia personal. Manuel Iris. Mexico City: Cuadrivio. 2018: 64 pages.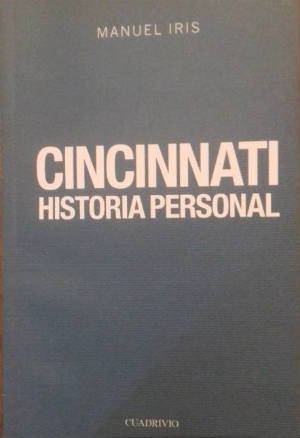 The theme of the traveler is a well-known topic in literary studies. Wandering through distant lands is often an attractive and exotic pretext used to tell stories that, at least from the perspective of curiosity, carry the promise of an alluring unknown fact that only the testimony of the real traveler can give. It would be sufficient to line up the not so small collection of titles known as travel books to give us an idea of how prolific the geographical adventure has been. Logically, the travel book sub-genre usually prioritizes descriptions and details about the place explored. In the case of the travel book, the true protagonist is the destination.
What I say here about travel books is for all intents and purposes a call to establish a starting point for reading Cincinnati. Historia Personal [Cincinnati. A Personal Story] (Cuadrivio / Secretaría de Cultura, México, 2018) by Manuel Iris. This book is different than its title would suggest. This book, in fact, is almost the exact opposite of those topics I indicated concerning exotic excursions and adventures in distant places. Above all else, this book is at once an intimate reflection regarding that which is near and far, and a sincere retelling of the facts that construct our identity, be they sought out or accidental.
If one thing these poems reveal to us from the very start, it is that, perhaps before and above the distance that we place over our origins, we are who we are, accompanied by some something permanent not unlike a shadow; or, perhaps it would be better to say, something we cannot stop being no matter how far away we travel. It is in the distance that we seek that which we will only understand by approaching ourselves with sufficient clarity. In such a manner, destiny is not something that we chase after: it is something that chases after us, far beyond the odyssey each of us takes up in the world.
The book opens with a small explanatory prologue, as if it were a personal photo album or a diary written during a long journey. Just a handful of words that orient the origin and circumstances surrounding the writing of Cincinnati. Historia Personal. Here the author affirms that "the assembly of texts that I gathered for this book bear witness to this city as a space or scenario of the inner life which, ceasing to be that of the visitor, transforms into that of one who stays and adopts the place which has adopted him. In other words, these texts speak of the life of an immigrant, the way it has been for me to live that life."
It is in this manner that Manuel Iris proposes in his prologue, with a certain Borgesian wisdom, what perhaps is the most clearly succinct definition of this book's contents: "these poems, written over the course of a decade, bear witness not to who I am, but rather to several of the men that I have been in this city which, like me, has changed over time. It is not the poems but myself which has been inscribed (as well) in Cincinnati."
In what follows, a window is the witness, the visual point of reference, and perhaps the most appropriate metaphor to relate a love story written through a series of flashbacks. A story of refractions and coincidences that unravel progressively now from a distance by means of memories and photographs, that is, in one way or another, by means of retrospective reflections that originate in that "stunned eye that looks in on the room where I wait for the winter to end". From this window, the snowfall is not only "that glass which renders the tree reverent, which coaxes the glacial genuflection delicate" but it is also a state of memory, a symbolic space which permits both strangeness and communion, given that the origin of the love story is also the origin of snow:
The first time it happened was like a falling into the other, like a going out from the skin to certainty. It was winter and they both saw snow for the first time, a few hours before meeting. It snows upwards too! One of them said, on their way out the door.
Love, nature, friendship, literature – especially poetry – and music – from Led Zeppelin to Héctor Lavoe – receive discreet and intense praise in these pages. It would appear that Manuel Iris possesses a highly focused lens to capture images at times as unexpected as they are precise, like when he describes the atmosphere after rainfall as "everything smells like the flavor of jicama". However, the predominant tone in his poems is contemplative. Its center would seem to be situated more empathetically in the reflective distance that wells up from pausing and looking. For example, he writes of a tree:
Tranquil soul, shape, hard vein,
inner mold of the sculpture of yourself
the tree remains there,
it drips.
It becomes ever more a tree.
Everything speaks to us of the eternity that ends
of the silence that continues there,
falling.
The book's closing section, titled "Poems Written on Ludlow Avenue", contains a series of more diverse pieces insofar as their thematic perspective, although several of them are undoubtedly magnificent. For example, a poem such as "Political Acts" stands out in its significance, especially when keeping in mind that this poem was written in the United States within days of Donald Trump's victory in the 2016 election. Here Manuel iris, who in many ways is an immigrant as he himself admits to, enumerates with acuity and irony the daily actions that make up acts that are categorically political in a nation that is obligated to be a nation that, if it lives up to its own principles and history, is to be built on diversity:
In the Land of the Free, the Home of the Brave
one no longer needs an ideology
to be anti-establishment: it is sufficient
to live with dignity.
Or we can observe in "To toast now", another magnificent and melancholic poem reminiscent of Cavafy, with a touch of the cynical wisdom of Jaime Gil de Biedma, the author's observation of his own awareness, perhaps, of that final and inescapable truth:
And we shall depart, old and tired
keeping to ourselves the fact
that it is all one big lie.
However, the penultimate poem of the book, significantly titled "Ars poetica", I judge to be a gem. Here, with a maturity of style and impeccable intelligence, the author explains vis-à-vis an allegory of plant life what poetry is, articulated better than any thesis.
Stubborn, the yellow leaf
does not let go of the branch.
I watch her battle
against wind and rain,
against gravity.
For days, I've been watching
her quiet effort,
her tiny tragedy.
Her persistence
does not deserve oblivion.
That is why
I put her here,
in this verse
from which she will not fall.
I met Manuel Iris right in Cincinnati some nine years ago. To be more specific, on the campus of the University of Miami (a beautiful place oriented to the North) which, contrary to popular belief, is not in Florida, but in Ohio. This first encounter, as unexpected as it was agreeable, left me with two gifts: the first, to find a calm compatriot that far north with whom to speak about Mexico as well as music and poetry, and second, a refined spirit who studied literature with the understanding that its true value was not in literature, but in life itself.
I should add, and celebrate, that, as I read this book and several others by Manuel Iris, I have noticed a certain proximity to him. An emotional and thematic empathy, of images and rhythms that are surprising when viewed from a distance, not just generational but geographical, which nurture both of our work. But this is not what is most important, at least not for me: our proximity is the proximity, perhaps, of our central poetic intuitions.
Throughout my life as a reader, be it brief but passionate, I have been disappointed often, but I also believe I have learned to recognize certain things, to recognize certain clear proofs when they are in evidence that mark the direction of a writer's path. The question is that nobody knows how many books he is to write. So every writer attempts, with varying results, to say it all in whatever he is writing at the time. Everything, at least, that at that moment in time appears to him to be crucial. This is precisely what Manuel Iris does from the here and now, from this irreplaceable part of his life symbolized by his academic stay in the United States. Truth be told, he does it often discreetly, and at times ironically, but at the end what he says is insurmountably transparent, words that only the true traveler can speak at the end of his journey:
That it is impossible to stay, even if you stay
That it is impossible, even if you go back, to be back.
Jorge Fernández Granados
Translated by Mathew Fehskens