To read Juana Peñate Montejo's poetry is to be immersed in the rich and vibrant natural world of Chiapas, Mexico.  Her poems evoke the verdant land that surrounds her home in Tumbalá—its rivers and mountains, storms and vegetation. These poems, written in Ch'ol, translated by Peñate Montejo into Spanish, and now, for the first time, translated from Ch'ol into English, lodge in the reader's heart and gut.  Peñate Montejo's authoritative voice, embodied and unhesitatingly female, captures her lived struggles—to find voice as a poet, to be a woman, to hold memory and peoplehood. Her words are rooted in the beliefs of her Ch'ol ancestors but also in her experiences living in contemporary Mexico, creating a productive friction, sensual and tender in one moment, fierce in the next. The poems are incantatory and timeless. Our desires and dreams are called up in poems that are resonant, powerful, and refreshingly new.
Translation of poetry is a curious art, a dance between the poles of exactitude and compromise. One might think that the added complexity of co-translation would make a difficult task near impossible. That was hardly the case. On a practical level, very different skill sets, that of a linguist and a poet, complemented each other. The starting point was always a careful, word by word, literal translation of each poem, from Ch'ol to English. The wildly different soundscape and linguistic structure of the Ch'ol language made a certain level of compromise immediately evident. Each word and poem were labored over, always preserving the number of lines in the original and, as much as possible, the poem's appearance on the page. A deep familiarity and intimate knowledge of Ch'ol culture, as well as of the language, proved indispensable. While only two sat at the table—puzzling, imagining, trying and retrying words and phrases—it was as if Peñate Montejo was there, too. Her voice is that powerful.
Juana Peñate Montejo (previously published as Juana Karen), a lawyer by training, is a Ch'ol poet, writer, translator, and educator and cultural promoter from Emiliano Zapata, Tumbalá, Chiapas, Mexico. She has authored several books of poetry in Ch'ol with self-translations in Spanish including Mi nombre ya no es silencio (CONECULTA 2002), Ipusik'al Matye'lum/Heart of a Wild Land, first published by Pluralia in 2013, and most recently Isoñil Ja'al/Dance of the Rain, which won the 2020 Premio de Literaturas Indígenas de América and will be published this year by the University of Guadalajara, as well as Tsa' Kñajle…Jump'ej K'iñ, Jump'ej K'iñ…/One Day, One Day…I Dreamed… to be co-published this year by Oralibrura and Lakñichimal.
Ch'ol, or lakty'añ as it is known by speakers, is a Mayan language spoken by a quarter of a million people in southern Mexico and diaspora communities in the United States. This is the first time Peñate Montejo's poetry has appeared in English, translated directly from the Ch'ol.
Carol Rose Little: It is good to be with you here in Chiapas, in Tumbalá. I want to begin by asking you about your beginnings. Is this where you grew up and have always lived?
Juana Peñate Montejo: Thank you for coming. I am so happy that we are doing this interview in Ch'ol.
Yes, I grew up in Emiliano Zapata, Tumbalá, Chiapas and moved to San Cristóbal de las Casas after high school, where I received a diplomado in creación literaria from the Escuela de Escritores de México. I also have a bachelors in law and worked as a teacher in a remote community in Sabanilla, Chiapas. I moved back to Tumbalá in 2002 and have lived here ever since.
CRL: How did you start writing poetry?
JPM: I have liked poetry ever since I was little. I was in a poetry competition in fifth grade where I submitted a poem in Spanish. When I finished high school, I needed to work. At that time, I only knew how to speak Ch'ol, and couldn't write it. I set myself a goal that I would learn to write it. I studied very hard in order to get work as a bilingual Ch'ol-Spanish school teacher.
CRL: Did you have a mentor who was important to you?
JPM: I began work as a legal translator in San Cristóbal de las Casas and was introduced to the poet and teacher José Antonio Reyes Matamoros. I participated in his workshops and learned a lot from him. He was very demanding because he believed in my potential. He told me I should work hard in order to give strength to my writing, my voice, and the voice of the Ch'ol people, and thus reclaim our heritage.
At first when I showed him my writings, he scribbled all over them! "This is no good, Juana Karen! This doesn't work at all!" I asked him what was wrong and he told me I needed to work harder. If I really wanted to be a poet, I needed to put more effort into it. "There are three rules you must follow," he said, "The first is work, the second is work, and the third is work!" That was what he told me: "work, work, work, read, read, read. A good poem reaches readers, it goes to their hearts," he told me.
CRL: And why poetry and not another kind of writing?
JPM: For me, poetry is what is in my body, it calls to me, it pulls me to it because it uses metaphor to express ideas. Narratives are harder for me, poetry is something that is me, it makes me feel whole. Poetry is like the rain, the wind, like walking. Poetry is delicate and powerful. That's why I write poetry.
CRL: What kind of impact does being a woman have on your writing?
JPM: Women, who are from here, have not had much of a voice. In the past, when religious festivals were held, women were in charge of serving the festival-goers, but they could not even say a word. We were taught to keep quiet. Women just sat there in silence. Just slightly smile, that's what our mothers told us.
My mother always told me women are important, too. She did not want her sons and daughters to stay here [in Emiliano Zapata, Tumbalá]. She hoped we would go out into the world and find our own way. My mother did not know how to read or write, or even speak Spanish. Her life consisted of caring for her husband and raising her children. I remember she said she would have liked to have learned Spanish, but she was too old. She told us we should learn Spanish, and even though we didn't dress in the traditional way or live how our ancestors did, we should never forget our Ch'ol roots, our Ch'ol language, where we come from, who we are. Then I understood the power of our language, our voices, and the voice of women.
What I write is for those women who are abused, who have been raped, who are no longer with us. My poems do not only try to capture happiness, tranquility, but also to reflect the pain and everyday life of my people, of women, of young people. I write about the journey that many undertake in search of a better job, a better life. Many risk dying in search of a better life in other cities in Mexico or the US. Through my writing I hope to generate an interest in staying in Chiapas, which has much to offer.
CRL: Tell us about your book Ipusik'al Matye'lum/Heart of a Wild Land.
JPM: Here where I live, many of our customs, as well as our traditional way of dressing, rituals, religious songs—all of the customs of our ancestors are fading. So, I thought of this book as a gift, an offering to Mother Earth. The book is about expressing the beauty of the earth, but it is also about subtly revealing its pain and sadness. Each word is deep, it must settle with the reader, it must make the world aware. As people, we too feel pain and sadness in our hearts and bodies, like the earth, which we have forgotten and mistreated. I like this book a lot.  I hope that it will bear fruit for future generations of Ch'ol speakers.
CRL: Is there a particular poem from the book that you would like to talk about?
JPM: In the poem "Chajk," chajk means lightning but it is not just simply lightning, which is why I did not translate it into Spanish. Chajk has many meanings: it can be a lightning bolt, a person who throws fire, a person with powers. Chajk does not just come from the sky. If I were to translate it as lightning, these other meanings would not come through. This particular poem seems to carry a lot of meaning for Ch'ol audiences. It's easy for people to imagine me sitting at my window watching these magnificent fireworks.
CRL: Is there an example of a word in Ch'ol that you found difficult to translate into Spanish?
JPM: An example is the word pom. I cannot translate it into Spanish as incienso (incense), because that takes away its importance. For us, pom is something that identifies us, it's a deep feeling. For our parents, pom was not only used for smudging, but also to filter out evil and let in the good, the light, so that darkness was kept away. This was the belief of our ancestors.
CRL: Pom was also very hard for us to translate into English! The word incense has different associations in English and doesn't convey the same cultural significance that pom does in Ch'ol.
In 2020 you won a prestigious international award, the Premio de Literaturas Indígenas de América (PLIA). What was the response of the Ch'ol people when you won that award?
JPM: Some girls approached me on the street on my way to work. They told me they had seen me on TV, and they had seen I had won an award for my Ch'ol poetry. They asked how I had learned to write in our Ch'ol language because they wanted to learn, too. I said I would gladly teach them. I also told them that today I won the award, but tomorrow it could be them! Many Ch'ol-speakers have migrated to other places, so I also received congratulatory messages from people in other parts of Chiapas and Mexico.
CRL: Has the PLIA award changed the way you approach your work?
JPM: The award has inspired me to continue working for future generations and I sense that there are now more opportunities for speakers of indigenous languages. The award has opened many doors for me in my career as a poet. For that, I am very happy and feel I have a deeper responsibility in my work.
CRL: Do you have favorite poets who you like to read or who inspire you?
JPM: I like Walt Whitman, T.S. Eliot, Sor Juana Inés de la Cruz, and Eduardo Galeano as he writes about social struggle as well as stories and narratives of different places. I enjoy reading indigenous poets and storytellers.
CRL: How did you feel when you heard your poetry in English for the first time?
JPM: Although I didn't understand the words, I got chills when I heard the English translations. They shook me. I recognized my poetry and heard the strength of my voice. Just yesterday afternoon I was listening to the English and was amazed. I said to myself, "Ahh, that's my poetry!"
Translated from Ch'ol to English by Carol Rose Little and Charlotte Friedman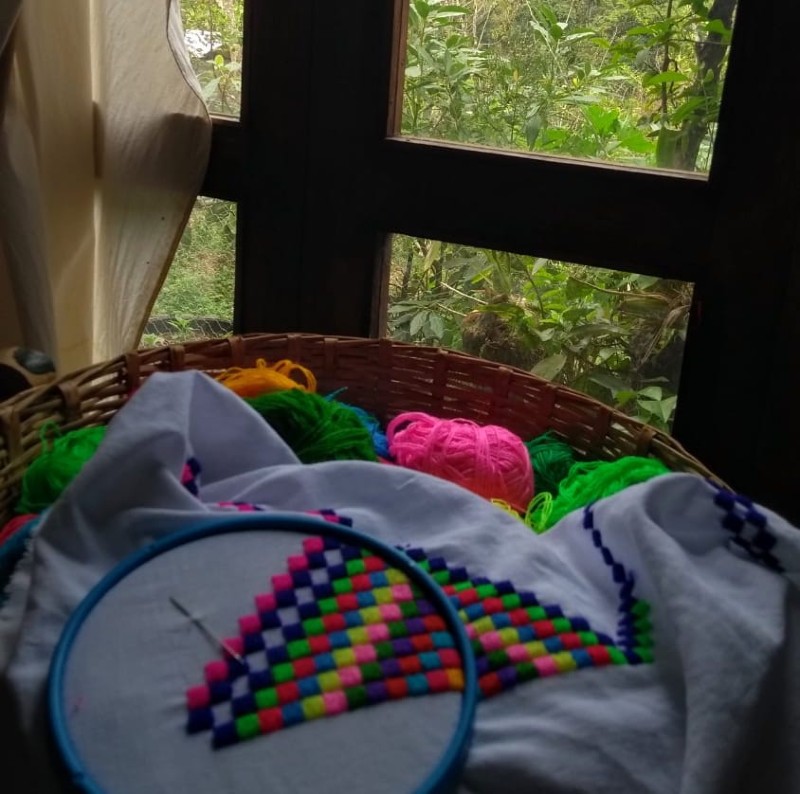 Five Poems by Juana Peñate Montejo
Translated from Ch'ol to English by Carol Rose Little and Charlotte Friedman
Chajk
Mi jk'ajtyiñ ap'ätyälel, chajk
joñoñ ik'älaloñ xu'chajk,
lok'sabeñoñ jiñi machbä tyajbilik.
Ña'tyañoñku.
K'ajtyibeñoñku yik'oty iwujtyaj jiñi ik'.
Mach joñoñik,
jiñi pañchañ machbä añik ityamlel,
woli ksäklañ tyi wäyel,
iyilo' pañumil kty'añ.
Chajk
Lend your strength.
I am flame born from lightning's strike.
Take from me what I will never know.
Understand me.
Ask for me with a breath of wind.
I am not like the sky,
eternal.
While I sleep, I am searching
for the birth of my voice.
chajk – lightning
X-ixik
Acha'añäch ili tyamlel, x-ixik
mi ajoch' majlel abäk'tyal yik'oty k'uxel
mi awäk' abäk'tyal che' bajche' melbilbä xajlel
che' bajche' mi aboñ abä tyi yujts'il pom
cha'añ ma'añik mi ijilel ap'ätyälel.
X-ixik
Time is yours, x-ixik,
embroidering your body with pain
like stone to chisel, you give yourself up,
bathe in the sharp fragrance of incense,
so that your strength will not run out.
x-ixik – woman
Alä tsäñlawbä
Ñäch'äloñ tyi ityamlel kña'tyibal,
ch'ixikñayoñ che' ts'äylaw lemlaw,
joñoñ tse'tse'ñayoñ yik'oty ja'al tyi iwich' jiñi ik'.
Jiñi kty'añ tsiltsilña tyi imosil kolem pañchañ.
Glimmerings
I am silent in the depths of thought,
shattering when there are glimmers, flickers,
a smile and rain on the wings of the wind.
My voice, unsteady, beneath the shelter of an immense sky.
Xwujty
Jiñäch xwujty mi ixäk'e' iyujts'il jiñi yopotye',
cha'añ kbäk'tyal yik'oty kch'ujlel.
Iyäxty'ulañlel jiñi xpasoñtye',
iyäxmajañlel jiñi ts'äkal bäk'eñ,
ik'añjuch'äñlel iñich xtyijol,
yik'muläñlel jiñi pom,
isäsäklel jiñi x-alcanpor,
jiñäch iyujts'iltyak muk'bä ijam kbijlel tyi pañumil.
Jiñäch xwujty mi iletsañ ity'añ tyi ityojlel ch'ujultyaty tsa'bä imele iñi' kolem lum,
Mi ik'ajtyiñ tyi wokol ty'añ kñumib,
mi ilok'sañ tyi ityi' ch'ujulbä ty'añ tyi ktyojlel,
käñtyayaj, yejtyal weñ ach'tyobä,
tsijib päk'embä cha'añ yambä ch'ok-ayaj.
Jiñäch itsajakñäyel yopotye'tyak mi ik'el majlel kok,
jiñäch xwujty, kñusaj-ty'añ jts'äkayaj.
Healer
The healer mixes herbs, fragrance
for my soul and body—
greenness of epazote
clarity of mint, fear's cure,
yellow of the marigold
black incense
white camphor.
These clear my way in the world.
The healer raises her voice to the sun,
creator of the earth,
and asks a favor.
From her lips, sacred words of protection,
freshly tilled,
for new creation.
Aroma of leaves around my steps,
this, my healer, interpreter and cure.
Ixu'chajklel ñichty'añ
Jiñi ja'al mi imek' ich'ujlel jiñi x-ixikob,
ik'ay jiñäch ch'ujulty'añ icha'añ matye'lum,
tyambä ik',
ixu'chajklel ñichty'añ.
Poetry's lightning
Rain embraces the women's souls,
sacred language of a wild land,
eternal wind,
poetry's lightning.
These poems were written by Juana Peñate Montejo and first published in Ipusik'al Matye'lum/Corazón de Selva in Ch'ol and Spanish by Pluralia in 2013. The Ch'ol text has been updated to fit current Ch'ol orthographic standards.
From the home of Juana Peñate Montejo in Tumbalá, Chiapas, Mexico. Photo: Diana Laura Montejo.