Elizabeth Acevedo: Clap When You Land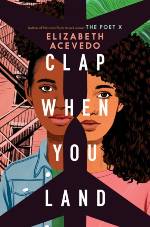 In a novel-in-verse that brims with grief and love, National Book Award-winning and New York Times bestselling author Elizabeth Acevedo writes about the devastation of loss, the difficulty of forgiveness, and the bittersweet bonds that shape our lives. Camino Rios lives for the summers when her father visits her in the Dominican Republic. But this time, on the day when his plane is supposed to land, Camino arrives at the airport to see crowds of crying people. In New York City, Yahaira Rios is called to the principal's office, where her mother is waiting to tell her that her father, her hero, has died in a plane crash. Separated by distance—and Papi's secrets—the two girls are forced to face a new reality in which their father is dead, and their lives are forever altered.
Guillermo Arraiga: Salvar el fuego [Save the fire]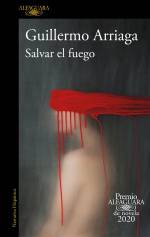 Winner of the 2020 Alfaguara Novel Prize, this story explores the ability of human beings to cross the boundaries of madness, desire, and revenge. Marina is a choreographer, married, with three children and a conventional life. José Cuauhtémoc comes from the extremes of society, a murderer sentenced to fifty years in prison, a lion behind the glass, always threatening and ready to attack. An unlikely relationship develops between the two. Gradually, she enters an unknown and brutal world until she descends into the very bowels of the fire. With Shakespearean tints, fast-paced rhythm, and great tension, the novel recounts the paradoxes of a country and the fiercest contradictions of love and hope. Arriaga is one of the riskiest and most exciting writers of today's literature.
Bernardo Atxaga: Casas y tumbas [Houses and graves]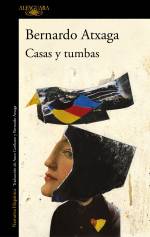 Bernardo Atxaga's new novel, winner of the National Prize for Spanish Letters, explains the curious link of existence: "If you could flip the names printed like the stones of an orchard and see the life they hide, we would see that two beings are never the same." Here, time passes quickly and transforms everything from the outside: music, television with its realities, and email arrive, although inside the protagonists of this story the silences, the secrets, the threats remain intact. Life runs on like trickles of water between the stones. This is an exciting novel, connected by friendship, the love of nature, and the imminence of death, where Atxaga stands out as a master in creating territories and characters that are impossible to forget.
Fernando A. Blanco (editor): The Imitated Life: Narrative, Performance and Visuality in Pedro Lemebel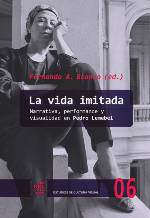 Lemebel is a Queer icon of social, sexual, and political activism in Chile and Latin America. His narrative work is rooted in the genre of the urban chronicle, in which he combines, through the use of orality, popular languages and imagery, the customs and rites of the proletarian classes, the historic judgement of the military dictatorship, the AIDS pandemic, the whitewashing of the terrorist State's crimes, and all forms of extermination and inequity. This volume includes 15 essays focusing on the connections between his writing and cinema, media, radio, music, and photography. Several essays are devoted to his figure as a radio show host, links with the Cuban literary and cultural establishment, and the portrayal of his early work in the media, along with brilliant analysis of his performances. Among the collaborators are Ignacio Echevarría, Jorge Fornet, Roberto Echavarren, Gilda Luongo, Dieter Ingenshay, Brad Epps, Jorge Ruffinelli, and Jovana Skármeta.
Jorge Carrión: Lo viral [The viral]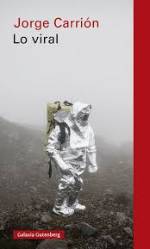 In this book, Jorge Carrión asks questions such as: Did the 21st century begin with the fall of the Twin Towers in New York or with the entry of a virus into a man's body in Wuhan? Is SARS-CoV-2 the first cyborg pathogen? Are Netflix, Zoom, or Amazon pandemic multinationals? How can the transformation of science fiction be represented in everyday reality? What is the current relationship between transmedia virality and books? What is the effect of the mutation of a logic that was born in the marketing of the 1990s and that, in cahoots with algorithms, is monopolizing today's cultural industries and literature? Lo viral is, at the same time, a historical reconstruction of the first months of the coronavirus, a fragmentary essay on digital virality, the memory of a quarantined library, an experiment in cultural critique, and a false but sincere journal.
Emma Cline: Las chicas [The girls]
Emma Cline's first novel comes preceded by international news: translation rights have been sold in thirty-five countries, and producer Scott Rudin plans to adapt it to the big screen. The author is loosely inspired by a famous episode from America's crime pages: the massacre perpetrated by Charles Manson and his clan. But what interests her is not the figure of the demonic psychopath, but something much more disturbing: those angelic girls who committed an atrocious crime and yet, during the trial, did not lose their smile.  What were they like, what led them to cross the boundaries, what were the consequences of acts that will always haunt them? A novel about the years of peace and love, hippie idealism, on the dark—very dark—side of humanity.
Natalie Díaz: Postcolonial Love Poem 
Postcolonial Love Poem is an anthem of desire against erasure. Natalie Diaz's brilliant second collection demands that every body carried in its pages—bodies of language, land, rivers, suffering brothers, enemies, and lovers—be touched and held as loved ones. Through these poems, the wounds inflicted by America onto an indigenous people are allowed to bloom through pleasure and tenderness: "Let me call my anxiety, desire, then. / Let me call it, a garden." In this new lyrical landscape, the bodies of indigenous, Latinx, black, and brown women are simultaneously the body politic and the body ecstatic. In claiming this autonomy of desire, language is pushed to its dark edges, the astonishing dune fields, and forests where pleasure and love are both grief and joy, violence, and sensuality.
María Dayana Fraile: Ahorcados de tinta [Ink hanged]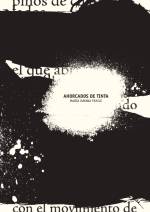 Written with a rhythm that often refers back to the poets of the Generation, and on other occasions to the existentialist symbolism of José Antonio Ramos Sucre, this book is a collection of ghostly memoirs and delusions. There are no friendly presences, but cities of suicide bridges and suspended trains, animals to be hunted, and an often inhospitable sea. Like Giorgio de Chirico's paintings, the universes built by Maria Dayana Fraile recontextualize everyday life and fragment it; they place it in a space where the mystery lies not in the hidden, but in the strange brightness in which things appear. Palimpsest, the living experience is a footprint here. Everything is deliberately erased to give birth to an oracular script, like poems in trance. At the same time, her poetry speaks, collects, and shapes babbling messages, like the writing of Lovecraft.
Almudena Grandes: La madre de Frankenstein [Frankenstein's mother]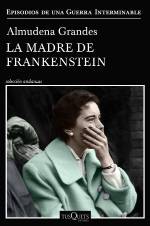 In 1954, the young psychiatrist Germán Velázquez returned to Spain to work in the women's asylum of Ciempozuelos, south of Madrid. After going into exile in 1939, he lived fifteen years in Switzerland, hosted by Dr. Goldstein's family. In Ciempozuelos, Germán is reunited with Aurora Rodríguez Carballeira, a paranoid, intelligent parricide who fascinated him at the age of thirteen, and meets a nursing assistant, María Castejón, who Aurora taught to read and write as a child. As soul mates who want to flee their respective pasts, Germán and María want to give themselves a chance, but they live in a humiliated country where sins become crimes and the official morality of puritanism covers up all kinds of abuses and injustice.
Laura Hana: El conjuro: Escritos con Clarice Lispector [The spell: Clarice Lispector on writing]
The poet, psychoanalyst, and teacher Laura Hana captures her encounter with the universe of Clarice Lispector, from which she began to chart a journey of readings, texts, and trips that transformed her, giving rise to her writing experience in a vital and contingent way. As Hana points out, "What is presented in the book is intertextuality, writing that marks a crosslink, a cross between rare voices of Clarice's characters, mine, or those of certain writers who appear unnamed. Several times the feeling is that Clarice speaks to us, but it is not by coincidence or something like it. It is rather an encounter with a disturbing and ambiguous discourse that moves, touches the body, and gives rise to meaning."
Yuri Herrera: A Silent Fury: The El Bordo Mine Fire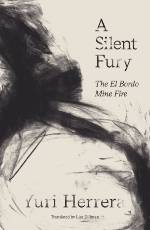 On March 10, 1920, in Pachuca, Mexico, the Compañía de Santa Gertrudis― a subsidiary of the United States Smelting, Refining and Mining Company―may have committed murder. A century later, acclaimed novelist Yuri Herrera has reconstructed a workers' tragedy at once globally resonant and deeply personal: Pachuca is his hometown. His work is an act of restitution for the victims and their families, bringing his full force of evocation to bear on the injustices that suffocated this horrific event into silence. A Silent Fury reads almost like the working notes for a novel, or a critical case-study of history-making as the alibi of abusive power. Lisa Dillman's English version adroitly captures its scholarly scruple and veiled ardor.
Jonathan Jakubowicz: La venganza de Juan Planchard [The revenge of Juan Planchard]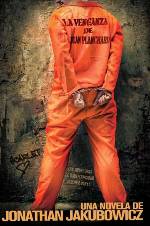 Jakubowicz publishes the second part of Las aventuras de Juan Planchard [The adventures of Juan Planchard], a novel that fictionalized the figure of the "bolichicos"a new generation of corrupted Venezuelans—in 2016. This story, connected to the most recent crimes committed in the context of Venezuelan reality, moves the protagonist from prison to other spaces, inside and outside Venezuela. He must establish corrupt connections from the highest levels so that the investigations that have been opened in the United States are brought to bear. But this time, someone joins the struggle for survival in the face of torture and political oppression. A girl raised without her father, from whom she inherited strength and survival instinct, and with the ability to speak several languages, confronts the violent future as a Planchard, in a place where national identity is also destroyed.
Martín Kohan: Me acuerdo [I remember]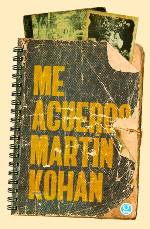 Is our memory transferable? Could one person's memory be analogous to the memory of a generation?  This book brings us to know the memories of a well-known current writer through literature attached to the powerful images he evokes. Martin Kohan, who has written more than twenty books, moving between essay and narrative, and has been the winner of the Herralde Prize for his novel Ciencias Morales [Moral sciences], which inspired the film La mirada invisible [The invisible gaze] by Diego Lerman, carries on the writing system that American writer Joe Brainard postulated and, eight years later, French writer Georges Perec employed with his respective Me acuerdo (Je Me Souviens).  Here, the letters agree with the mechanism of plagiarism and citation, from which much of the literary system is fed in order to elaborate its original narrative purpose.
Felicia Rose Chavez et al.: The Breakbeat Poets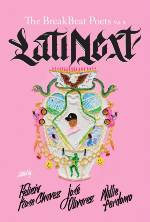 In the dynamic tradition of the BreakBeat Poets anthology, The BreakBeat Poets Vol. 4: LatiNext celebrates the diverse voices of the Latinx Diaspora. Like Hip-Hop, this is the honor of what was, what is, and what is next. Edited by authors Felicia Rose Chavez, José Olivarez, and Willie Perdomo, the book contains a multitude of poets from different nationalities, genders, races, sexualities, and writing styles who remix the stories of the Latinx diaspora with a freshness unlike any other poetry series. "If poetry is truly a decolonial practice, then this anthology lifts its lyrical machete, its formalistic authority, its innovative approach toward language, its queerness, its nonbinary they, its sense of lineage, family, tradition, pride and, refreshingly, its Blackness," writes Perdomo in the book's introduction.
Carmen Mola: La nena [The girl]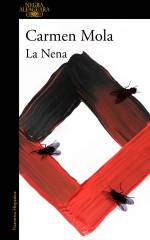 Carmen Mola is one of the great writers of current noir fiction. Her literature has been like a jolt to the police novel, revitalizing it and making it fashionable again in the preferences of readers.  In La nena, she has an easy way of connecting a good idea with a good script, and in this story, there is something truly remarkable in her characters. Mola elaborates on outstanding relations between characters and the script. On the back cover of the book, certain parallels are established with Sandrone Dazieri and Pierre Lemaitre. In the words of her most recent critics, this writing not only adds to the best noir genre of previous authors, but her style may be well above them.
Lesbia Quintero et al.: Pasajeras: Antología del cautiverio [Women passengers: anthology of captivity]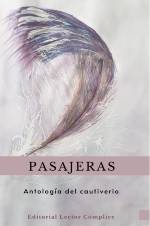 In the middle of a global pandemic, Venezuelan writers cloistered in various cities around the world came together to write about creative processes from their confinement. Lesbia Quintero and Graciela Bonet created a new writing space whose path was multiplied in various forms, along with drawings and photographs. Writers such as Veronica Jaffé, Edda Armas, Eleonora Requena, Raquel Rivas-Rojas, Daniuska González, Sonia Chocrón, Yolanda Pantin, Jacqueline Goldberg, Ana Teresa Torres, Gisela Kozak, Krina Ber, Liliana Lara, and Claudia Cavallin, among many others, joined this adventure full of pages. As Quintero points out, "The inquiry between captivity and the processes of artistic, poetic, literary creation is a way of convening the absent, the freedom to walk on any street, today deserted and marked by the death that now stalks us."
Samanta Schweblin: Little Eyes 
Included on the list for the 2020 Man Booker International Prize, this novel is her most unsettling work yet, and her most realistic. The characters in Samanta Schweblin's brilliant new novel, Little Eyes, reveal the beauty of connection between far-flung souls—but they also expose the ugly side of our increasingly linked world. Trusting strangers can lead to unexpected love, playful encounters, and marvelous adventure, but what happens when it can also pave the way for unimaginable terror? This is a story that is already happening; it is familiar and unsettling because it is our present and we are living it, we just don't know it yet. In this prophecy of a story, Schweblin creates a dark and complex world that is somehow so sensible, so recognizable, that once it is entered, no one can ever leave.
Saul Sosnowski: Decir Berlín, decir Buenos Aires [Saying Berlin, saying Buenos Aires]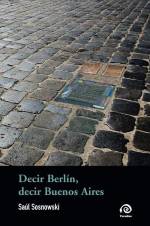 The "monólogo del solo" proposed by Saul Sosnowski is not the voice of this novel, it is the scene we witness when we read it. And in that scene with variations, there are two circumstances that persist: that of looking at photos and that of staring into the mirror. In the photos, the past, and in the mirror, you can see "right now"; in one case and the other, the restlessness of identity. Identity, a theme conducive to being fulfilled at conferences and conventions, changes appearance significantly when it comes to one's own life, when it comes to history itself. But something happens in Decir Berlín, decir Buenos Aires, and the monologue of self-absorption opens to another person and becomes dialogue. The past and memories come face to face with something unexpected: a future. Then, the novel is revealed as a love story.
Camilla Townsend: Fifth Sun: A New History of the Aztecs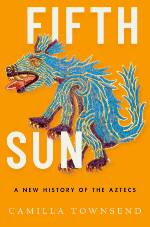 In November 1519, Hernando Cortés walked along a causeway leading to the capital of the Aztec kingdom and came face to face with Moctezuma. That story—and the story of what happened afterwards—has been told many times, but always following the narrative offered by the Spaniards. After all, we have been taught, it was the Europeans who held the pens. But the Native Americans were intrigued by the Roman alphabet and, unbeknownst to the newcomers, they used it to write detailed histories in their own language of Nahuatl. Until recently, these sources remained obscure, only partially translated, and rarely consulted by scholars. For the first time, in Fifth Sun, the history of the Aztecs is offered in all its complexity based solely on the texts written by the indigenous people themselves.
Mario Vargas Llosa: Medio siglo con Borges [Half a century with Borges]
As Mario Vargas Llosa said, "This collection of articles, conferences, reviews, and notes testifies to more than half a century of readings by an author who has been for me an inexhaustible source of intellectual pleasure. I have reread it many times and, unlike what happens with other writers who influenced me, I was never disappointed; on the contrary, each new reading renews my enthusiasm and happiness, revealing to me new secrets and subtleties of that Borgean world so unusual in its themes and so diaphanous and elegant in its expression." A collection of texts about Borges written by Mario Vargas Llosa, winner of the Nobel Prize for Literature.
Manuel Vilas: Alegría [Happiness]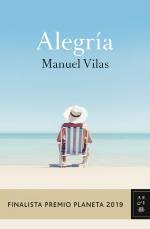 A finalist for the 2019 Planeta Prize, Alegría is a novel written from the heart of memory. A hopeful quest for happiness. From there, a man who drags along as many years of the past as he does illusions of the future illuminates, through his memories, his own story, as well as that of his generation and that of a country. A story that sometimes hurts, but always walks alongside its reader. The overflowing success of his latest novel takes the protagonist on a worldwide tour. A two-sided journey: the public side, in which the character approaches his readers, and the private side, where he takes advantage of each intimate space of solitude to search for his truth. A truth that sees the light after the death of his parents, his divorce, and his life with a new woman, a life in which his children become the cornerstone on which the pressing need to find happiness rests.
Compiled and translated by Claudia Cavallin