Gabriela Cabezón Cámara: The Adventures of China Iron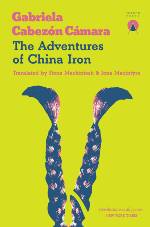 Finalist for the 2020 Man Booker International Prize. Translated by Iona Macintyre and Fiona Mackintosh. China is a young woman eking out an existence in a remote gaucho encampment. After her no-good husband is conscripted into the army, China bolts for freedom, setting off on a wagon journey through the pampas in the company of her new-found friend Liz, a settler from Scotland. While Liz provides China with a sentimental education and schools her in the nefarious ways of the British Empire, their eyes are opened to the wonders of Argentina's richly diverse flora and fauna, cultures and languages, as well as to the ruthless violence involved in nation-building. With humour and sophistication, Gabriela Cabezón Cámara has created a joyful, hallucinatory novel that is also an incisive critique of national origin myths and of the casualties of ruthless progress.
.
.
.
Martín Caparrós: Sinfín [Endless]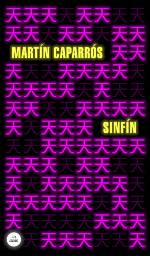 Sinfín is a journey through the future, through a world exploited by religions, nationalisms, and disputes between technological corporations and great powers, where journalism seems an abandoned practice, and the narrative of the facts is left to leaders. "A certain kind of story abounds in our day,  the novel without fiction; fiction without a novel is a new genre which I'm interested in working on now," the author has said of his long-awaited new book. "That's why I wrote Sinfín: an honest, daring chronicle, an attempt to investigate and tell everything we know about that stroke of genius that, by 2070, could eventually change the world."
.
.
..
.
.
Victoria De Stefano: Vamos, venimos [Coming, going]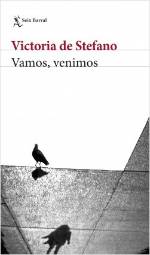 Affected by a sentimental breakup, a mature man returns to his old family land many years after taking flight, thinking he would never find himself there again. From the porch of the house, he looks out at the old neighborhood and, hand in hand with his mother, he weaves memories and details the emergence of the numerous faces and fictions of his past. His mother, in turn, embarks on a journey to another continent, full of encounters and stories, which she records in a diary through which her son will recreate a dizzying succession of beings, present and past, nearby or universal, who come and go in a relentless maelstrom.
.
.
.
.
.
.
Isaí Moreno: There Are Not So Many Stars / No son tantas las estrellas
The horror of reason in the Age of Enlightenment, the palimpsest of that horror in the age of disenchantment. There are times when literature goes beyond representing an era and grasps the madness behind it. There Are Not So Many Stars / No son tantas las estrellas, translated by Arthur M. Dixon, is that rare work that tells the story of certain men who bear the indelible mark of monstrous times. For this reason, and for its clean, erudite writing, this book is destined to become a cult object. Dividing his book into two novelesque periods, each very different from the other, Isaí Moreno also knows how to masterfully evoke the complexity of mathematical discourse, its incomprehensible lexica, its overwhelming theorems, using the most arid conjectures yet known to man.
.
.
.
Pablo Andrés Escapa: Fábrica de prodigios [Factory of prodigies]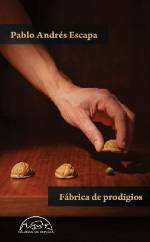 The barely disclosed work of a dark provincial poet hides secrets that will reveal to his biographer a prodigious existence whose exposure challenges the limits of reality. Unexpected adventure and great perplexity run through the pages of this book. Three extraordinary stories that, in a surprising narrative game, lead their own protagonists to rewrite events in order to understand reality. Three intense tales, constructed with a masterful pulse where irony and restlessness, the unusual and the common, reflection and the unforeseen intersect to offer the reader an essential fable: literature as a remedy in the face of the inadequacies of life.
Gloria Susana Esquivel: Animals at the End of the World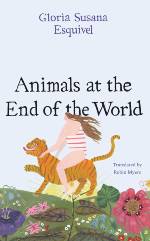 Translated by Robin Myers, the first novel by Colombian author Gloria Susana Esquivel, Animals at the End of the World is a poetic and moving coming-of-age story that lingers long after its final page. Animals at the End of the World begins with an explosion, which six-year-old Inés mistakes for the end of the world that she has long feared. During the chaos, she meets the maid's granddaughter, Mariá, who becomes her best friend and with whom she navigates the adult world in her grandparents' confined house. Together, they escape the house and confront the "animals" that populate Bogotá in the 1980s.
Carmen García Guadilla: "El silencio de los abedules". Entre el saber, el amor y la brevedad de la vida ["The silence of the birch trees": between knowledge, love and the brevity of life]
The plot of this novel tells the story, conflicts, quests, actions and passions of a young German student from Wurzburg. His complex name, Jürgen-Rilke Sloterdijk, evokes three great figures of literature: Ernst Jünger, Rainer-Maria Rilke, and Peter Sloterdijk. García Guadilla has said: "I was interested in knowing and writing about the University to which my grandmother had referred. I chose the option of using certain stories to write this historical novel." In the words of Héctor Silva Michelena, "an unexpected fate taught Jünger the subjectivity of the brevity of life."
Fernanda García Lao: Nación vacuna [Vaccine nation]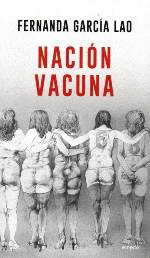 Fernanda García Lao is an artist of the narrative fragment in her own variation of poetic violence. Atrocity bursts into delicacy and classicism into barbarity. Attracted and repulsed by the author's voracious metabolism, Nación vacuna is the natural novel for blending the Osvaldo Lamborghini of Tadeys and the Kafka who gives himself over to inventorizing, as a miniaturist, the processes by which the laws that no one writes are fulfilled. Nación vacuna is the Argentine memory of a historic future that has passed without us seeing it. A phantom reality that drives our perceptions crazy without our knowing if it moves away or approaches, camouflaged under the spiderweb of days.
Margo Glantz: El texto encuentra un cuerpo [The text finds a body]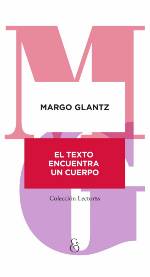 A writer's library opens before our eyes in order to fascinate us. "My gaze breaks into the fragment," says Margo Glantz, "it's a feminine look" that looks mostly at details.  With this sensibility, she reviews the sentimental and libertine literature of the eighteenth century. Exploring English, French, and American literature, she creates an erudite cartography of literary heroines and authors, akin to the knowledge of those who have read with passion before. Reading can touch a body and a text can become a jewel or a flower, the perfection on which creation exists.
Arturo Gutiérrez Plaza: El cangrejo ermitaño [The hermit crab]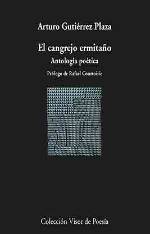 With this anthology, Arturo Gutiérrez Plaza reaffirms his status as an essential voice of Venezuelan poetry. His precise language, stripped of rhetoric, allows us to enter reflexively, with depth concision, into the everyday reality that sounds out lost places, the experience of errancy, the absences that surround distant cities, and urban life with its diverse landscapes and experiences of solitude. He writes with the fortitude of the note-taking observer, with confidence in the verb that not only doubts, but also acknowledges its own fragility. Eugenio Montejo said of his poetry: "It is the eye that, in his poems, almost always takes up the privilege of ordering the words on the blank page."
Arturo Gutiérrez Plaza: Cartas de Renuncia [Letters of resignation]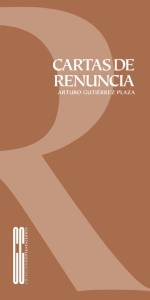 Rafael Cadenas has said of this book: "The writing of Arturo Gutiérrez Plaza has always been the grand poetry of the spoken word. This impression is confirmed by all his work, and also, of course, by this potent book, Cartas de renuncia. Through their apparent simplicity, words that are often called common take on unexpected splendor that transfigures them, such that the reader will be surprised step after step, thanks to the creative art of this master whose work has, justifiably, made echoes throughout the continent. His accounts, to which he is so given, now come as letters, as in years gone by, but they are as current as life itself, which is the greatest of all."
Martín Lombardo: Tell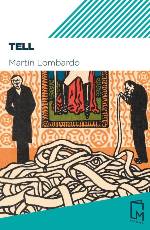 Once upon a time… the Tell universe, a universe presented to us in multiple intertwined dimensions, and in which characters intersect in paths of thought and action. In transit between written language and visual language, the novel reconstructs the relationship between life and art, so that action breaks into reality and warns us that we live within it. On the one hand, we are introduced to a sexagenary filmmaker who revisits his own life. Despite not being called Tell, he wonders if he is a descendant of the mythical Swiss hero, William Tell. On the other hand, a young man tries to piece together an endless puzzle in which, in exchange for certain fees, he will discover himself, stimulated by his own desires.
Valeria Luiselli: Desierto sonoro (Lost Children Archive)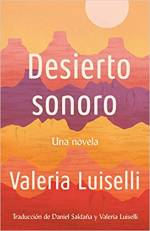 Desierto sonoro, Valeria Luiselli's third novel, combines the best of two great literary traditions, travel and the exodus: it moves along the asphalt and crosses desert horizons, stops at roadside motels and penetrates the intimate territories of its characters, offering a series of snapshots that precisely portray the infinite layers of the geographical, sonorous, political, and spiritual landscape that make up contemporary reality. A moving and necessary story that shows the fragility with which family ties are defined, exploring how we document our existence and pass our testimonies from generation to generation, wondering about the meaning of being human in an increasingly dehumanized world.
Clara Obligado: La biblioteca de agua [The water library]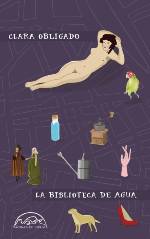 How do you build a city? Can you read it as if it were a library? Is writing a way to decrypt layers in memory? What signs hide the passage of time? Clara Obligado, from her continuous literary exploration, proposes a walk, a temporary and spatial ordination, a round trip, in which we witness the birth and transformation of a large city that was raised on the water. The reader will learn its origins, draw their own map, and walk with the characters of these stories in a cartography as lucid as it is imaginary.
Ana Ojeda: Vikinga Bonsái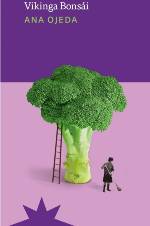 Ana Ojeda dives into the depths of writing and flows into its the shores with a novel that pauses over the generosity of connections and in which Lunfardo, Calabrian and inclusive language coexist in baroque community: in their exuberance, but also in their particularity. Vikinga Bonsái lives with Maridito, who is traveling in the Paraguayan jungle and with whom he has a teenage son: Pequeña Montaña. Through her family, she confirms that language is alive and built among us all. This novel quickly advances at a fierce pace between desperate and crazy situations.
Marina Perezagua: Seis formas de morir en Texas [Six ways to die in Texas]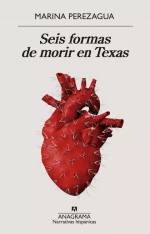 This is a novel about several people whose luck is bound by a heart. It is not a symbolic heart, but an organ that throbs and gives life… and death. A narrative work about organ trafficking, sins to be redeemed, acts of love that seek to purge guilt, and acts of vengeance that seek to restore broken harmony. Marina Perezagua builds a meticulous and disturbing plot that tells us about the essence of human beings, chance, and destiny. Perezagua, who has built her body of work into an indispensable voice of current Spanish narrative, offers us a book that dazzles and disturbs us.
Claudia Piñeiro: Catedrales [Cathedrals]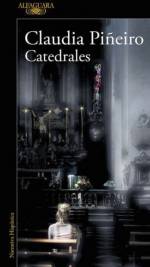 A teenage girl appears burned and quartered in the wilderness. Thirty years later, the crime remains unclear, and her family has crumbled. But, after all that time, the hidden truth will come to light thanks to the persistent love of the victim's father. This truth will come to light with rawness what is hidden behind appearances; the cruelty to which obedience and religious fanaticism can lead; the complicity of the fearful and indifferent, and also the loneliness and helplessness of those who make the choice to follow their own path, ignoring inherited commands.
Rodrigo Rey Rosa: Carta de un ateo guatemalteco al Santo Padre [Letter from a Guatemalan atheist to the Holy Father]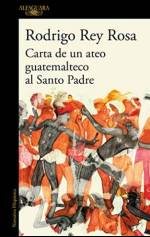 This is the latest provocative novel by Rodrigo Rey Rosa, winner of Guatemala's Miguel Ángel Asturias National Prize for Literature and the José Donoso Ibero-American Letters Prize, among others. "Think of a cross between John le Carré and Franz Kafka" (Asymptote Journal). Using a letter as resource, a novel is developed in which Rodrigo Rey Rosa reveals and denounces the ins and outs of power in his country, which hide conflicts that refer back to the past but continue into the present, through a well-constructed story, with its own point of provocation and unique characters such as the buyer of religions.
Michele Roche Rodríguez: Malasangre [Bad blood]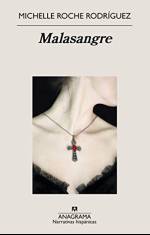 A dazzling vampiric story steeped in violence and eroticism, set in Venezuela in the 1920s. Michelle Roche Rodríguez has written a powerful allegory in which the fantastic and the historical, the exploration of sexuality and politics, the struggle to affirm identity as a woman in a sexist society and vampirism as reality and as a symbol all coexist. A novel that plays with the horror genre exploring new territories, taking it beyond the beaten paths.
Lawrence Schimel: De Chueca al cielo. 100 poemas celebrando la diversidad LGTBI [From Chueca to heaven: 100 poems celebrating LGTBI diversity]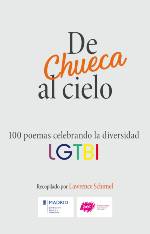 In this anthology, Chueca is used as a symbol. A good number of authors in these pages, who have never lived in Madrid, without a generational or original pattern, accompany formal diversity and affective and sexual plurality. Poetry is placed in the foreground in order to raise discourse, feeling, and thought, to move, shudder, and change from the established and accommodative, and to celebrate without forgetting that every social advance can be taken from us again by those who hold hegemony. Because joy, for the humiliated and oppressed, is a conquest. (Alberto García-Teresa)
Milagros Socorro: Un café con el dictador y otros relatos sin ficción [A coffee with the dictator and other nonfiction stories]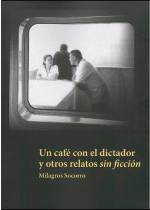 Writer and journalist Milagros Socorro, memory activist and winner of the 2018 Oxfam Novib /PEN Award for promoting freedom of expression, presents in Un café con el dictador y otros relatos sin ficción a set of anecdotes and testimonies of real events that she has spun deliciously in order to offer, far from the image of violence and repression of recent years, other faces of Venezuelan life. But the author goes further: she moves comfortably from the most local references to high political and foreign scenarios to highlight the cosmopolitan and universal character that marked 20th-century Venezuela.
Arelis Uribe: Que explote todo [Let everything explode]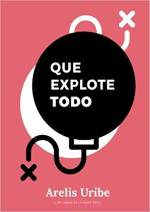 This book brings together different texts that travel through themes encompassing the life and ideology of many identities, especially women who seek not only to fight for a common good and for a life of mutual respect in a world led by the masculine, but also in some way or another to destroy all prevailing ideologies and discourses from the ground up, then to exploit them to build the world and themselves and their paradigms from scratch, where gender equality undergoes radical, complete, and permanent change. The fact that it explodes all over again goes to show that Arelis Uribe is one of the most agile and committed authors of the generation of writers born in the eighties.
Emilio Martín Vargas: Lumpen Supernova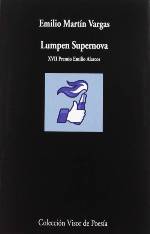 Lumpen Supernova was the song hummed by old man Diogenes as he scoured the agora at night with a candle, looking for a man. Lumpen Supernova is a new installment in the Fast & Furious series directed by Yorgos Lanthinos. Lumpen Supernova is the name of the WhatsApp group where all the people you once were now are. Lumpen Supernova is an Asian political party that seeks to legalize the counterfeit market. Lumpen Supernova is Emilio Martín Vargas' second book.
Compiled and revised by Claudia Cavallin
Visit our Bookshop page to buy books by these authors and support local bookstores.