If I had all the time in the world and a few blank pages, I could write a book called Lexicon of My Fondnesses and Habits, inspired by the poet Ida Vitale.
She came to me as the wife of one of the most wonderful beings I've ever met, the poet Enrique Fierro. That is how Auntie Ida (my longed-for closeness to her, and my great respect for her, led me to give her this title) became an unwitting mentor and a role model as unattainable as she was sought-after.
Back to my nonexistent book. I will reveal just one word of this Vitaline lexicon: birds. I will say I came to this word through one of her poems; nonetheless, I anticipate that this story will end with birds of flesh and feathers.
Sums
Horse and horseman are now two animals
One plus one, we say. And we think:
one apple plus one apple,
one glass plus one glass,
always the same things.
What changes when
one plus one is a puritan
plus a gamelan,
a jasmine plus an Arab,
a nun and a cliff,
a song and a mask,
a garnish and a maiden, again,
one person's hope
plus another's dream.
While it does not allude to birds, this is one of my favorite poems, perhaps because its images hold up that winged universe that is so consistent in Vitale, or because the poem flies over other beloved texts. In "The Analytical Language of John Wilkins," Borges makes reference to "a certain Chinese encyclopedia entitled Celestial Empire of Benevolent Knowledge. In its remote pages it is written that the animals are divided into: (a) belonging to the emperor, (b) embalmed, (c) tame, (d) suckling pigs, (e) sirens, (f) fabulous, (g) stray dogs, (h) included in the present classification, (i) frenzied, (j) innumerable, (k) drawn with a very fine camelhair brush, (l) et cetera, (m) having just broken the water pitcher, (n) that from a long way off look like flies."
Starting from this impossible taxonomy, Foucault wrote what is perhaps his best book, The Order of Things. Another poet of the Southern Cone unleashes a series of unthinkable images in "Walking Around": "Still it would be marvelous / to terrify a law clerk with a cut lily, / or kill a nun with a blow on the ear. / It would be great / to go through the streets with a green knife / letting out yells until I died of the cold." What in Borges is an irony alluding to the exotic is in Foucault a digression that demands a response; in Neruda, it has become a slog provoking cries of exhaustion. Then, with Vitale, we reach a certain reflection and a certain amazement.
The mastery of a text lies in connecting the aesthetic of questioning to our most essential certainties, those certainties we see as sprouting from a root that is common and universal to us all. "One plus one, we say." And there we are trapped in the simple mathematics of the apples. But in the case of "a nun and a cliff," the image puts us face to face with the whiteness of the cloisters and the habit blown by the air of the abyss. In Neruda, the images succeed each other; in Vitale, they blow in the breeze. Walking Around suffocates us; "Sumas" oxygenates us, because at the base of this image of "a nun and a cliff" flutters a solution: wings: the hope of having them and the dream of flight.
If I had to situate Ida Vitale's work within one of the four elements, I would place it in air. Fire, earth, and water appear often, but I always complete my reading in the semantic field of the air. She is so winged, and I am so earthly.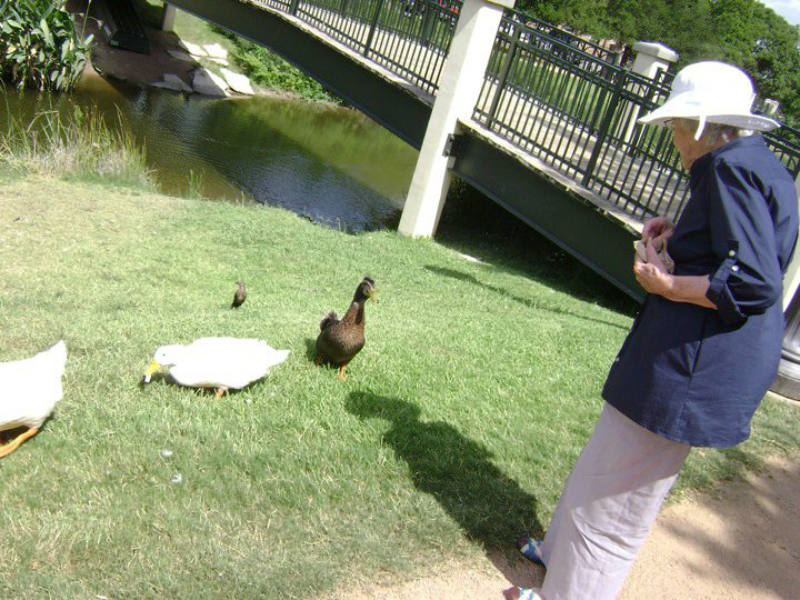 I'll tell you a story. A little over ten years ago I was in a parking lot in Austin with Ida Vitale, we were waiting for some friends. Suddenly, a bird flew by, perched on a branch, and started to sing. "In less than three minutes, two more birds will come," she told me. Within three minutes, two birds flew by. She added, "Now they're going to fly to that tree," and she pointed to a tree on the other side of the street. Soon, all three flew over to perch on that very tree. Perhaps her accurate prediction will seem commonplace to birdwatchers; to me, it seemed like an act of magic. No wonder she published a beautiful book titled De plantas y animales [Of plants and animals].
Years later, we were walking in a park she visited often. By a stream, the ducks started to follow her. They walked along like a little crowd behind her; I was surprised that I didn't frighten them off, and I thought: maybe they think I'm a relative of hers… or of theirs. At the end of the day, these ducks walk a lot and fly just a little. Now I think they were following her in order to learn to fly. Reading her and living alongside her left me with the word "birds," and I believe I learned this idea, this thing and its brilliant surroundings sheltered in her huge, invisible wings.
Haven't the great poets always been visionaries, sorcerers, magicians? To read Ida Vitale is to enter into that enchantment; when we read her, our wings grow. I wish you all a wonderful flight through her pages.
I'll close this short reminiscence with an inspired Vitaline custom I learned from her prose. In one of the chapters of the aforementioned De plantas y animales, titled "Macedonio Fernández," Vitale tells of how she rescued a dog and called him Macedonio as "a perpetual homage" to that much admired Argentine writer.
Over the years, I have become a fervent defender of all the canines of the world and a dog lover of the first degree. Following this custom, I have baptized three dogs; all three came to me, two knocked on my door and one came for a visit and stayed forever. They are called, in order of appearance, Juan Rulfo, Virginia Woof and Giannina Braschi. Someday, the wisest and most brilliant representative of the canine world will come to me, and I will call her Ida Vitale.
Until that day comes, my wings will keep growing as I read Auntie Ida with Rulfi, Ginger, and Nina by my side.
Irma Cantú
Translated by Arthur Dixon