Jorge Carrión: Contra Amazon [Against Amazon]
Libraries and bookstores—real or fictional, traveled or read—are fundamental scenarios of our sentimental and intellectual upbringing. In this book of chronicles, Jorge Carrión travels to the innovative libraries and bookstores of Seoul; researches in Naples and Capri the history of the mythical house of Curzio Malaparte; interviews booksellers and writers in Miami.  He discusses books and cities with Alberto Manguel, Iain Sinclair, Luigi Amara, and Han Kang. Also, Carrión plays with the libraries of Don Quixote and Captain Nemo, and pays homage to some of the world's most fascinating bookstores and libraries as part of his own life.
Alberto Chimal: La noche en la zona M [The Night in Zone M]
In a futuristic, dystopian world, civilization as we know it has collapsed. Mexico City has fallen, and has been divided into a set of kingdoms that maintain fragile peace and try to survive by taking advantage of the remnants of technology from another era. In the kingdom of the Center lives Sita, a teenager who, along with her grandmother Lucina, is responsible for maintaining the communications of the Fort, the base of the local chief. They both live with Celeste: the consciousness of a woman who knew ancient times and is now stored on a computer. When Sita learns of their plans for her, she decides to escape to a better place, but along the way she encounters dangerous threats from which no one has escaped alive.
Jacqueline Goldberg : Ruido de clavículas [Noise of collarbones]
Jacqueline Goldberg's rereading of her own work has resulted in her most recent poetic anthology. In these poems there remains an obvious will towards human frailty, one that is not afraid of the awareness of pain, bodily agitations, and one's own personal inquisition. Goldberg's stripped verse is accompanied by a pathological sign, as if the poetic voice were surrounded by the white walls of an emergency room, waiting for an uneasily satisfactory diagnosis. If we unequivocally read the titles of her books, we will be surprised, as we turn the pages, to find the true feeling of her poems: a little dark room for dialogue between her ghosts and our own efforts at concealment.
Saúl Hernández-Vargas: Te preparé humo [I made you smoke]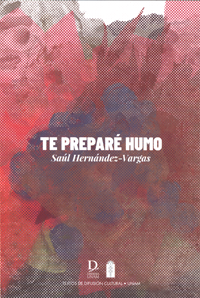 This volume brings together a series of hybrid stories, halfway between testimony, essay, and chronicle. The texts develop a kind of border prose—not just between genders but geographical and emotional, mental and physical—that sounds out the migratory experience of our times. Or perhaps it would be better to say that this is a series of texts crossed by migration in an intimate earthquake, in which the plates of those who move from one place to another collide and rearrange, reconfiguring the entire surface of the self: skin, memory, language. Nothing will be the same after the jolt of that inner ground. The Navajo people know this well: they sing "I made you smoke" as an offering, as a paradoxically restorative and celebratory act of what it means to be in the world.
VV AA: Insólitas: Narradoras de lo fantástico en Latinoamérica y España [Insólitas: women narrators of the fantastic in Latin America and Spain]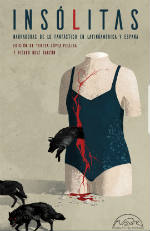 The dictionary says that the unusual is the weird, the strange, the unused. The unusual allows us to observe the world from the other side of the mirror and to warp the images of reality, such that it shows its true face. In this anthology, the unusual is all that is extraordinary. The things that go out of the ordinary: the unusual, the fabulous, or the inexplicable. Something that aspires to go beyond reality. It is unusual that no fantasy anthology written by women in Latin America and Spain had been published before. Nearly thirty authors from at least two-thirds of Spanish-speaking countries, from different generations and themes, meet in this presentation of their best stories.
Kelver Ax: Su sombra como un mapa [His shadow as a map]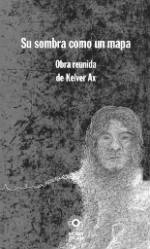 "My idea of writing a book is to awaken someone, to whip them into shape," was a frequent comment from the now-deceased Kelver Ax, author of three essential poems in the history of Ecuadorian lyrics, works that are gathered in this posthumous edition. His name was Kleber Ajila Vacacela, he was a poet and visual artist who, without a doubt, remains one of the most unique, powerful and original writers of his country and of his time. "Perhaps in the middle of his absence or his appearance, which is now in every text of his, we will find the bed of paleolithic rivers along the luminous lines of a return to the intact…" (Bernardita Maldonado)
Liliana Lara: Abecedario del estío [Summer's Alphabet]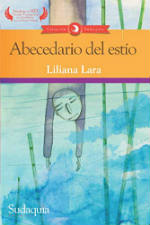 In Abecedario del estío, Liliana Lara uses the letters of the alphabet as a starting point for stories. Situations and cavilations that move between fiction and reminiscence are the main elements that feed into each of these stories. Here we can read and see images tattooed in memory, such as the water of the pool in which her son almost drowned, the violent awakening after the bombings in the second war between Israel and Lebanon, the memory of terminals and bus trips in Venezuela, the delights of kosher and unkosher food. These very brief tales can become delicious anecdotes to read, and food for reflection and exploration of the satisfactions and fears of the migrant facing cultural duality.
Magdalena López: Desde el fracaso: narrativas del Caribe insular hispano en el siglo XXI [From failure: narratives of the islands of the Hispanic Caribbean in the twenty-first century]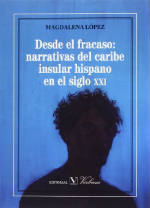 In this work, Magdalena López answers the following questions: How do you cope with defeat and failure? What do you do with the loss that both experiences entail? How do you assume the tension and contradiction between "the space of experience" and "the horizon of expectation"? Is it safe to assume that you take refuge in the epic "certainty" of origin, in the fixedness and immutability of identity and projects either defeated or failed? Or is there a stance of revaluation, self-questioning, and learning that can transform defeat and failure into a potential for an alternative future in the Caribbean?
Juan Carlos Méndez Guédez: El vals de Amoreira [The Amoreira waltz]
As part of the Comarca Mínima Collection of El Taller Blanco Ediciones, this work by Méndez Guédez includes micro-tales such as "Las dudas estéticas de la ballena" [The aesthetic doubts of the whale], where the life of the whale takes place in the waters to the south of an island. "At some point, the whale intuits that a moment of fullness is approaching. Without thinking, unable to take action between her desires and her lucidity, the whale moves north of Bararida, and upon discovering a coast of dark sands, she advances tirelessly until she is stranded on the beach." Méndez Guédez is part of the growing literary corpus of so-called "immigrant literature" in Spain, where he currently resides.
Ángelo Néstore: Impure Acts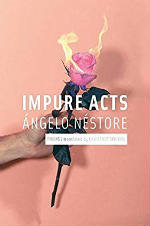 Ángelo Néstore's poetry, his "impure acts," changes the whole cartography of desire with the beautiful perfection of a modern, dream-like demiurge who knows he is in absolute possession of his glory. Poem-temples, poem-traps, gaps in the disquiet for those who will have no better illumination than that which is offered by this dialogue between poet and reader. Communion, I would say, if communion were not sometimes dangerously conflated with religiosity. Poems which, in their exquisite and innovative craftsmanship, already demand a canonical place in our collective memory and anthologies. (Carlos Pintado)
Andrés Neuman: Anatomía sensible [Sensitive anatomy]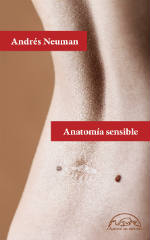 This book is a celebration of the body in all its breadth. A defense of imperfection and its alternative beauties, through a poetic, political, and erotic journey through the matter that we are. These pages are nourished by intense observation, vital adventure, and linguistic exploration: the body as style, the style as a body. Aware that the body is a social battleground, these texts invite us to admire its peripheral corners and to rethink its obvious areas. By building a heterodox treatise, each of its chapters rebels with hedonism against the culture of Photoshop. In times of compulsive retouching and digital poses, it may be time to reread our body in order to recover it.
Micaela Paredes Barraza: Nocturnal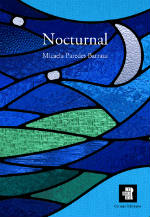 "I think: in this poetry it is possible, as in very few cases (that the reader will have to take into account immediately if he sticks to the milestones of our most immediate and significant poetic history) to appreciate equally the intensity of his gaze on the reality of the world he contemplates and his running into it, and the happiness of a rigorous, unusually rigorous speech in these times, which, as Borges once pointed out, take pleasure in the adventures of chaos and random improvisation. Nothing further from this than the poetry of Micaela Paredes Barraza. She wanted to start with the most demanding exercise: Sextinas (a challenge for all of us), sonnets, verse measured with a rare sense of need and harmony." (Pedro Lastra)
Pola Oloixarac: Mona
A novel of ideas and suspense, a literary thriller where the key to crime is hidden in the body of a writer competing for an award. Coming from all over the world, writers are pleased and wary, measured and seduced. Between the protagonist's sexual and mental adventures and debates about avant-gardes, ideologies, and markets, from TED talks to Borgesian orgasms, Pola Oloixarac treats the hipster circle of an imaginary weltliteratur with mind-blowing acidity. Here are the mysterious marks of a violence that cannot be explained.
Pamela Rahn Sanchez: Breves poemas para entender la ausencia [Short poems to understand absence]
Venezuelan writer Pamela Rahn Sánchez has been awarded the Gloria Fuertes Prize for Young Poetry in Spain. Throughout her work, her participation in digital literary magazines and the exchange of poetry through social networks have been crucial to her development in the world of poetry.  At the beginning of her creative world, she wrote one poem per week, a routine she maintained for approximately three years. She sent the first verses to Sorbo de Letras, a page directed by Oriette D'Angelo, with whom she forged a friendship that led to her forming part of a Facebook group made up of young poets called Los perros románticos [The Romantic Dogs], a name that refers to a work by Chilean author Roberto Bolaño.
Patricia Esteban Erlés: Manderley en venta y otros cuentos [Manderley for sale and other stories]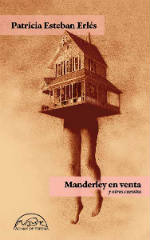 Patricia Esteban Erlés is the first lady of an oeuvre as dark as it is exciting, built over the course of years and titles. Her unique perspective and masterful voice have made her a reference point of the fantastic universe in Spanish. Manderley's tales for sale open the door to obsessions with domestic space, the strangeness of routine, the gothic, ghostly, and black play of the bizarre, the restlessness of normality. An indispensable book to access one of the most unique worlds of modern literature. Nobody does what she does. We are all inside of Manderley.
Edmundo Paz Soldán: Los vivos y los muertos [The living and the dead]
Monologues. Teenagers desperate to leave Madison and never come back again. A disturbed former Gulf War fighter. A tormented journalist. Children terrified by their father's mere presence. Two killed. Snow. Grey sky. Loss and absence. These are just a few of the ingredients of Los vivos y los muertos. This novel, with the air of a detective story, takes place in the United States and portrays the lives of several characters with an unbridled rhythm. Paz Soldán has managed to hold the reins of the narrative and has thus managed to give us a well-rounded and mature novel, casting an assertive gaze upon his characters that is just as quick to show its gregarious side as it is to thrive even among the youngest population of W.A.S.P. America.
Sebastian Politi: Retrato de Mäda Primavesi [Portrait of Mäda Primavesi]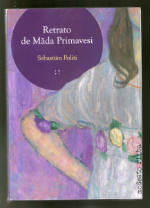 Just as he rounds his fiftieth birthday, Joaquín Andrade is in a New York museum with the portrait of Mäda Primavesi by Gustav Klimt. This encounter brings back a memory that was buried: that of Maida Miravalles, his teenage love, the daughter of a high-ranking military man in times of state terrorism in Argentina, so similar to the girl in the painting, whose mysterious death forced the protagonist to build his life around a void. This is a novel of a midlife crisis. It's a novel of deconstruction. It's a novel about the meaning of life, when what once made sense doesn't make sense anymore. It's also a novel about love, even if it is a love that demands putting everything in question, even your own identity.
Fernando Savater: La peor parte. Memorias de amor [The worst part: memories of love]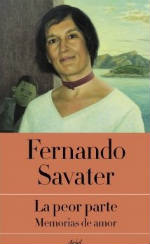 This is not an autobiography, although it contains "the best and worst part" of the author's life. It is a book written to keep alive the memory of a loved one, Sara Torres Marrero, known as Pelo Cohete [Rocket Hair]. Fernando Savater shared thirty-five years with her, a lifetime, on the pursuit of happiness. In this book we can find loss, absence, the right to oblivion or the lack thereof, death, pain, illness, but also struggle, commitment, sex, laughter, jokes, complicity. All that is life, and Fernando Savater manages to make us reflect on life, through him, through Sara, through both, as one.
Lawrence Schimel: Cuentos de hadas para escritores [Fairy tales for writers]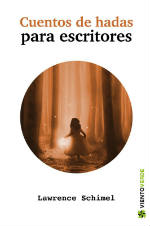 Cuentos de hadas para escritores is a different verse collection. It's a tribute to the creators who wake up every day from sleep to reality. Lawrence Schimel writes in both Spanish and English and has published over a hundred books in many different genres such as narrative, poetry, essay, and comics, among others, for both young readers and adults. In addition to Cuentos de hadas para escritores, two other poems stand out in his work: one written in English, Deleted Names (A Midsummer Night's Press), and one written in Spanish, Breakfast in Bed (Egales). Schimel is a valued writer, contributor, and translator of Latin American Literature Today.
Victoria de Stefano: Vamos, venimos [Going, coming]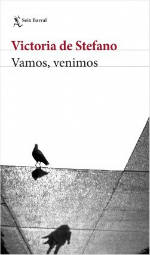 Affected by a break-up, a mature man returns to his old family home, many years after having taken flight, thinking he would never go back there again. "Going, coming, we're through. It all begins, nothing ends," says one of the characters of this great fresco with which Victoria de Stefano looks at the vertigo of the world conceived as a flow, as a messy principle that blurs the border between the lived and the dreamed. A kaleidoscope of lives, as distinct as they are far apart in time and distance and which, however, in many ways appear to be one and the same: particles of a cosmic existence in the undeciphered meaning of the universe.
Fourteen writers: Tranquilas [Be calm]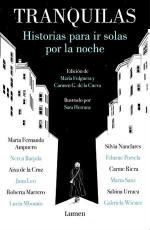 Tranquilas is a project of María Folguera and Carmen G. de la Cueva, with Marta Sanz, Edurne Portela, María Folguera, Lucía Asué Mbomío Rubio, Sabina Urraca, Silvia Nanclares, Roberta Marrero, Carme Riera, Jana Leo, Nerea Barjola, María Fernanda Ampuero, Gabriela Wiener, Aixa de la Cruz, and Carmen G. de la Cueva. A work polished by Sara Herranz that highlights how "as children we feed on terrifying stories about the forest first, and the street afterwards. The dangerous neighborhoods, the early-morning bars, the closed-door office of a boss, the car or the house of a stranger: in reality, the whole world is a threat that we negotiate with every night and every day, because we don't want to stop living intensely." Fourteen Spanish-language writers erase the boundaries between auto-fiction and literature, as they open a path to identify, move, react, and walk fearlessly through the streets that belong to them.
Yolanda Pantin: Bellas ficciones [Beautiful fictions]
Lived instants, snapshots frozen in words: Yolanda Pantin's Bellas ficciones pushes her poetic proposal to its limits. Images rooted in infancy return thanks to everyday, routine lifeways, ones that go unperceived due to their mundane, sometime automatic nature. The familiar becomes the essential substance of the poem. A minimal stroke reveals the decantation of the word, as is read in one of the book's poems: "Everything points to the bone: / The literary has died in me." But we must not forget the truth held in the meaning of the book's title: reality is a fiction constructed in order to protect us from horror, from the outside world.
Nota Bene prepared by Claudia Cavallín