Pedro A. González Moreno: La mujer de la escalera
A suicide and a mysterious murder open this story, in which two recent graduates confront a mission that will change their lives forever: finding an antique set of books containing medieval dramas. Thus begins a frantic search that will carry the characters to self discovery – and to that of their own destinies. It simultaneously traces the portrait of a generation in flux that fought to obtain its own space in Spain during the seventies and eighties.
Benjamin Moser: Por qué este mundo: una biografía de Clarice Lispector
In this biography which has already come to be a reference book all the world over, Benjamin Moser unravels the myths that surround one of contemporary literature's most extraordinary figures. He shows us how Clarice Lispector transformed her personal struggle as a woman into a work of universal resonance.
Carlos Busqued: Magnetizado
Constructed from recorded interviews, forensic documents and newspaper clippings, Magnetizado is a strange and difficult-to classify text. It avoids interpretation and judgement, leaving space for the only source that can bring us closer to understanding the nature of the crimes: the voice of the criminal. Accompanied by that voice, the reader crosses the bridge from the quadruple murder on one side and the perturbing empty space on the other side.
This is a book about crime, but also about a way of inhabiting the world – or rather, being absent from it.
Leonardo Padura Fuentes: La transparencia del tiempo
To Mario Conde – about to turn sixty, a man who feels more in crisis and skeptical about his country than usual – a package unexpectedly arrives from his old high school friend, Bobby. He is asking him for help finding a stolen statue of a black Virgin. Conde discovers that the piece is much more valuable than he has been told; his friend confesses to him that it belonged to his Spanish grandfather who, fleeing the Civil War, brought it along from a shrine in the Catalan Pyrenees. In the shady backrooms of Havana, Conde meets a suspicious man who ends up dead. With the murder of another accomplice, Conde uncovers a shocking plot amongst gallery owners, collectors, and foreign parties interested in medieval handicrafts, inevitably crossing paths with Havana's homicide detectives. La tranparencia del tiempo also tells the epic of the statue, a black Virgin with roots in the Last Crusade and brought back to the Pyrenees shrine by one Antoni Barral. Of course, it would be another Antoni Barral who would rescue it, considering himself obligated to embark as a stowaway en route to Havana.
Mario Vargas Llosa: La llamada de la tribu
The difference between La llamada de la tribu and other books, such as El pez en el agua, is that here, the experiences of the author do not drive the protagonist. Rather, this work traces the reading that molded his thought and perspective during the last fifty years. The Peruvian winner of the Nobel Prize has sketched out a map of liberal thought that helped him to develop a new body of ideas after, on one hand, the trauma following disenchantment with the Cuban Revolution and, on the other, a distancing away from the ideas of Jean-Paul Sartre, the author that had most inspired him in his youth.
Adam Smith, José Ortega y Gasset, Friedrich Hayek, Karl Popper, Raymond Aron, Isaiah Berlin, Jean-François Revel: all of these men were of enormous assistance to the author during those years of  anxiety, showing him a tradition of thought that focused more upon the individual than on the tribe, the nation, the class or the party, and which defended freedom of expression as a fundamental value in the exercise of democracy.
Sergio Ramírez: Juan de Juanes (Óleo sobre tabla)
"Reading this book, in which I am so invested, is like flying with Sergio, forming part of a miracle. I always believed that I was wasting jokes when I called myself Juan de Juanes. Later, when I read this book, dazed, marveling at its magic, I realized that he had converted that obvious joke into a magic like that of Borges: everything that seems to be is, and sometimes is also what ceases to appear. I read this book with surprised enthusiasm. What for others might have been a cloudscape, a mere sighting, becomes a metaphor on earth – a light –  to Sergio Ramírez. When you read this book you will understand the extent to which the magic word, like the words of Borges or Cortázar are neither exaggerations nor adjectives, is the noun that best defines the aerial aesthetic, volatile and profound as the skin." -Juan Carlos Ruiz
Ricardo Chávez, Ignacio Padilla, Pedro Ángel Palou, Eloy Urroz, Jorge Volpi: Manifiesto del Crack/Postmanifiesto del Crack
"El Crack is like a novel: it has its beginning, its climax and its unexpected and not-necessarily-happy denouement. This, however, is not particularly important, just as it is not particularly important that Don Quijote died in 1615 or 1616… duration, joy, and infinite reading are the only things that, in the end, are of any import". -Eloy Urroz
José Acevedo: Metamorfosis y otros relatos
"This work tells stories that seem rather like testimonials from beings who, until touched by the creativity of the author, believed themselves to be normal." -Europe Press
"Neither the narrative construction nor the characters employed by Acevedo adhere to the rules. In some cases, time wobbles backwards and forwards, the present can be the past, and some pasts can only exist in a nostalgia as fantastical as it is necessary." – Periódico Irreverente
Rodrigo Arriagada: Extrañeza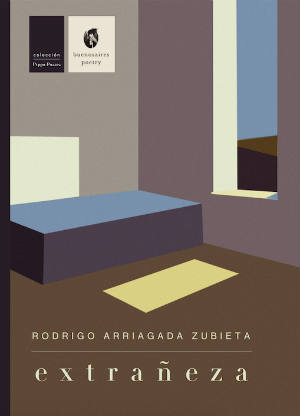 "If an elegy is understood to be a 'lyrical composition in which the death of a person or any other unfortunate event is mourned', Extrañeza is an elegy. But it is an elegy that contains and expresses an unusual, peculiar, and even uncomfortable lamentation: what is mourned here is the end of what never could be, since it was born dead…" -Braulio Fernández Biggs
Arturo Pérez Reverte: Eva
March, 1937. While the Spanish Civil War follows its tragic course, a new mission carries Lorenzo Falcó all the way to Tangiers, the turbulent crossroads of spies, traffickers in illicit merchandise and conspirators. He is faced with convincing the captain of a boat loaded down with the Bank of Spain's gold to change flags. Nationalist, Republican and Soviet spies, men and women, confront one another in a dark and dirty war that will end up resurrecting dangerous ghosts of the past.
Javier Marías: Berta Isla
Berta Isla and Tomás Nevinson met one another when they were very young in Madrid, and they very quickly decided to spend life together without ever suspecting that intermittent cohabitation and a disappearance awaited them. Tomás, half Spanish and half English, is exceptionally gifted with language and accents, something which captures the attention of the Crown during his time at Oxford. A day like any other – "a stupid day" – will shape the rest of his existence, as well as that of his wife.
Berta Isla is the enveloping and passionate story of waiting and evolution on the part of its protagonist. It is also about the fragility and tenacity of a romantic relationship condemned to hidden secrets, pretending and conjecture, along with resentment mixed with loyalty.
It is as the Dickens quote says at the end of the book; it is the evidence that "every beating heart is a secret for the heart nearest it, which sleeps and beats alongside." It is also the story of those who wish to put a stop to disgrace and intervene in the universe, only to find themselves banished by it.
María Zambrano: Obras Completas IV: Tomo I
This fourth volume completes the edition of the twenty three works that Zambrano submitted for publication. This first tome includes Claros del bosque, De la Aurora and Senderos. The first two show a thematic continuity from varying perspectives: the positive route of Claros del bosque, the twin of Notas de un método… and the negative route of De la Aurora, continued by Los bienaventurados, which radicalizes the cultural criticism of the West (according to which, we live in the era of hiding life's first waters. Their reflection remains in the human being and the aurora remains as a symbol of the antithesis of the kingdom of the sun, or pure power). Senderos compiles intellectuals as in the drama España and La tumba de Antígona, in which a body of lesser letters is offered with the indispensable critical apparatus.
Magalí Etchebarne: Los mejores días
These are stories about wise women. Certain events are unleashed in a poetic and exquisite manner until they reach an illuminated backdrop: the precise moment of learning something important. A girl, for example, spends her first honeymoon with the bridegroom in the clouds. Later, everything appears to be at the breaking point between them. One afternoon, she finds herself confronting a scorpion, barefoot. The girl convinces her problematic husband to make an effort to capture the animal that threatens their lives but, in order to do so, they must turn around the home.
We do not merely witness here the moment in which an experience takes hold, we also read how that experience is transmitted and confirmed: "A man, my mother once told me, is a small animal that thinks it is large."
Andrés Neuman: Fractura
Mr. Watanabe, a survivor of the atomic bomb, feels like a fugitive from his own memory, and is about to take one of the most crucial decisions of his life. The earthquake that precipitated the Fukushima accident provokes a shift that stirs the collective past.
Four women narrate their lives and memories of Mr. Watanabe to an enigmatic Argentine journalist on a sentimental and political tour of cities like Tokyo, Paris, New York, Buenos Aires, and Madrid. This crossing of languages, countries, and couples reveals how nothing happens in just one place, just as every occurrence expands to the point that it causes its antithesis to tremble. It touches on the manner in which societies remember and, above all, forget.
In Fractura, love and humor are interwoven, along with history and energy and the beauty that emerges from broken things. With this novel, Andrés Neuman returns with force to long-form narrative, precisely the style that set off his international fame in El viajero del siglo, signaling his best work yet.
Joanna Walsh: Vértigo
"Joanna Walsh's haunting and unforgettable stories enact a literal vertigo—the feeling that if I fall I will fall not toward the earth but into space—by probing the spaces between things. Waiting for news in a children's hospital, pondering her husband's multiple online flirtations or observing the tourists and locals at a third-world archeological site, her narrator approaches the suppressed state of panic coursing beneath things that are normally tamed by our blunted perceptions of ordinary life. Vértigo is an original and breathtaking book."—Chris Kraus
Francisco Larios: Los Hijos de Whitman
A strange motivation underlies the polyphony of the times. An unspeakable architecture based as much in tradition as in the negation of the same, which permits the recognition of a whole without possibility of isolation. This dense torrent of voices touches poetry and renders it as complex as the world from which it emanates. Thus Los Hijos de Whitman, a selection of poets and poems completed and translated by Francisco Larios, presents us with a dynamic entity which reflects the complex synchrony of the pulsing tension in contemporary North American poetry. It is a pure tension bathed in complex lyricism, changing, entirely modern. It is a course through which it becomes impossible to decode the distinct voices of the water that springs from every poem, but where we can perceive the density of poetry itself.
Miguel Bonnefoy: Black Sugar
A prize-winning author's magical realist fable about greed and corruption in Venezuela, Black Sugar gives a fascinating view of the country's social and economic development throughout the twentieth century through the story of a family of sugarcane growers. It tells of buried treasure and the legendary privateer Henry Morgan.
Miguel Gomes: El desengaño de la modernidad
This book proposes to offer a portrait of what I consider one of the most significant tendencies of Venezuelan literature at the end of the Twentieth Century, and of the new millennium: the collective criticism of the developmentalist optimism particularly present in state speeches during the sixties and seventies. It is still not absent from the imaginary official or from ample sectors of the population in the moment that the present redaction ends, in mid-2017.
I propose to sketch one of the most significant tendencies of poetry and of Venezuelan narrative of recent times, and I insist upon these words because I in no way pretend to exhaust what the letters of this nation have to offer. Some well-renowned and active writers – Rafael Cadena, Alejandro Oliveros, Victoria de Stefano, Ednodio Quintero, Eduardo Siendo, and José Balza, to mention just six – are not the object of detailed attention. I have not aspired to create exhaustive inventory of the young talent pool. My selection has rested upon the capacity of certain texts to articulate with intensity the dissatisfaction to which I have I have referred, whether is is seen at first glance and needed or not, in order to perceive the intervention of the critic in the role of hermeneutic.
Luis Chaves: Vamos a tocar el agua 
A year in Berlin. Four seasons, plus one more. Two adults and two little girls. One eye turned toward the country that stayed behind and the absences that never really are; the other placed not upon the future, but upon the urgent: kindergarten for the younger child, beer that gets cold near the window during winter, seawater where a foreign family recognizes itself. Such are the little daily dramas that the writer converts into monuments to affection and period stories.
Yolanda Pantin: Lo que hace el tiempo
–Welcome to your cave,
the shadows say to me.
–Saludos, Yolanda,
the kinfolk greet me.
–Saludos, spirits of the house.
---
LITERATURE IN TRANSLATION:
Mircea Castarescu: Solenoide
Unanimously considered by critics to be the height of Mircea Cartarescu's work up to the present moment, Solenoide is a monumental novel in which one hears the echoes of Pynchon, Borges, Swift and Kafka. We stand before the long diary of a frustrated writer that grinds out his infancy and adolescence in the slums of a communist city: devastated, grey and cold – a hallucinated Bucharest, given to an oppressive melancholy. A professor of Romanian in a public school, with a long, failed literary career and a profession that does not interest him, he buys an old house shaped like a boat, built by the inventor of a solenoid and home to strange machinery: a dentists' chair attached to a control board. He soon becomes close with a professor that has been taken by a mystical cult – the piquetistas – who organize night time manifestations around the city cemeteries and the Morgue. Meanwhile, the narrator confronts the hallucinations that reveal to him the meaning of his existence. Solenoide is the touchstone work toward which all of Cartarescu's writing gravitates. It is a book which attracts every literary hint, theme and obsession of a brilliant man that has little by little become a cult writer. -Impedimenta
John Cheever: Cartas
John Cheever traced in his letters – over the course of many years and without hardly ever knowing it – a self-portrait as revealing as the one hidden behind his short stories and novels is perplexing. Prolific in his personal correspondence, he could write to some friends as many as thirty times on a weekly basis; these recipients included other others such as Philip Roth, John Updike or Saul Bellow, along with family members and lovers. To each and every one of them, he urged that they rid themselves of some texts that he considered passing: "Saving letters is like trying to save a kiss." Nevertheless, those he addressed decided to preserve some missives that, edited and annotated by his son Benjamin, form a story as vivid and human as that of any of his characters.
Tortured by his alcoholism and repressed bisexuality, Cheever always seemed strange to those that he kept closest. Even though the posthumous publication of his diaries made clear how profoundly pain flooded his life, his letters open a window into his life that he never knew existed, a privileged look at the fragility of his emotions and at the honesty with which he took defeat. They are a slit through which to view the most intimate universe of a good man that revealed in these texts the terrible bond between his genius and his demons.