In our last conversation on Facebook, the Chilean writer, Pedro Lemebel (1952-2015), sent me a photograph.1 In it appears, "El Jonathan," a clandestine lover he had during his visit to  the Carnaval Internacional de Las Artes,  a multicultural event held for eleven years in Barranquilla—a port city along the Colombian Caribbean—and run by the famed journalist and writer, Heriberto Fiorillo, director of the Fundación La Cueva, an organization that safeguards and promotes the legacy of the Grupo Baranquilla, an intellectual society comprised of artists like Álvaro Cepeda Samudio, Alejandro Obregón, and Gabriel García Márquez.
"Don't share the photo," Lemebel cautioned.
It wasn't anything out of this world. In it, "El Jonathan" appeared drawing the tip of a revolver erotically toward the corner of his lips. Lemebel had included this fleeting love story in one of his last books, titled Háblame de amores [Talk to me about love] (2012), in a chronicle called "Baranquilla Moon, You Made Me Bleed. He related the crucial details of his passage through the city, an adventure that included bottles of Havana Club rum, drunk with Xiomara Rosa (a famous Baranquillian transvestite) and yours truly, and a bitter encounter with the writer Fernando Vallejo with whom he competed for the youthful charms of Jonathan, who, at the end of the match, decided to stay with Lemebel. "Sr. Vallejo, I was brought here to attend to Sr. Pedro," were the beautiful boy's words.
"If you know anything about Jonathan, tell me.  I'm tired now, prima,2 we'll talk later," were his last words. A month later, on January 23, 2015, Chile's most irreverent author died, a victim of an implacable cancer of the larynx.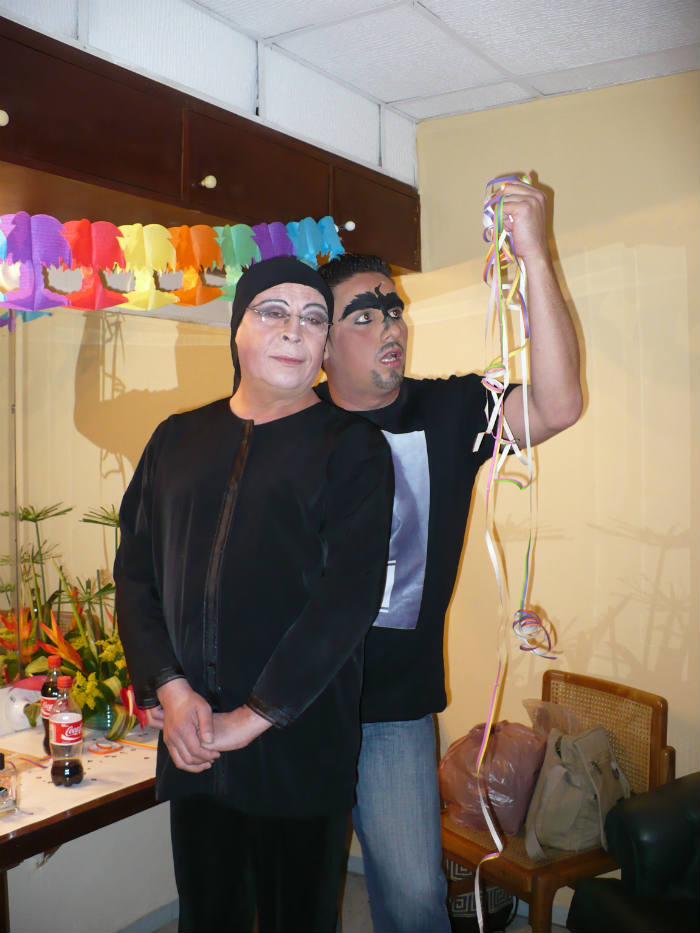 "My happiness was my square meter of misery," he told me on more than one occasion. Pedro Marones Lemebel was born in Zanjón de la Aguada, one of the most deprived parts  of Santiago de Chile. The "happiness" of that precarious world is recorded in "My First Tubal Pregnancy," a text included in his 2013 book of chronicles, christened with the very name of his birthplace.
"Did you know I got pregnant really young?" Lemebel asked me on the terrace of one of the cabins of the El Prado hotel, where he was a guest during his four-day visit to Baranquilla. I knew everything about him; I had read a large part of his work. Being with him in person was a luxury that few could afford. Everyone spoke about the writer's volatile personality; his outbursts toward newspaper and television journalists were infamous. His scandals, stoked by his fondness for alcohol, were headlines in the Chilean press: Lemebel knocks over a table at a banquet in the Chilean province of San Felipe due to the presence of someone from the ultra-Right, Lemebel in red heels and makeup reading a manifesto at his country's Communist Party meeting, Lemebel on national television smoking and drinking, pale and bald like a queer Nosferatu, Lemebel exhuming the dictatorship's dead in his chronicles, placing them face-to-face with their executioners…
Lemebel experienced the incredible "tubal pregnancy" as a child when, , at a very young age, he went up to a puddle of stagnant water and took a drink. After a few days, burning with fever and with a swollen stomach, he's taken to a clinic. Using his stethoscope, the doctor on duty is surprised to hear something moving inside his belly.
"I had a tadpole in my belly! The students at Harvard asked me if it was magical realism, can you believe it?" he commented in response to my feigned amazement.
This kind of chronicle shows us an author who incubated the origin of his literature since childhood. His was the marginal. Lemebel was the voice of the defenseless, prostitutes, children of the underworld, the unemployed, transvestites, the HIV-positive. His writing, rather than baroque, as many have branded it, is more barrosa, muddy,3 as he himself often declared. The writer exhibited his literary style like an indelible stain that provoked a sting from his detractors and boundless passion from his faithful public.
"This Indian-looking face is my revenge," he told me under the effects of rum on that drunken afternoon in Barranquilla, an afternoon that slipped away from us, as we drank and snorted cocaine while preparing our presentation for that unforgettable Carnival of the Arts in 2008.
On a pair of blank pages at the end of his book Adiós mariquita linda (2004), Pedro jotted down the order of the topics we would address the following night: the dictatorship, The Mares of the Apocalypse (his period as a performance artist with Pancho Casas), Roberto Bolaño, his novel My Tender Matador, among others.  He noted the order to follow in his peculiar handwriting, which, more than calligraphy, looked like a cryptic graffiti of his most intimate feelings.
At the end of the seventies, Pedro Lemebel graduated from the University of Chile as professor of Visual Arts. In the eighties, he worked as a teacher in a handful of schools on the outskirts Santiago, from which he was expelled because of his obvious homosexuality.
"Rage is the ink of my writing," he would repeat throughout his life. Bullying was constant throughout his life, as he makes clear in the manifesto he wrote in 1986, a historical moment when he confronted the Chilean Left, asking thousands of questions and making obvious his country's shameful double standard:
"I'm not Pasolini asking for explanations
I'm not Ginsburg expelled from Cuba
I'm not a fag disguised as a poet
I don't need a disguise
Here is my face
I speak for my difference
I defend what I am
And I'm not so queer
Injustice sickens me
and I'm suspicious of this democratic cueca4
But don't talk to me about the proletariat
Because being poor and a maricón is worse
You have to be acid to endure it
It's having to go around all the little tough guys on the corner
It's a father who hates you
Because his son has a limp little wrist
It's having a mother whose hands are raw from bleach
Aged from cleaning
Rocking you when you're sick
Because of bad habits
Because of back luck
Like the Dictatorship
Worse than the Dictatorship
Because the Dictatorship fades
And democracy comes
And behind that, socialism
And then?
What will you do with us, comrade?
Will you tie us up in bundles, by our braids?
And send us to a Cuban AIDS sanitarium?"
(Fragment)
He never got over his expulsion from those schools . He asked me to omit the topic from our talk at the theater. His chronicles like, "I Still Like Students" or "Ronald Wood," show that Lemebel committed to causes for change; there he hopefully narrates for us how the least favored youth demonstrate the most commitment in the social and popular struggle of their country and of Latin America. Even if this fight costs them their life, as it did for Ronald Wood, Lemebel's student, who died in one of the many murders that went unpunished during the dictatorship of Pinochet.
"Stop taking so many photos," he said, looking me straight in the eyes. "Let's just smoke instead," he proposed, opening a pack of Marlboros.
"Okay fine, Madam Lemebel," I responded.
"You are really a pain, prima," he said jokingly.
At that moment, Xiomara Rosa arrived, my loyal transvestite friend who had accompanied me to pick him up from the airport and for whom Pedro felt a lot of empathy. Xiomara, who appeared with a turquoise blue skirt, seemed like a gust of perfumed wind brought to us by the falling dusk.
"You look so beautiful, prima!" Lemebel commented.
"Your Majesty, what honor you pay me," Xiomi responded flirtatiously, and afterwards held out a package that she was carrying in her hand.
They were eight-inch gold heels, which she had brought as a gift for the author, who took them out of their package, and immediately put them on and took a few masterful steps before us.
"Fabulous!" Xiomara said.
"Chicas, I hope you've got something other than heels, coke, and rum for this old lady," Lemebel added.
And, of course, we had a lot more for him: Jonathan was his gift during this visit. "I don't have friends, I have loves." That was one of the premises of the great Lemebel.
Women, whether trans or cisgender, were a fundamental part of the author's life. At the beginning of the eighties, Lemebel begins to approach the world of letters, taking part in literary workshops and winning a short story competition that would allow him to make up part of an anthology that brought together various novices representative of the genre. During those years, he joins a group of Chilean feminist writers such as the now consecrated Damiela Eltit and Pía Barros.
Throughout his artistic career, his intimate friendship with Gladys Martin was well known. She was director of the Chilean Communist Party and a key element of the feminist gaze in many of his chronicles. But perhaps it was Violeta Lemebel, his mother, who was the most representative figure in the life of the writer, to the point that he assumed his mother's surname and discarded his father's as a show of identity: "The name Lemebel is a gesture of solidarity with the feminine, to register a maternal surname, to recognize my mother as illegitimate, from the illegality of being homosexual and a transvestite," declared the author on one occasion.
The death of his mother arrived at a moment when his work was being recognized and was selling well in Chile and other Spanish-speaking countries, when his unusual fame in the media him on the pages of international newspapers.
"I don't have a single hair left," he told me in the privacy of his room, that day we met in the El Prado hotel. His head was completely bald, and on it were visibly enormous scars from failed hair grafts. After his mother died, he lost his beautiful, black mane. It was one of his darkest moments: on the one hand, the money was gushing in, he was living in an important area of Santiago, everyone wanted to have him at their side, interview him, touch him, take photos with him; and on the other, he had lost what he loved most. "A funerary pen stroke took my life from me," the author wrote about the passing of Violeta, whose portrait he would put on the cover of his book Zanjón de la Aguada. After Violeta's passing, he sought refuge in alcohol, although even then, he continued to write. After the success of his novel, My Tender Matador, he published the volumes, Zanjón de la Aguada, Adiós mariquita linda, Serenata cafiola,5 and Háblame de amores. In 2011, he was diagnosed with cancer of the larynx.
Sunday, January 28, 2008
"Smoking so early, prima?"
"Death doesn't keep a schedule, prima," Lemebel responded.
He was dressed in a black blouse, sweatpants, and Converse sneakers. A red headscarf with printed skulls completed his morning look, a white lace fan rested on the little table on the terrace.
"I have rum in the room, go ahead and pour two glasses." Later he opened the fan to cool off a little, the same fan with which he appeared in Óscar Contardo's celebrated chronicle in the magazine Gatopardo.
That morning, rum and Marlboros were our breakfast. I suggested to Lemebel that we start the presentation talking about The Mares of the Apocalypse, the performance group that he co-founded with Francisco Casas at the end of the eighties , whose actions became celebrated in those dark years of the dictatorship in Chile: burials in lime, raids on public events which they ended by stealing kisses from writers and political figures, rides on the back of a mare wearing nothing more than their skin, native dances over broken glasses, among many other memorable acts, where the political and the queer fused together to denounce the injustices of a dictatorial and hypocritical government.
"I bought something for a visual aid, we could use it tonight," he proposed.
Afterwards he invited me to take a stroll through the city, he didn't want to talk about what we would do in his performance anymore, and it was better not to contradict him. "When I'm in a bad mood, I turn into a real bitch" he hinted.
We went to a backstreet with stores selling handicrafts, where he bought himself some bracelets with indigenous motifs and several knitted bags that he would give as gifts to some Chilean friends. We ate lunch and said goodbye at 6:30 p.m., we'd have the presentation.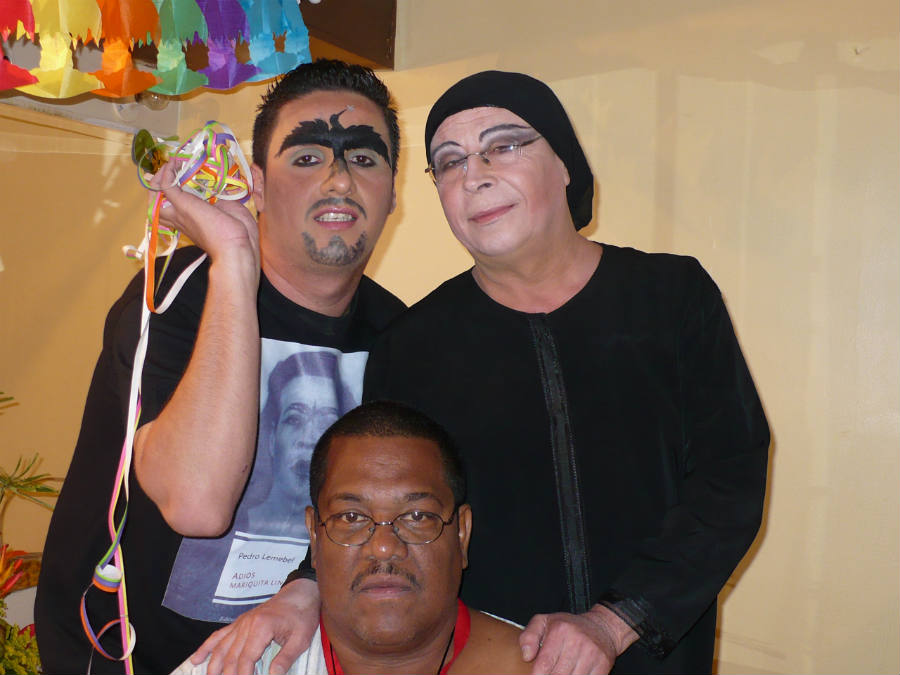 ***
At exactly six o'clock we met up in the dressing room of the Amira de la Rosa Theater, the location for the event. Lemebel was wearing black, the red headscarf was replaced by a dark one without a print. He looked like a mournful Mother of the Plaza de Mayo. He was wearing the gold heels, later he went to the mirror and painted his eyes like Cleopatra. "I'm ready," he said. I knew he had been drinking since that morning, and I was afraid for his balance in those stilettos.
"Everything will turn out fine," he replied to the concerned question I shot at him with a glance. They adjusted the microphones for us, he took me by the hand, the theater's front curtain began to open halfway toward the back, in total darkness. At the side of the stage, there was a round table with an unopened bottle of Havana Club and a package of Marlboros waiting for us.
A hangover and grapes on the bed.
"How did you sleep?" the Lemebelian voice asked.
My eyes inspected the place. I was in one of the beds inside the cabaña where they had put up the author.
"Last night was a success, prima," he said with a velvet voice full of smoke and rum.
I remembered the standing ovation from the entire theater, the applause while he read his Manifesto or the tender chronicle about his former student, Ronald Wood. I remembered the kiss on the mouth that sealed that unrepeatable presentation in the second edition of the Carnaval Internacional de las Artes, dinner after the event, Xiomara's laughter, Vallejo's arrival at our table, and the uncomfortable behavior of the Antioquian writer who kept making offers of cars and the latest stereos to Lemebel's companion.
"And Jonathan?" I asked.
"He already left, I gave him fifty dollars. You want some?"
"Grapes!"
"And how did it go with the chico?"
"Look," said Pedro, showing me the little red spots on the sheets.
"Wow! Some wine was spilled," I suggested.
"He was a virgin, prima! Enough with the poetry."
"I'm a poet, prima!"
"And the name of your poetic voice will be Madame Alma."
"Lovely."
Lemebel curled up in the sheets like a small reptile, still caressing Jonathan's youthful presence. He closed his eyes and insinuated a faint smile. "We have to go for more rum," he commented, and then he fell asleep.
I began to stare at him and thought a lot of things: on that bed, a monster was resting, the author of Latin America's most genuine and incendiary chronicles. A Mapuche Mishima, with that malevolent, freakish air about him that the Mexican writer Carlos Monsiváis spoke about. There, so close, was the idol of my youth, a survivor of one of the most tyrannical Latin American dictatorships. There asleep was the voice of struggle, I imagined him during those turbulent years, I dreamed about him perhaps at my side screaming, "El pueblo unido"6 and all those rallying cries that lead to freedom. The gold stilettos that he had worn in his presentation were still glittering on the floor. A tiger mask they presented to him was lying on a nightstand. In that instant, nothing went unnoticed: the climate, Lemebel's breathing, the smell of rum, the green of the grapes on the bed, the color of the curtains, the stains of blood. I knew that the moment was irreplaceable and that sooner or later I would have to return to it.
Translated by Christina Miller
Translator's Notes
1 The title of this piece pays tribute to two different works by Pedro Lemebel: Háblame de amores and Adiós mariquita linda. In the latter, Lemebel is at once referencing a ballad made famous in the 1940s by, among others, Mexican singer Pedro Vargas, and alluding to the homophobic epithet, mariquita, which can be translated as "sissy" or "fairy."
2 I have chosen not to render this epithet into English. Spanish for "female cousin," it serves both to express a familial bond and gay campness.
3 The word used in the original, barrosa, muddy, is a wordplay on barroca, and is a reference to a description that Lemebel has used about his own writing.
4 The cueca is a type of Latin American music and dance that was named the national dance of Chile in 1979.
5 The word cafiola is an urban slang term that is used to refer to a certain characteristic that inspires someone to make fun of another individual. It can refer to a physical or psychological attribute.
6 "The People United"