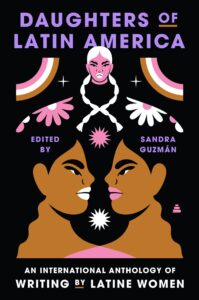 Editor's Note: The Indigenous Literature section of this issue is made up of texts from the new book Daughters of Latin America: An International Anthology of Writing by Latine Women, published by Amistad (an imprint of HarperCollins Publishers) and edited by Sandra Guzmán. This anthology includes the work of many writers and translators who have contributed to LALT, and we are happy to share these excerpts with our readers. Click here to purchase the book.
Ndaipori ñepysanga
Mbaasay vai ou hina,
¡Oguahema Katu¡
Taanga yvy jepe omongue
Heta tapicha oho apyreyme.
Oveve chereko nda che topai.
¡Che mbarete¡ Ndaipori ñepysanga.
che rykekuerandive rombopu takua (bambú),
kuimba'e kuera ombopu imaraka.
Ore reko ome'ê oreve mbarete.
Ore reko oguereko ñembo'e.
Nda ore jopy vai moai mba'asy vai,
konga pyhare ha koerô
Naî pori oñesu vaera henondepe.
Che ruguy imbarete, pytume apay
che ko'ê che rekove hiañete heta mba'e
heta mba'ema ohasa ñepysanga rehegua
che ñe'ê poty ome'ê cheve mbarete.
che purahéipe, che remiandu omoñe'ê
Heta mba'e porâ ome'ê cheve
jerovia, angapyhy ha tesaî
che ayvuete ha che reko rupive.
There Is No Stumble
The ugly disease is coming,
It's here!
Even the shadows disappear.
Those who fall go to infinity.
My being flies and I cannot find myself.
I am strong! There is no stumbling,
With my older sisters I play takua1
The men play their maracas.
Our culture gives us strength.
Our culture has prayers.
The ugly disease will not hurt us,
tonight, or tomorrow.
Before her, no one will kneel.
My blood is strong, in the dark I woke up,
and at dawn my being was limitless.
So many roads I traveled in the stumble of life.
My poetry gives me strength.
my song, a soulful gift that delivers.
So much beauty has given me
truth, faith, and health
from my true word,
from my living.
________

1
Takua: bamboo.
Translated from Guaraní to Spanish by Elena Martinez

Translated from Spanish to English by Sandra Guzmán
Adapted from
Daughters of Latin America
, edited by Sandra Guzmán and reprinted with permission from Amistad,
an imprint of HarperCollins Publishers. Copyright 2023.
Photo: Areguá, Paraguay, by Bruno Barzalá, Unsplash.