When I Walk Through That Door, I Am: An Immigrant Mother's Quest. Jimmy Santiago Baca. Boston: Beacon Press. 2019. 88 pages.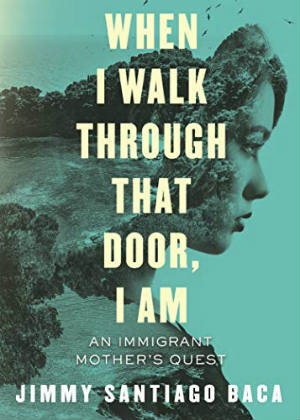 Epic poem or American elegy
Jimmy Santiago Baca's new book is a long poem, which "brilliantly reimagines the epic poem", according to Richard Blanco.  The work is a cyclical poem and depicts almost if not all the features of an epic poem.  The reference to Neruda's Canto General (1950) is unavoidable if we speak of the historical-political identity of the poem, however, Baca's poem doesn't recount the Spanish Conquest, the naturalist ode or the panoramic vision of pre-Columbian cultures, nor is it about revolutions, liberators or the socialist movement. It is not a general history of the continent itself, but a historic episode that has ballooned over the last 50 years: the migration of Central American, South American, Mexican and the Caribbean inhabitants towards the United States.
Baca's poem is imprinted with scenes of poverty, gangs and the corrupted status of the judicial system; however, it is not a systemic view, but an individual portrait. Without ignoring the vast thematic and stylistic differences, but insisting on creating parallelisms, the tone of Baca's poem would be closer to "Song of Myself" (Walt Whitman, 1855) and "Death without End" (José Gorostiza, 1939) than Canto General for the use of monologue and intimate narration. Between lament and battle cry, Sofia, a Salvadorian woman, pulls the reader on a journey through deserts of discrimination and injustice, to the summits that denounce the morbid social destiny of the Latin-American outcast. Sofia's poem is an elegy of the American continent.
Voluntary colonialism and postmodern tragedy of the voiceless
History has taken an ironic turn; Latin-American people are now experiencing a kind of voluntary colonialism. If in the past, Caucasian people arrived at the bronze-race territories to impose and dominate and the original American people strived for emancipation from European-style rule, today the indigenous peoples are the ones who are immigrating to predominantly Caucasian territories to willingly put themselves under their system and protection.
For those that, frequently from a position of privilege, ignore the life conditions in countries with high emigration rates (due to extreme hunger, violence, and lawlessness) and for those who see this phenomena from an exclusively political or economic lens, it is impossible to identify with thousands of migrants seen only en masse.  However, if this story had a face, perhaps it would be possible to identify with them, look attentively, feel their humanity and create empathy. According to Aristotle, the purpose of tragedy is to move, to produce compassion for what the character suffers and to fear the same suffering. This is indeed a poem to provoke emotions and heal from the constipation of indifference. Sofia's tragedy re-dignifies and speaks for the migrants without "papers" who cannot do it themselves, as their movement has no voice due to its clandestine, illicit nature, and subversion of the status quo.
Author's identity, tone and language
Canto General displays Neruda's identity, history and concerns, however in When I Walk Through That Door, Baca's identity is omitted, but Sofia's voice carries echoes of Baca's biography colored by orphan-hood, marginalization, captivity and by his personal heroes such as Che, Gandhi and Ali.
The poem's tone is not sublime, as one might expect from an epic poem, but realist and written in free verse, like every North-American modern poem and any poem of Baca. Regarding the form of the poem, there is a contrast of images that assembles natural and supernatural facts with brief glimpses of magical realism. Among the horror and iniquity of Sofia's escape and her work in prison, one finds miracle and beauty in an oneiric dimension or alternate states of consciousness; there are representations of magic or the world beyond in the memories/presences of her husband and son, who assist Sofia in her moments of greatest pain and helplessness.  Such presences are part of a Salvadorian woman's religious worldview, whose temple is nature. The alternation of forms of expression (mimesis and diegesis) in epic poetry as genre is translated in Baca's poem in the tug-of-war between description and narration, which manifests in changes of rhythm, sometimes violent and disturbing, and in other moments, soft and tender. An example of the latter is when Sofia listens repeatedly to the lullaby of the stones who receive the battered body of her husband: Lay on us/We will absorb your sadness. This is why I consider the poem cyclic, not because it's related to Homeric times, but because it continuously returns to a starting point where she begins again with new verve, breath, and rhythm.
So far from Neruda and so close to Charles Bukowski. In the end, Baca.
The biggest gap between Neruda, Gorostiza and Baca is that Neruda and Gorostiza wrote "cultured" poems while Baca's is born from the slum with a raw and simple language. Regular readers of Baca will not be surprised by the form and subject of the book as all his work speaks of the dispossessed, highlighting the large disparity between the American dream and its reality, reflected in people of dark skin (call them American Indians, Afro-Americans, Mexicans, Guatemalans, etc.) obligated to confront their "distorted" image in the mirror of American authority and society.
But immigrants are not the only outlaw characters in Baca's work.  He also appreciates and gives voice to women that work in prostitution, transvestites, addicts, the homeless, orphans, etc., those others that society condemns and marginalizes so as to not admit their existence.  They are part of his persona. In this context, Baca´s work is very far from erudite poetry and very close to the poetry of Charles Bukowski, who regularly depicted the ordinary life of America's poor. Baca and Bukowski share intense and realist styles that do not conceal the edges of their most primitive emotions; however, Bukowski is more indifferent, he does not seek to change anything and a nihilistic aftertaste runs through all his work.  In Baca on the other hand, there is no nihilism, but a manifest desire to shake and cause an impact, an appetite for justice and this is one of the most fundamental peculiarities of Baca's own style.
More literature about this topic
In the epilogue, Baca shares anecdotes that are the genesis of Sophia´s poem and reveals his motivation to write about migrants: Everything we know about them is wrong, and yet they come at just the right moment in time […] to repair our Democracy." From my perspective, it´s not relevant to the critique of this book if Sofia is a real character or the fact that Baca employs a feminine character, the relevance is in the topic itself. On the other hand, we should not deny the work of Reyna Grande, Cristina Henriquez, Valeria Luiselli, etc, that have written about the theme of immigration, in crucial literary works, but, in my opinion, this topic can never be written about too much.
When I Walk Through That Door was published in the United States and a Spanish version is currently in the works.
Lucía Ortega Toledo
Bozeman, MT