Sk'eoj jme'tik U / Cantos de Luna. Enriqueta Lunez. Mexico City: Pluralia Ediciones. 2013.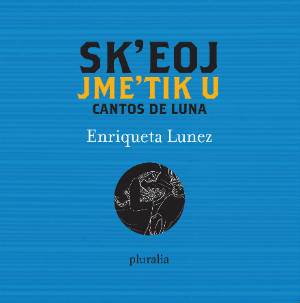 As we peer into Cantos de Luna by Enriqueta Lúnez we find poems that don't jibe with what has been called archetypal indigenous poetry. Or to be more exact, her poetry is quite different from the verses produced by past generations of indigenous poets, and from the expectations of a qualifying public given the narrow concept of what constitutes indigenous poetry in the literary context of this country. Because Enriqueta doesn't write indigenous poetry, but rather poetry – plain and simple – in an indigenous language and in elegant Spanish.
We will not find that bucolic portrayal of indigenous life: ancestral wisdom, pure essence of all things, absolute, universal truth – so popular with those who approach anything indigenous with that militant romanticism that gained speed after the Zapatista uprising and now proves useful to justify plurality and show respect for difference – that can also be recognized by its orality, and its traditional costume and themes. Enriqueta doesn't believe that the lost path can be found by backtracking: all that's behind is a labyrinth. She doesn't believe that it's possible to find the true path and thereby fix all that has happened in her community: she notices what is happening without offering a solution; she testifies to distance, decomposition, an ambiguity that can at once seduce and repulse. She knows full well that once water is spilled, it cannot be recovered. In a poem from another book, she warns us:
It's been so long already,
that the serpent is not stone
that the bird does not come to wait for you
that ants don't pour from the earth.
It's been so long already,
that the dog doesn't drag because you're gone.
cats in heat don't follow your dead shadow.
It's been so long already,
we forgot the summons of death
because death itself is dead metaphor.
Born in 1981 in San Juan Chamula, Enriqueta Lúnez is author of Juego de nahaules [Game of Totems], Raíces del alma [The Soul's Roots] and Lluvia de sueños [Raining Dreams], books which appear to conform better to expectations for indigenist literature; demonstrating as they do the exoticism it takes to be a poet, translator and performance artist. Nevertheless, her sensuality likens her to non-indigenous poets and is a far cry from the situation for Chiapan women.
In this new volume, her choices are very different. She renounces the protection of that mode that ventures into dreams, secret thoughts, uncertainty. This book is a compass for that voyage of rupture and longing through portraits of women: none of them her, all of them her.
The book consists of four sections. In the dedication to her grandmothers, she thanks them for having taught her spells. The epigraph is from Ámbar Past – who made a whole book out of oral poetry with curses that invoke fate against one who wounds, turn the tables on one who harms.
The book itself is a spell, against what binds her to tradition, against what she loses by distancing herself. It begins with the new moon: invisible, dead, ready to be reborn, extinguished. And its first poem asks for death: as a youth, as an adult, as an old woman: just like the moon. Here she curses, dies, laments being a woman, longs to be like other faraway women she imagines, embraces a man, prostitutes herself or dries out beside the fire. Decomposition and decay, emulating outsiders, destroying all the ties that bind a woman to her fate – here or anywhere else.
The waxing crescent that follows is not renewal nor certain epiphany. It is barely doubt: Is her mother's unhappiness hereditary? Is this estrangement wisdom? Aid is urgently needed to remember her roots when necessary, but her shout doesn't get an answer: treasures glimpsed from the past are now only a memory.
The full moon, contrary to expectations, is not radiant or bright: once again it's agony, this time in Veronica, who weaves — in the classic indigenous mode – with scars and silence. She's a woman who shuns the light, who won't allow herself to be photographed; and if she does, she's selling her image, like the mute woman begging in sign language: everything is an illusion.
There is no waning crescent. In its place, there is a section called Alleluya, a woman named by Enriqueta using the generic name given to Protestant indigenous women. Alleluya dances and applauds to escape her confusion, but everything gets mixed up: in her memories, she still sees Carnival with its flags and monkeys.
She forgot her dead
tore gourds to pieces, spilling the atole
destroyed the tecomate, red corn, Itxtapan salt
until losing her steps in the woods.
In San Juan Chamula we see that not all indigenous are poor, illiterate, traditionalist, nor are they all PRI supporters, though for many ethnicity serve as merchandise or political tool. In this gorgeous landscape, the first Indigenous Community Center was founded and since then it has been a busy place, preferred because of its nearness to San Cristobal. Like Zincantan it has been studied exhaustively by Mexicans and foreigners. Chamula is the township with the highest indigenous population in the state. There are always celebrations and healing ceremonies with local beliefs on display. What's harder to understand is the shocking breakdown of those communities, the ones who have been absorbed by the dominant culture and the worst of its extremes: impoverished, alcoholic, violent, exploited by wealthy and powerful Indian leaders. Political parties and governments who back local strongmen all hide behind customs and lifeways to polarize the people. With its complex web where rebellion, ancient patronage, Catholicism, and Protestantism are all interwoven, San Juan suffers from enormous economic disparities, organized crime, human trafficking. But everything is not chaotic, more and more young people are continuing their studies. Downtown Chamula has a prep school, the lovely Boulevard de los Altos, a great many trucks and cars, a wave of tourism, a hospital. The expulsion of more than twenty thousand non-Catholic inhabitants in the seventies caused the formation of large colonies of Chamulans around the outskirts of San Cristobal and in the jungle.
All of this can be seen, of course, in the poets and writers from this region: the historical burden of language, landscape and cultural conformity are inevitable. But it's impossible to venerate the earth in the midst of agrarian conflict and it's hard to invoke the gods when forty percent of the formerly Catholic population has converted to Protestantism in the past thirty years.
Indigenous poetry always suffers from a kind of mannerism that looks to its origins for answers, seeking privileges that such ancestry might offer – minimal when compared to what Spanish-speaking writers enjoy. More and more, authors flee the obligation to be the voice of their people, avengers of their miseries or guardians of the special beauty of their communities and their tongues. Enriqueta doesn't serve as ancestral guardian nor as traditional spokeswoman: she is a poet, not a symbol; she uses indigenous concepts and other available ones to speak of universal experience: ambiguity, doubt, yearning. Her grandparents' words serve as example, but are impossible to fulfill and there's room to hope for a life with less misery, more distance, new options that most people have already – in their studies and in their nature as poets.
Enriqueta Lunez is an indigenous, woman and poet. What defines her most of all is being a poet.
Elisa Ramirez