Moronga. Horacio Castellanos Moya. New York: Literatura Random House. 2018. 336 pages.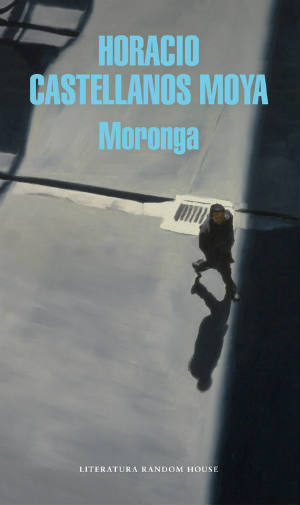 In many ways, Horacio Castellanos Moya's new novel, Moronga, published in May of 2018, follows a similar thematic track seen in some of his more recent novels. Whereas the foregrounding of displaced Salvadorans, traumatized by the Civil War in their homeland more than thirty years ago are present in Moya's novels La diáspora [The diaspora],  Donde estén ustedes [Wherever you are], and El sueño del retorno [The dream of the return], Moronga breaks new ground in that its two protagonists now traverse the culturally alien spaces of the Mid-West in the United States.  The novel's unique setting provides Moya fertile new contexts for inter-cultural exploration as his twin protagonists, José Zeledón and Erasmo Aragón, navigate the peculiarities of cultural displacement in the typical mid-western college town of Merlow City. Both remain mired in a past of nightmarish post- war traumas, and neither is able to fully banish the psychological scars linked to their first hand involvement in the horrors of a Civil War in El Salvador that consumed their generation.
The distinct sections of the tripartite structure of the novel could stand alone, but together they constitute a unique narrative whole. While the first two sections focus exclusively on José Zeledón and Erasmo Aragón, the final section, written as an official "police report," relates the culminating scene of the novel and serves to splice together the final outcome of the first two sections. Yet perhaps the most remarkable feature of Moya's novel is his ability to create an underlying ambience of anxiety and sense of continual surveillance which permeate, to varying degrees, all three sections of the novel. This atmosphere, whose origins emerge out of the context of conflict; death squads, fear of repression, living underground in the resistance, were all realities of the war in 1980's El Salvador. This climate of relentless unease and fear becomes a primary aspect of an enduring legacy of post- war trauma that Moya deftly weaves into the dense textures of Moronga.
Zeledón's reunification with Rudy, an ex-guerrillero from the war days in El Salvador, initiates his unsuccessful adaptation to the university town of Merlow City. His feeling of not belonging also reveals an underlying inconformity, an anxious desire to assist his other ex- war comrade El Viejo as a bodyguard, who moves in the shady circles of gang members and gun running. Zeledón's unwillingness to sever himself from his past is foregrounded expertly by Moya in his depiction of Zeledón's recurring flashbacks to his past as a guerrilla fighter for the FMLN in the early 1980's.  Within the descriptions of these six wartime reminiscences emerge the themes of ambivalence that torment him: loyalty to a higher cause, heroic action, and inevitably, an encroaching remorse about his level of participation in the war. Following his allegiance forged in times of war, Zeledón agrees to accompany El Viejo on a mission to that deals with Moronga, an ex – Guatemalan gang member turned DEA informant in Chicago. Unbeknownst to Zeledón, El Viejo's expectation is that Zeledón be the hit man and murder Moronga. Zeledón's adamant refusal to participate in the murder scheme underscores the ethical dimension in the FMLN"s struggle, and that an adherence to the "just cause" in a member like Zeledón transcends self- interest even decades after the conflict has ceased
The new life of the second protagonist, Aragón, reveals certain parallels to that of Zeledón.  Aragón, who was highlighted in Moya's previous novel El sueño del retorno, secures an academic position in at the university in Merlow City yet displays far more extreme symptoms of psychological instability rooted in his past.  Latent traumas from the war years in El Salvador are compounded by his increasingly acute sense of paranoia. His incessant drinking, obsessive compulsions and a boundless fear of being stalked carry him to the verge of mental collapse toward the final stages of the novel.  Like Zeledón, Aragón's ties to El Salvador are also inextricable, as he resurrects pieces of his former career as a journalist. His university research project in Washington D.C., explores the uncertainties surrounding the murder of the renowned Salvadoran guerrilla poet Roque Dalton, who was murdered by suspicious guerrilla allies in El Salvador in 1975.  The combination of advances in security technology, his handling of recently declassified government materials to research the murder of Dalton, and fear that emerges in his interactions with two females, pushes his level of apprehension and fear of betrayal to their limits.  Moya's narrative skills are unbridled in his depiction of the rapid deterioration of Aragón:  his week in Washington D.C. allows for extended interior monologues, lengthy ruminating forays into his past as well as penetrating glimpses of his sense of impending psychic collapse, all of which create a level of paranoid tension and fear not unlike that achieved in Moya's 2003 novel Insensatez [Insensitivity].
Moya's creation of elongated, narrative atmospherics is exemplified in his in depth probings into Aragon's fragile psyche peel back the layers of his excessive self- doubt and an ever expanding sense of delusion. Aragóns' overly anxious state is also deftly linked, through a series of flashbacks, to his first-hand experiences at the outset of the civil war in El Salvador: his witnessing the disappearance of his best teenaged friends and unmerited harassment at the hands of the Salvadoran military during a camping trip with friends.  His enduring paranoiac sense is rendered more acute by the circumstances that surround him during his research trip to Washington D.C. to investigate Dalton's murder. His condition is intensified by his acute awareness of the ubiquitous technological surveillance that he perceives at every juncture while in Washington, D. C.  Aragón's deepening paranoia culminates in the unexpected as he eventually falls victim to an extortion scheme conceived by the gang member Calín in order to abet reunification with his sister Amanda.  These intimidating demands from Central American gang members eventually drive Aragón to emotional collapse.
Within the context of contemporary Central America's problems with international gangs and drug trafficking and their impact on the United States, in Moronga Moya's creative prowess constructs disparate narrative realities that ultimately converge in the final scene of the novel. This is further evidenced by the abrupt change in tone in the novel's final section, which is delivered in in the style of an official police report that details the shootout which finalizes the work. Moya's skill in constructing narrative voices assures that the paranoiac ambience is present throughout, as the final section, written in the forensic and prosaic stylet, carries the unquestionable stamp of surveillance and investigatory prowess, leaving little doubt as to the extent of the discerning eye of state power.
William Clary
University of the Ozarks