Los días arqueados. Luis Eduardo Barraza. Caracas: El Estilete, 2017. 232 pages.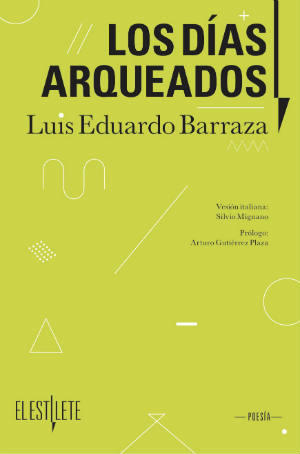 The first sensation produced by an initial entrance into the pages of Los días arqueados [The Arced Days] is perhaps that the reader faces a poetic language prone to sensuous exploration and linguistic materiality. This extraordinary book of poems by the young Venezuelan poet Luis Eduardo Barraza begins in such a way that abolishes all syntactical and morphological ties that threaten the creation of an expansive, verbal, and entrancing process, contesting any form of semantic and lexical conventions. Said in other terms, a disruptive yet lucid language, that bursts in and interrupts, that flows and becomes bogged down, that stutters, all the while expanding and retracting in arduous resistance. All of this undoubtedly creates a substantial part of what we can appreciate in the first incursion through the verses that make up this book. However, as we advance, we will encounter evidence of other possible routes, of other reading attempts that will have to go about accumulating as concentric circles, like cumulative spaces of meaning.
Our reading will go about exposing its architecture to us, inviting us to glimpse its multiple dimensions, many of which are traced based on dualities determined by complementary opposites that ultimately must be integrated in a sort of a single vision. Thus we will find, together with the evident verbal and spatial experimentation that governs each poem, a development that moves from the lyrical across a notable narrative scheme: a virtual history, which happens in four scenes. The first scene, in which two realms oppose and link: a poem about the last days of an old and sick poet named "juan," whose wife accompanies him until the moment of his death; and a poem about an initially unnamed subject, presumably a young poet, who accompanied by his wife, mariana, constructs an intimate space with her, in a parallel way, while both are witnesses, as well as neighbors, to juan's transformation (it would be worth noting that in all of the poems of the book, the names "juan" and "mariana" are written in lowercase.) The second part constitutes only one page, in which a brief prose text informs us of juan's death, of the condolence call made by mariana to his widow, and of the folder carried by former to her husband, that the deceased had dedicated to "L.E.B." In its interior, there will be found a group of poems, collected under the safeguard of a neologism: "Lejumbres." The third part, which consists of said collection of poems, which obviously differs in terms of lexicon, the spatial disposition, and the thematic universe, from the corresponding to the first part of the book. Now the voice that speaks recurs constantly to colloquial phrases, belonging to a rural and country life, in particular from the boarder between Colombia and Venezuela in the north coastal zone. A fabled world overcome with aridity, hunger, extreme poverty, and desolation. In the last part consisting of two poems, more related in tone, diction, and specialty to the first part, the poetic affiliation between L.E.B. and juan is hinted at. Thus, in the last poem of the book, we are told:
Se diluyen en mí, los calcáreos miramientos de juan 
su escasa presencia de patio
que resbala
por la mañana toda
de estos arqueados días que fui
la silueta suya apenas en la memoria
más liviana
y menos roja ahora de pluma
ella también
su cadencia rota
que nos hereda
su descocido andar
su heterónima imagen que hice de mi
[Juan's calcareous courtesies are diluted in me
Its scarce patio presence
that slides
all the morning
of these arced days in which I was
a silhouette barely in memory
lighter
and less red now of pen
it too
Its cadence broken
that bequeaths to us
its unsewn walking
its heteronymous image I made of myself]
This is why, upon concluding the book's reading we are inevitably left to think that this has had among its principal motivations the performance of a tribute to this "juan" (35 times the word "juan" or the derived "juanesca" are repeated throughout the collection) who we are able to read him as a hypothetical or imaginary figure that acts as the alter ego of L.E.B., there also exist obvious referential elements (verses, dictions, epigraphs, in addition to the same circumstances of sickness and death) which would allow us to see this "juan" as an allusive characterization of the Venezuelan poet Juan Sánchez Paláez. However, for many reasons, the implied proposal in Los días arqueados demands other considerations. So in this attempt there is not only on affective and admiring tribute, but there is, above all, the rereading and reappropriaction of a poetics represented, among others, by the work of Juan Sánchez Peláez. Beyond configuring an emblematic sign of an important part of the 20th century Venezuelan poetic tradition, it materially constitutes the verbal exploration of a young poet born in Maracaibo, 68 years after the author of Elena y los elementos [Elena and the elements]. This case invites us to think about the well-known thesis expounded by T.S. Eliot in his celebrated essay "Tradition and the Individual Talent," according to which the insertion of a new work, conscious to being part of the tradition with which it dialogues and debates, would produce a reordering and a rereading of the collection of the works making up said literary system, relativizing any implied chronological notion in its structure, to the point that the perception of the past works would have to be altered by those of the present, and that of their contemporaries would have to be conditioned by those of the past. Possibly, Los días arqueados in effect obliges us to do some rereadings and reorderings, in that it is a book whose dialogic and polyphonic nature emphasizes precisely the coexistence and presence of one and others, in diverse temporal and spatial planes in which closeness and contrapositions, forms of rupture, and continuity strategies in distinct environments are manifested.
The multiplicity becomes rhizomatic throughout the book by means of diverse strategies, among them, various forms of allusion to poets and poetics from different cultural contexts. The plurality of meanings that this process achieves, corresponds with the express or tacit allusions to Venezuelan poets such as María Auxiliadora Álvarez, Ramón Palomares, Jesús Sanoja Hernández, Antonio Trujillo, Douglas Bohórquez, Catherine Castrillo, and Luis Moreno Villamediana (in addition de Juan Sánchez Peláez and Luis Alberto Crespo); as well as to writers and poets from other latitudes, like César Vallejo, Juan Rulfo, Juan Carlos Onneti, José Lezama Lima, Fernando Pessoa, Octavio Paz, Tu Fu, James Joyce, Porfirio Barba Jacob, Hernando Track, and Salvatore Quasimodo. However, the relevance of such allusions is no reduced to a simple homage; rather, in every case they implicate distinct forms of textual affectation in the poems that will make up the book's entirety. Each one is written from a simultaneously same and different "gaze," a recurring and significant word that accounts for the staging made obvious in this poetic wager: writing that sees itself, from itself and from others, that is seen watching, that aspires to be "the ineluctable modality of the visible," and that through these multiple windows, the book traces bridges between the most intimate universe and those parallel ones with which it unites, in the passing of the tedium of days, of those arced days that hang from a "mutilated luminous/ transparency.
Arturo Gutierrez-Plaza 
Translated by Auston Stiefer