Buenos Aires: Alfaguara. 2023. 252 pages.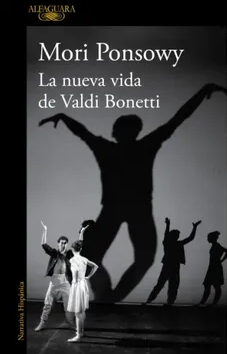 You cannot trust anyone in this novel. That is no reproach; that is how all good fiction works. The narrator, a sort of off-stage voice, continually inserts new information, or rather, new versions of the same story that subtly changes. More than a Russian nesting doll that replicates itself in different sizes, the narration makes one think of superimposed images that add details and colors that are sometimes difficult to notice. 
The truth is that one surrenders to this story's instability and observes with a certain confusion—and, perhaps, a bit of envy—how a person full of extraordinary talents is loved or, better yet, revered, despite their complete lack of consideration and their terrible habits. The person in question is Valdi Bonetti, an extravagant man whose intuitive charisma and intelligence permit him to live in total freedom.
Valdi's meteoric career in the professional and artistic field takes place in a prosperous and glamorous Venezuela, a land of opportunities. Could anyone have imagined the proximity of today's dark times? No one, not even Valdi, even though that powerful darkness will end up enveloping both the country and the protagonist.
"VALDI MOVES FORWARD, THOUGH IT WOULD BE MORE APPROPRIATE TO SAY THAT HE WAS RUSHED, TOWARDS OTHER UNEXPECTED TURNS WHOSE DETAILS THE NARRATOR RECONSTRUCTS, OR INVENTS, OVER THE YEARS AND FROM ANOTHER COUNTRY"
The reader is introduced to the two women who loved Valdi (although it is insinuated that there were more). One of them confesses: "Valdi was the Sun and I accepted being a tiny planet that orbited around him." That intensity demanded everything and excluded everything, including motherhood, which carries a seed of separation with it. And although the other love included motherhood, that also led to its end. We all already know how complicated we are as humans, so full of contradictions and ambiguities, and always so close to disaster, especially when it comes to love.
Valdi, increasingly isolated, gets back an old job by chance and becomes a successful full-time actor, playing Napoleon in his final years. He experiences the hero's solitude and defeat. He seems to be inevitably fated to join him at last, merging, dissolving.
Valdi moves forward, though it would be more appropriate to say that he rushes, towards other unexpected turns whose details the narrator reconstructs, or invents, over the years and from another country, because she too, like many others, has left Venezuela. More than once, Valdi's hapless lovers, sometimes happy, ask themselves: how do you stop loving a person? This desperate love, far from being unusual, is fertile ground for art. But without a doubt in this book, the clear pain from the loss of love is also the pain from the loss of a country.
Mori Ponsowy, in addition to being a translator, has written various books of poetry and fiction. She was born in Argentina, raised in Venezuela and, as an adult, returned to her home country. Her book Okasan: Diario de viaje de una madre has received excellent reviews, has been republished many times, and has been adapted for the theater with great success. It is a difficult book to classify, though the concept of autofiction, so contemporary and frequented, can be applied comfortably. The same careful writing, attentiveness to feelings, and emotional honesty that have contributed to its success can also be noted in La nueva vida de Valdi Bonetti.
Translated by Jared Peterson