El país de Toó. Rodrigo Rey Rosa. Madrid: Alfaguara. 2019. 304 pages.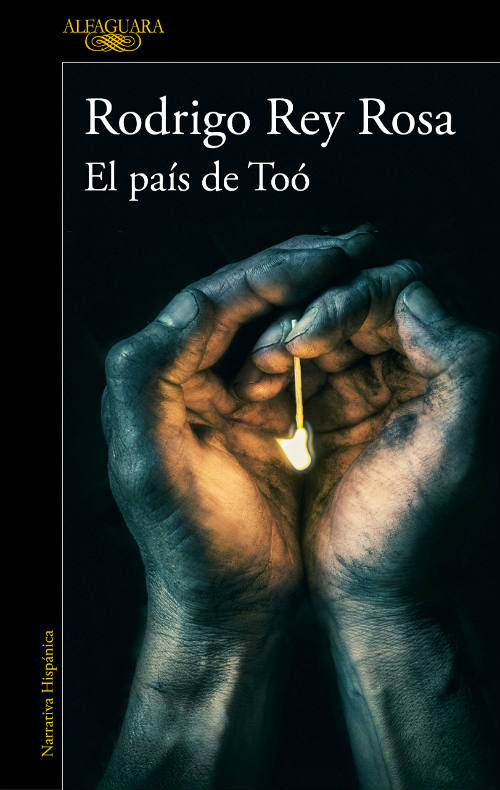 In 2004, the Guatemalan novelist Rodrigo Rey Rosa published a chronicle in Granta Magazine entitled "El Tesoro en la Sierra," – Treasure in the Mountains – which relates the destruction of communities in Huehuetenango, Guatemala, a devastation which results from gold mining practices by international mining corporations. Rey Rosa's most recent novel,  El país de Toó, (Alfaguara, 2019) explores this same theme more fully, breaking new ground in Central American narrative in his treatment of the contemporary polemic surrounding extractionism, or foreign exploitation of subsoil minerals in Central America and the reaction by indigenous and local communities as a response: the protection of resources and water supplies in order to preserve the overall health of local ecosystems on their lands.
Rey Rosa's new novel also expertly reveals the levels of deep rooted, historic and institutionalized corruption in this imaginary Central American republic, a problem which has prompted some observers to theorize that the nations of the Northern Triangle in Central America are in essence "failed states," with democratic institutions so fragile as to require a virtual overhaul of political and economic institutions. Furthermore, implicit in the novel is a scathing critique of the multiethnic country's historic exclusion of its majority indigenous population from proper political representation and decision making, a reality that has perpetuated acute levels of marginalization and disempowerment among the indigenous peoples that inhabit many of the countries of the isthmus.
The cast of emblematic characters that populate El país de Toó advance a story of impenetrable  corruption and violence, ethnic marginality, the privileges of class and how they intersect and operate inside this unnamed, contemporary Central American republic which can only be, given the abundance of indicators, Guatemala.  In many ways, the multiple tropes foregrounded in the novel persist today in contemporary Central America; imperialistic ventures in search of natural resources, conniving local opportunists and government officials, innocent citizens getting caught up in the webs of venality, and, those who challenge the pillars of status quo power, personified by a marginalized and seemingly impotent underclass that acts as their opponents.  Predictably, the oligarchy's reaction to those who dare to challenge its grip on power also resonate with a historical record in Central America replete with examples of oppression directed from above and its result: impunity.
Aside from probing the complexities of activism and indigenous marginalization and their confrontation with and the firmly entrenched power structures, Rey Rosas's novel also exposes the human face of this struggle, its complexities, vicissitudes and possibilities for realistic change.  The diversity and number of players who exhibit a stake in the competition for resources in this small, insular Central American republic allow Rey Rosa to forge a complex, mosaic like narrative which captures the nuances of the linguistic and cultural groups and forces vying for personal advantage and social justice.
The central ladino figure in the challenge of the status quo is Polo, a distinguished NGO activist who promotes local land sovereignty for Maya villages whose land is being threatened by international mining interests.  Polo however finds himself at odds with a group of venal political elites who are cutting back room deals and cashing in on the international mining profits. Polo's cause, reminiscent of the challenges faced by Guatemalan activist Adolfo Mijangos in the 1970s, directly challenges the economic hegemony held by the oligarchy, and perpetuates activism that has deep historical roots in Guatemala, dating to the Canadian company Exmíbal Mining's investments dating to the 1950's and a long tradition of opposition to foreign mining interests in Guatemala. At the same time, Polo's work, together with the efforts of the International Commission against Impunity in Guatemala, begins to attract public attention and is now exerting new forms of pressure on governmental corruption which is often linked to mining interests that threaten the sovereignty of Maya villages.
Conversely, Emilio, an entrepreneur with a sketchy background, progressively ensnares himself in an increasingly tightening anti – corruption noose fueled by the Commission Against Impunity. He is forced to flee the country, leaving his family legacy to his son Jacobo behind. His flight and his futile attempt to free himself from greater scrutiny by ordering the assassination of Polo are principle components of this conflict and compliment the novels additional textures.
El Cobra, an orphan from El Salvador whose allegiances are shady but also tied to his patrón, Don Emilio. As Emilio's chauffeur, el Cobra is another key character due to his linkage with the centers of power and the opposition.  He is also emblematic of the way in which diverse sectors of the ladino population are easily co-opted and drawn into the networks of corruption, in spite of their intentions. Eventually el Cobra becomes Emilio's hitman in an effort to murder his rival Polo by scorpion bites, spreading traceless, natural poisons from above to squash the resistance.  Subsequently, much of the novel's narrative force centers on el Cobra's sense of remorse and his search for redemption, which he achieves in the last section.
In spite of his sparse presence in the novel, the gradual awakening and transformation of Jacobo sheds additional light on the regressive decay of economic and social structures that impede the country's advance toward a more egalitarian society.  At its core, Jocobo's evolution is a result of the spiritual and political guidance offered up by the caring hand of his nana Doña Matilde, whose care for and tutelage of  Jacobo remind the reader of a very similar dynamic in Rosario Castellano's classic novel Balún Canán. Yet the ties between the two run deeper still. Matilde bonds with him at a young age and then facilitates his recovery from cognitive impairment, -the          results of a swimming pool accident- first through her introducing him to hallucinogenic mushrooms used by the Maya people – Ixtantlalok – and later through her explanations regarding the arrival and fall of the country's president, ironically named "el Futuro."  While Jacobo's acquisition of agency is facilitated by Matilde, she also heightens his awareness of the stark realities of his country and the illicit activities of his father Emilio. Jacobo's gradual estrangement and distancing from his father come as a result of his newfound awareness of the unscrupulous activities of his father which involve corruption and affiliation with the incarcerated president. This separation of father and son, coupled with Matilda as a didactic, surrogate mother, underlie the primary forces of contention that play themselves out in the novel.
The reshuffling and political transformations that the characters in El país de Toó experience are corollaries that underscore the prevailing theme of necessary, substantive reform. Whereas the ladino institutions of historic power in Guatemala City are portrayed as decadent and in a down-spiral, Rey Rosa's text also reveals the emergence of an alternative and radically different space that might serve as a roadmap for substantive change in Guatemala. In the latter sections of the novel, Don Emilio's chauffeur, el Cobra, achieves redemption through his solidarity with Dona Matilde, Toto and the Maya peoples in a region of the remote states of Huehuetenango and San Marcos. These outlying regions are portrayed as an alternative spaces within the nation of Guatemala, and elicit the novel's title, "El país de Toó." Together with his own son, Jacobo, and other Maya activists, el Cobra integrates himself deftly into this nascent, autonomous territory and fully accepts Maya/ladino integration with a newfound respect for communal indigenous lands from the predatory international mining interests, which are advanced and promoted by the decay of neo-liberal corruption in the capital city.   In essence, in Jacobo, el Cobra and Dona Matilde and Goya, a young Maya woman who becomes a lawyer, Rey Rosa creates a novel space with actors who demands substantive, positive change for the fragile republic. Their efforts point to a utopian space that can only emerge through intergenerational and interethnic accommodation and understanding, and the ultimate recognition of the intrinsic rights of the Maya people regarding decisions over land use in their ancestral territories.
William Clary
University of the Ozarks