El asesino melancólico. Jacinta Escudos. Mexico: Alfaguara, 2015. Kindle Edition.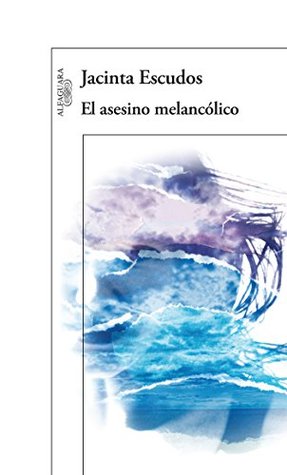 The most recent novel by Jacinta Escudos (El Salvador 1961) returns to one of her favorite topics: death. The novel only has two actant or protagonists, a woman called Rolanda Herter and a man, Blake Sorrow. Like most of Escudos's characters, they are both maladjusted, difficult, and quite eccentric beings. Roberta wants to die but does not have the courage to commit suicide, which is why she has to hire someone to kill her. Blake works in a parking garage and follows an extremely strict and boring routine until Rolanda shows up at the parking lot and asks him unexpectedly to kill her. Blake, of course, is left speechless in the face of such a request, but the woman insists. It was pouring and Rolanda invites him to get into the car to go for a cup of coffee. So begins a kind of friendship between the two.
Jacinta Escudos became known with Cuentos sucios [Dirty stories] (1997) where she reveals her critical view of society, family conventions, marriage, and romantic relationships. In 2002 her novel A-B-Sudario [A-B-Shroud] was awarded the Mario Monteforte Toledo Central American Novel Prize. She published El diablo sabe mi nombre [The devil knows my name] in 2008 and Crónicas para sentimentales [Chronicles for the sentimental] in 2010. In El asesino melancólico [The melancholy assassin], Escudos returns to a theme that preoccupies her as she shows us in Rolanda, a woman going through her second divorce. Her first divorce didn't affect her much, however the second one has been catastrophic for her, surprising, because she thought they were happy, and it plunged her into a state of suicidal depression.
As for Blake, he is a failed man, alone, without money, without a career, without a personality, without ambitions, that is to say, an apathetic and depressed individual, without a goal in life. In a way, Blake is also a typical character of Jacinta Escudos, representing all the frustration and disappointment of a person who does not meet society's expectations. Blake rejects himself as well as his environment. He lives in a small room above a laundromat and the smell of soap invades his life every day. A smell he hates, as he hates the landlord and practically all the people around him. Although he worked for a while as an accountant, he did countless other small jobs to earn a living, but none brought him pleasure, until he found work as a parking attendant. What he liked most about this job was that he didn't have to talk to anyone, he simply had to collect the parking fees from the customers who didn't even look him in the eye. Even though Blake's life was completely pointless, he didn't want to die. When we come across him in the novel, he is 50 years old and worries about the things he still has not done in life, the lack of meaning in his actions, and the importance of his deeds. Despite all this, he doesn't think about dying or committing suicide.
Here, then, a contrast is made between Rolanda, who appears to be an upper-middle class woman, and Blake, who lives in poverty. After her husband Robert Herter filed for divorce, Rolanda had been going to the parking garage for twenty-three days where Blake worked. She'd park and remain silent, not do anything, not even talk to Blake. Blake would ignore her; he didn't want to establish any kind of contact or relationship with a woman that was clearly somewhat crazy.
The entire novel is written in the third person and narrated by an omniscient and extradiegetic narrator, but starting in chapter four we have access to the letters Rolanda writes to Blake, which give us a lot of information about her personal life and her daily routine. From then on, they begin to have conversations that revolve mainly around death. Blake refuses to take part in a murder, insisting that he isn't a murderer, that he doesn't have experience with such things and that he probably wouldn't do it right. She tries to convince him and explains how easy it is to kill another person. The letters become increasingly frequent and little by little Blake derives a certain joy from them. After work he goes to his room and reads with great enthusiasm the letter that Rolanda has given him that afternoon. Finally, Rolanda offers to pay him to kill her and Blake begins to consider the idea; he thinks about what he can do with the money and how it can change his life.
Upon learning that Rolanda likes Moroccan sardines, Blake begins to eat them too. We see then that there is a closeness that develops between the two characters through food, and the act of eating becomes a metaphor of what begins uniting these two lonely people. When Rolanda gives Blake an envelope full of money, it seems the two have come to an agreement.  Blake begins to change his modest habits and allows himself small pleasures that were previously unattainable. One afternoon, Blake tells her that he wants them to go to the beach. They eat oysters at a beachfront restaurant and talk about different things. Blake intends to end the relationship and return the money. He plans to quit his job so she can no longer find him. However, after they have finished eating, she gets up and walks towards the water. Blake follows her. She takes the gun out of her purse, they struggle, a shot is fired and Rolanda dies.
Blake moves to another city and lives an anonymous, quiet, and very modest life; nevertheless, he cannot stop thinking about Rolanda's death. Until one day someone knocks on his door. The police have finally found him; they charge him; the witnesses testify against him, the waiter who served them at the restaurant identifies him, and he's sentenced to 30 years in prison. For Blake, his life is over; he believes he will not be able to survive in prison, mainly because of the lack of privacy and having to constantly share with other prisoners. The novel thus reveals the tragedy of a world of lonely, failed people who wish to die in the absence of true dreams and motivations. It also speaks to the cowardice of human beings who take their own lives and of fortuitous accidents, of things that should not happen, but do, and which we can never prevent. This new novel by Jacinta Escudos confirms her great worth as a storyteller and above all her attentive look at society's contradictions, loneliness, and failure. Those interested can follow her articles, blogs, and videos at https://jescudos.com/.
Nicasio Urbina
University of Cincinnati
Translated by Isabel González-Gutiérrez
Middlebury Institute of International Studies
Nicasio Urbina received his Ph.D. from Georgetown University. He works on literary criticism of contemporary Spanish American literature, with emphasis in Central American literature and culture. He has particular interest in genre theory, semiotics, and narratology. He has taught seminars on the Latin American novel, the short story, Central American literature, creative writing, as well as thematic courses such as humor, myth, and violence in Spanish American literature. He has published eight books of literary criticism, short stories, and poetry; and has edited eight books on different topics. Has published 91 articles of literary criticism, and 122 conferences and papers. In 2015 he received the Rieveschl Award for Creative and Scholarly Work.
Isabel González-Gutiérrez is an MA student in Spanish translation at the Middlebury Institute of International Studies at Monterey. She has a BA in Political Science from San Francisco State University and four years of experience working as a community interpreter and translator.