Cocodrilos en la noche. Gisela Heffes. Santiago de Chile: RIL editores, 2020. 107 pages.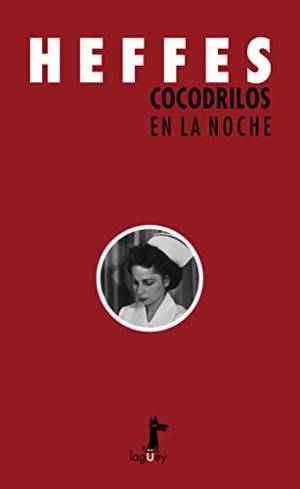 "Muchos de nosotros veremos cumplirse uno de los mayores miedos que tenemos, que no es el miedo a la muerte, sino a la organización social de la muerte. Muchos de nosotros moriremos en una cama de hospital, después de días, semanas o meses de haber sido privados de los más simples derechos humanos" [Many of us will face one of the greatest fears we have, which is not the fear of death, but of the social organization of death. Many of us will die in a hospital bed, after days, weeks, or months of having been deprived of the most basic human rights], wrote Argentine author C.E. Feiling, who died of leukemia at 36 in a hospital bed in Great Britain. One of the protagonists of Cocodrilos en la noche [Crocodiles in the night], Gisela Heffes' new novel, suffers this social organization of death. His entire pancreas was removed, and he spends his recovery in a clinic in the center of Buenos Aires. His children have arrived at the South American capital from that mythological, so-called "First World" in which they have lived for years—one in the United States; the other in Europe—alarmed by the sickness that slowly devours, although with sadistic will towards the eldest of their tribe. Despite everything, this man remains unshakably lucid. It is the others, in this case the nurses who care for him—at times with hurtful practice— old and new couples, relatives, and Dr. Casabilla, with his bureaucratic cordialness, who are consumed by an overwhelming dailiness.
To tell this story, Heffes chose to write from a distant third-person perspective, which in some passages becomes first-person. This change in register is another brilliant technique used in this personal and open novel. The author remarks, "We must make sure that the airport the protagonist leaves from is not George Bush Intercontinental Airport in Houston, but the Orlando International Airport. That the airline she travels isn't United (formerly Continental), but American Airlines. That the protagonist of this novel is not named Gisela, but Vera. That her last name is not Guerenstein, but Heffes. Vera Heffes." This strategy creates the illusion of an alternate reality that produces a seductive, artistic tension. The distance further deepens the narrative map and the conflict in which the characters are involved.
Another aesthetic characteristic of Cocodrilos en la noche is its plot: separated by brief chapters that relate the daily events of the story—Day 1, Day 2, etc.—each one of these entries includes a "Notebook" with personal notes in which Vera sometimes tires of her character and the alternate reality, and returns to normality. Now Vera is Gisela:
Miré a mi hermano y a mi cuñada, interrogándolos. Sí, está despierto. El enfermero se introdujo en la conversación. Está bajo los efectos sedativos, pero te puede escuchar. Mi padre asiente. Yo le agarro la mano. Se la agarro fuerte. Siento su fuerza en mi mano, como si esa fuerza, ese encuentro de fuerzas nos comunicara. Me acerco y le hablo al oído: le digo que todo salió bien, y que pronto muy pronto va a salir del sanatorio y todo va a regresar a la normalidad. Asiente. Le digo que mis hijos le mandaron unos dibujos y quieren hablar con él. ¿Mis hijos? ¿Cuándo me convertí en madre y mi padre, en abuelo? ¿No soy acaso yo la hija, la niña, la más chica que mi padre cuida y lleva al colegio todas las mañanas? ¿No soy yo la que necesita que la besen y cuiden?
[I looked at my brother and sister-in-law, examining them. Yes, he's awake. The nurse inserts himself into the conversation. He is sedated, but he can hear you. My father nodded. I grabbed his hand. I held it tightly. I felt the strength of his hand in mine, as if that strength, that conversion of forces was communicating to us. I came closer and spoke to him out loud: I told him that everything was alright, that soon, very soon, he would leave the hospital and everything would go back to normal. He nodded. I told him that my children had sent him some drawings and wanted to talk to him. My children? When had I become a mother; and my father, a grandfather? Aren't I the daughter, the little girl, the youngest one that my father cares for and takes to school every morning? Aren't I the one who needs him to kiss me and take care of me?]
What the author tells us in this story narrated from pain, memory, and a certain skepticism, is that illness is another literary form. What's more, in that yellow notebook, there is a novel about returning. It is the perception of a daughter once again in her hometown, where the streets are now full of dog shit, filth, and violence. Therefore, from this work a social perspective of Argentina emerges, one that disintegrates, chapter by chapter, along with the father's health and establishes a novel that, as Ana María Shua describes it on the book's cover, is "brave, attractive, and interesting."
Hernán Vera Álvarez
Translated by Ardyn Clayton
Hernán Vera Álvarez, sometimes just Vera, was born in Buenos Aires in 1977. He is a writer, poet, visual artist, and editor. His published books include Los románticos eléctricos, La librería del mal salvaje (Florida Book Awards), Grand Nocturno, and ¡La gente no puede vivir sin problemas! He is the editor of Don't cry for me, América, Escritorxs Salvajes, Miami (Un)plugged, and Viaje One Way. His fiction has appeared in Estados Hispanos de América, Los topos mecánicos, and Pertenencia: Antología de narradores sudamericanos en Estados Unidos, and his work has also been featured in The Kong Kong Review, Hostos Review (CUNY), El Nuevo Herald, Meansheets, Loft Magazine, El Sentinel, La Nación, and Clarín. He lived illegally in the United States for eight years, working in a shipyard, a cabaret kitchen, a few nightclubs, and in construction.
Ardyn Clayton is currently pursuing an MA in English-Spanish Translation and Interpretation at the Middlebury Institute of International Studies in Monterey, California. She previously attended Lee University in Cleveland, Tennessee, where she obtained a BA in Spanish before deciding to pursue translation and interpretation at Middlebury.