The Black Flower and Other Zapotec Poems. Natalia Toledo. Los Angeles: Phoneme Media. 2015. 172 pages.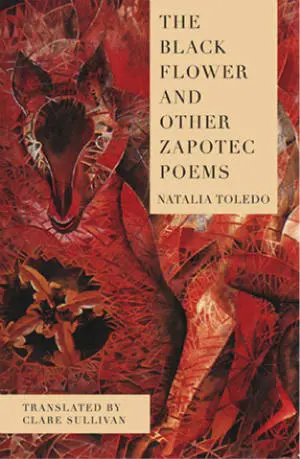 In an essay published in the January 2012 issue of World Literature Today, Clare Sullivan notes that poets who write in Zapotec "entrance their readers with their melodic verses, remind their people who they are by reimagining local traditions, and call them to take responsibility for the future of their language and culture" ("The State of Zapotec Poetry: Can Poetry Save an Endangered Culture?"). As recently as 2014, when World Literature Today featured translations of indigenous writers representing languages as diverse as Arvanitika, Faroese, Mongolian, Ngarluma/Yindjibarndi, and Zoque, we reaffirmed the mutually symbiotic role of language and culture in preserving each other ("21st Century Native Lit," Sept. 2014).
Nowhere is this more true than in Mexico, home to some sixty-eight distinct indigenous languages. The late Mexican writer, translator, and public intellectual Carlos Montemayor called Zapotec—the oldest written language in the Americas, as demonstrated by an archaeological record that dates back 2,000 years—the most important modern literary tradition of all the indigenous languages of Mexico. The Zapotec language family itself represents sixty individual languages.
Against this background, consider the Zapotec poet Natalia Toledo. Born in Juchitán de Zaragoza, Oaxaca, in 1967, Toledo received the 2004 Nezhualcóyotl Prize, Mexico's highest honor for indigenous-language literature, for her bilingual poetry collection Guie' yaase' / Olivo negro, written in Isthmus Zapotec and self-translated into Spanish. In Clare Sullivan's exquisite new translation, The Black Flower and Other Zapotec Poems, readers encounter a trilingual tapestry of Toledo's poems.
In "Guie' yaase'," the poem that gives the collection its title, that tapestry is sensuously evoked: a girl's laughter rises past a "bare branch" amidst black and golden leaves that "will tell her how many loves she'll have," each leaf symbolizing a "mark of desire" ("Black Flower"). Each page of the book offers a new leaf, extending the arboreal and floral metaphors from "Girl with Roots" to "Flower That Drops Its Petals," in which Toldeo writes: "I write in Zapotec to ignore the syntax of pain, / ask the sky and its fire / to give me back my happiness." Erotic poems ("Like hummingbirds to an orchid / my flower offers you a drink") sit side by side with poems marked by rites of origin and passage, foodways, local fauna, childhood games, and more.
"Cochineal" gathers many of these strands in a single poem: "Blood of nopal / ruby of prickles on insect flesh. / The thorns in Christ's hand, / crying the dye / that Oaxacan women wear." In five brief lines, that red dye—derived from the carminic acid produced by cactus-dwelling scaled insects—demonstrates the power of Toledo's poetry. (Cochineal became a prized global commodity after Spanish explorers first encountered it in sixteenth-century Mesoamerica.)
In the last poem in the collection, Toledo writes: "Perhaps I am the final branch who will speak Zapotec. / My children, homeless birds in the jungle of forgetfulness / will have to whistle their language." If this beautiful book is any indication, that day lies in the far distant future.
Daniel Simon
Editor in Chief, World Literature Today
Originally published in World Literature Today 90, no. 2 (March 2016).