Buenos Aires: Obloshka Editorial. 2020. 178 pages.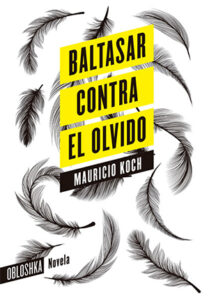 There's a literary parlour game that involves summing up great works in one sentence, often to humorous effect. So, for example, Crime and Punishment gets shortened to "guy murders an old lady and feels bad about it." Or In Search of Lost Time becomes "guy dunks a madeleine in some tea and then has a flashback to his childhood that lasts over a thousand pages." In the case of Mauricio Koch's Baltasar contra el olvido, you could sum it up by saying that a poor kid from a provincial town remembers his murdered mother, with the goal of conjuring her back to life. 
"No." Thus begins Baltasar's monologue against forgetting: with an adverbial monosyllable, a negation. A "minor sentence," i.e. one having neither subject nor predicate. But who is the subject of this almost two-hundred-page-long story? A sad orphan? His impulsive mother? I suspect it might be neither. I'd like to think the subject of the novel is actually life itself: both the memory of a life lived together, and the sublimely simple everyday routines that go into making up that shared life. And because life is wonderful, it hurts: not only when it is snuffed out in a physical sense, but also when it eventually fades away from memory. And that's why Baltasar fights against oblivion, just like the protagonist in Borges's "The Aleph" on the February morning after he learns Beatriz Viterbo has died. For the "Borges" in this story, the sight of a new advertisement for a brand of cigarettes on a billboard in Plaza Constitución provokes dismay because it makes him realize that the wide and ceaseless universe was already slipping away from her and that this slight change was the first of an endless series. "The universe may change but not me," thinks Borges, and he believes that now that Beatriz is dead, he can fully devote himself to her memory without hope but also without humiliation.
Something similar happens with Baltasar. There are, after all, a finite number of literary themes, but an infinite number of ways of handling them. The books that leave a mark are the ones that go back to our core obsessions, and that shed light on those obsessions in ways that we had never thought about before. Baltasar's war on oblivion could have easily dwelled on resentful or class-obsessed platitudes. But that's not what happens here: what it ends up as is a celebration of life, as seen through the prism of grief. Death is hopeless, but (and that "but" comes with a twist) also joyous, and the joy blossoms, in particular, on the pages where Baltasar's mother seems most alive. A loved one is never truly gone, Baltasar is here to tell us. His is a memoir without hope, but also a memoir that allows him to demand not to be pitied, because he doesn't want to be a poor boy anymore. An era comes to an end, the routines gradually fall away. While all this might sound like an excuse to peddle morose clichés about "losing one's way," this is not at all what materializes, and the novel's unusual mode of remembering might also be the source of its originality. 
The Latin poets believed that poetry was the key to immortality. They lived on in their work, through what the work continued to say even after the poets themselves had departed. At a remove of thousands of years and miles away from this idea, Baltasar, an earth-coloured morocho from the back of beyond, gets it, and sets to work. 
Translated by David Conlon