Jorge Carrión: Against Amazon: Seven Arguments, One Manifesto. Translated by Peter Bush.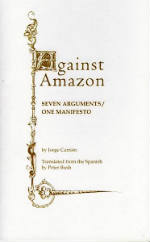 Originally published as Contra Amazon: Siete razones, un manifiesto, this is the new English version of the seven fundamental rules to understand the online library. As Carrión says, within the context of social networks: "If you enter Amazon Bookshop on Google, dozens of links appear to Amazon pages that sell bookshelves". This is about the symbol and the brand of that object called a "book"; it can be confronted using the seven necessary arguments to overcome virtual writing. "Fortunately, for the moment, they can´t reproduce the vegetable feel or the smell of lignin on screen. Whether we like or not, we still cannot remember with the same precision what we read on paper and what we read in an e-book. Architectural transitions happen quickly; mental transitions, fortunately, less so".
.
.
.
.
Ana Clavel: Territorio Lolita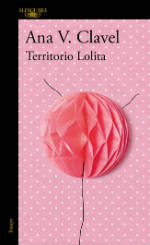 "There is nothing more atrociously cruel than an adored girl." Every object of desire becomes a fetish, and one of the most fascinating fetishes of our time is Lolita. Is not the essence of Lolita an incarnation or substitute of the lost love object, of that ineffable pleasure that has never been attained? Ana V. Clavel explores these territories in search of the secrets and mysteries of those sweet and terrible little girls, alongside the force of desire that they untangle. This is an essay of nymphets that is structured around four thematic groups: myth, archetype, archeology and art, all linked to the figure of the "Lolitas".
.
.
.
.
Arturo Pérez-Reverte: Los perros duros no bailan / Tough Dogs Don't Dance
"I was born a mestizo, a cross between a Spanish and Brazilian Mastiff. When I was a puppy I had one of those cute and ridiculous names that are given to newborn dogs, but that was too long ago. I've since forgotten it, and for a long time now, everyone has called me Blackie." This is a noir fiction novel, a story of survival in a world where loyalty is pure instinct. In this amazing noir fiction novel that is funny, caring, and overwhelming from beginning to end, Arturo Pérez-Reverte narrates with great mastery the adventures of a dog in a world different from our own, one where the rules that reign are loyalty, intelligence, and camaraderie; a world where, sometimes, there is mercy for the innocent, and justice for the guilty ones.
.
.
.
.
Jorge Carrión and Sagar: Gótico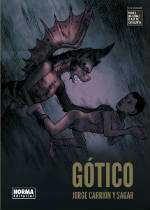 The Gothic altarpiece is the first narrative artifact in vignettes of the artistic history of the West – the great-great-grandfather of the comic. From that idea and the Gothic art collection of the National Art Museum of Cataluña, Jorge Carrión and Sagar have created a graphic essay on how medieval drawing and painting show the transition between theocentrism and humanism. An extremely original book, it uses different languages to expand what we understand by "museum" and "essay" in the 21st century. This work is in keeping with what are now called expanded or hybrid comics, collecting different languages from horror to love.
.
.
.
.
Jorge Edwards: Esclavos de la consiga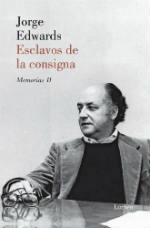 In Esclavos de la consigna, Jorge Edwards paints a portrait as ironic as it is endearing of his life towards the middle of the twentieth century. He portrays Chile from the perspective of the years when it was more free, creative, and communitarian than it is today, but also more candid, full of deluded convictions and slaves of the slogan. With remarkable grace and agility, Edwards narrates the time in which he was trained and adopted as a writer and a member of a cultural scene alongside, among others, Pablo Neruda, Nicanor Parra, Enrique Lihn, Luis Oyarzún, and Stella Díaz Varín, Alejandro Jodorowsky and José Donoso.
.
.
.
.
Juan Carlos Méndez Guédez: La ola detenida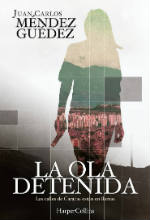 Caracas is the most dangerous city in the world; the trail of Begoña de la Serna, the unruly daughter of an influential conservative politician, has been lost. To find out her whereabouts, the girl's family hires Magdalena Yaracuy, an original detective who combines witchcraft, martial arts, and accurate marksmanship to solve her cases. Still, the disappearance of Begoña is complicated. Bloody crimes, paramilitary groups, kidnappers, drug traffickers, and corrupt soldiers surround the world of this girl, who may have made the mistake of learning dangerous secrets in a country crushed by scarcity, fear, and violence. This is an exciting thriller, with a loveable, fun, and romantic character who readers will never forget.
.
.
.
.
Juan Pablo Villalobos: Yo tuve un sueño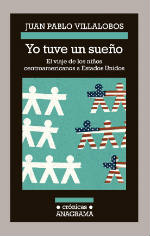 "I have a dream," said Martin Luther King in his famous speech on racial equality in 1963. Yo tuve un sueño [I had a dream], is the title of this book about other American dreams of the 21st century: those of immigrants who cross the border between Mexico and United States without legal documents. Juan Pablo Villalobos has compiled here ten stories focused on the most vulnerable: children. Its pages speak of poverty, fear, exploitation, violence, gangsters, assassins, dungeons, separated families, a train they call La Bestia [the Beast] … but also about hope, integrity and dignity. This is a "non-fiction book, although it uses narrative techniques of fiction to protect the protagonists". The result: an overwhelming, necessary work and an amazing literary force.
.
.
.
.
Luis Mateo Díez: El hijo de las cosas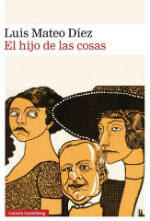 Two sisters and one brother form a normal family trio that hardly catches the attention of the reader. Frequently, the two sisters assume an effective responsibility that becomes even more important when parents are missing. They are two crucial characters in this novel that surprises with a turn of acid humor brought to its final consequences, intensifying the exorbitant breath of his expressionist writing. As is usual in the narrative of Luis Mateo Díez, the protagonists are surrounded by hundreds of splendid secondary figures who protect them and help them or, in the worst of cases, make them nervous.
.
.
.
.
Marcelo Rioseco: 2323 Stratford Ave. Translated by Grady C. Wray.
"Without avoiding names on a map, a poetic persona speaks to us from a place called Cincinnati (or Norman, Oklahoma), very far from Chile. He comes to tell us, however, that sometimes he becomes Chilean, that the days become Sundays or that he feels in Spanish but lives in English. The language of these poems is one of dislocations, displacements and hybridity. It is a quotidian language, at times strange, that yearns and longs for itself and even excuses itself when it expresses what it cannot say. The frigidness of a repeated number and the name of a street that invites us to remember Shakespeare and his language – 2323 Stratford Ave.- conform to the emotional climate surrounding the whiteness of the page where the poem appears. After all, here the snow  – a snow from which God is summoned – also falls upon what has been written". – Arturo Gutiérrez Plaza.
.
.
.
.
María José Navia: Lugar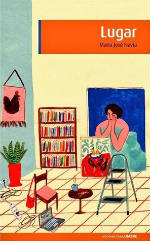 Lugar [Place] is a compilation of twelve stories where women take the leading role. Through each one of them, a sort of feminine power grows and supersedes weak-willed male characters that also form an important part of the action. Women lead these tales, expatriates of their own homes, either because they have left Chile behind or because their homes have become strange and even hostile places. They hide, drag along or confront conflicts that threaten to topple them, all while they seek to define their place in the world.
.
.
.
.
Martín Caparrós: Postales
Martín Caparrós' photo-narrative anthology is an accurate collection of photographs, travels, and history; a traveling anthology. It is comprised of forty images taken over more than 20 years to which, much later, he would attribute text. It is a reflection on the journey, but also on beauty, death, or relationships that are linked to the beauty or calamities of the planet. The writer takes the reader by the hand to distant and difficult places to explore different ways of telling a story. Small chronicles narrate the reality that, through the eye of the camera, retains its subjectivity, innocence, and exoticism.
.
Mike Wilson: Ártico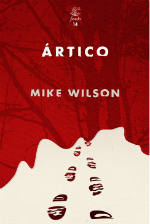 Ártico [Arctic] is an inventory of impressions; a nouvelle in verses, a long poem, a list. The voice of his narrator is that of an emaciated character who insists in clinging to what is left of sanity with the enumeration of the seen and the felt, after a failed love that appears on the horizon as a breaking point – and as a final point – of that life adrift. It is dense with images, smells and textures, evocative, with flashes of humor, evocative though marked by melancholy. This work by Mike Wilson, one of the most singular voices of the contemporary Chilean narrative, dazzles with his boldness to portray through the minimum resource of descriptive enumeration, the complex emotion of lost love.
.
.
.
.
Mario Montalbetti: Notas para un seminario sobre Foucault
"Language is always, and always will be, a leap without a safety net", writes Mario Montalbetti in his most recent book of poems Notas para un seminario sobre Foucault [Notes for a seminar about Foucault]. As Michel Foucault had already described in The Thought from Outside, "it is extremely difficult to find a language faithful to this thought". This long poem by Mario Montalbetti, structured in the style of a seminar, moves through the middle of this difficulty. It explores and spreads that which is  is dispar(ado) [mixed/ shouted out] – which paradoxically "does not return", even when it concerns the verse dynamics – in a purely-aimed work, weaving language and thought in search of a form that fulfills the requirement of fidelity.
.
.
.
.
Prologue by Eutimio Martín: Poeta en Nueva York / Poetas de Tierra y Luna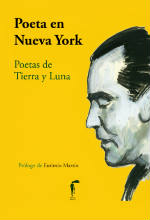 Commemorating the 82nd anniversary of Federico García Lorca's death, Poeta en Nueva York, Poetas de Tierra y Luna compiles the writing of all those who connect with his poetry. In these pages, García Lorca, the poet who extends his roots throughout eternity, gives way to the birth of "a new life in the poetry of life." The 36 poets of Tierra y Luna write in homage to the universal artist from Granada. Ricardo Ranz's illustrations are also incorporated, because the images have the same intensity as words. This is a conversation or a rereading of these poems full of strength and vitality; 36 ways of conceiving the poetic process and its writing, 36 ways of saying love, vomit, bird, tomorrow or death.
.
.
.
.
Samanta Schweblin: Distancia de rescate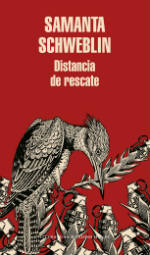 Schweblin's first novel grabs the reader with its disturbing plot and releases them with the last line still falling prey to equally oppressive questions: how does the global economy affect our lives? What is the price we are willing to pay to "save the life" of a child? Is there migration of souls? Is there a loophole? The field has changed before our eyes without anyone noticing. Maybe it's not just about droughts and herbicides; maybe it's about the vital and sharp thread that binds us to our children, and the poison we put on them. Nothing is a cliché when it ultimately happens.
Compiled and translated by Claudia Cavallín
Edited by Michael Redzich