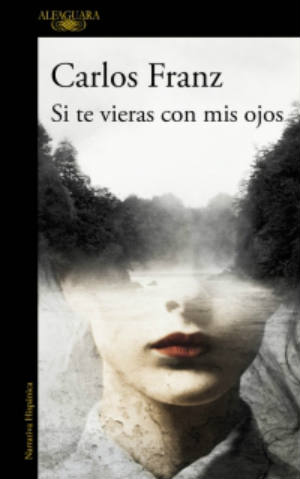 Si te vieras con mis ojos. Carlos Franz. Madrid: Alfaguara, 2016. 368 pages.
Chilean author Carlos Franz is known for novels such as El lugar donde estuvo el Paraíso [The place where Paradise was] (1996), El desierto [The desert] (2005), and Almuerzo de vampiros [Vampires' lunch] (2008). But, during the early part of 2016, his latest novel, Si te vieras con mis ojos, was awarded the coveted Premio Bienal de Novela Mario Vargas Llosa. Ambitious and lengthy, this is not only a novel in which eroticism and passion abound between characters who actually existed; it also seduces the reader because of its fine structure, its rich narrative style, and its elegant language.
Franz's magnificent tour de force is set in the best Romantic tradition, providing a flood of imaginative and seductive images. Set during the first half of the 19th century in Chile, the novel's protagonists are actual, well known historical figures: on the one hand, the famous German painter Johan Moritz Rugendas (1802–1858), known for his lengthy travels throughout Latin America in order to paint its many human and physical landscapes, while also documenting the birth of newly born nations which had just reached independence from Spain; on the other is the renowned British scientist Charles Darwin (1809–1882), well known as a naturalist and, of course, for his many contributions to the science of evolution. Darwin's lengthy travels around the world on a ship known as the Beagle were documented in his volume On the Origin of Species (1859), a study that challenged earlier concepts of transmutation of species by proposing the scientific theory of natural selection. In Franz's account, Rugendas and Darwin coincide in their visits to Chile during the decade of the 1830s and, in what can be considered a daring use of poetic license, the author ably devises a great friendship between these two men. All is well between them until they discover that they have eyes for the same woman, the young and beautiful Carmen Arriagada.
Known officially by her married name, Carmen Lisperguer, age twenty-seven, for she is married to a German army officer, Carmen is not only a Chilean aristocrat by birth but also a Madame Bovary of sorts. She is the daughter of a wealthy and powerful landowner who fought in Chile's wars for independence. Carmen enjoys reading and learning and is fluent in English and French. Far from shy and subdued, as social norms dictate for women of her time, Carmen has a daring, eloquent personality, speaking her mind to merchants of various nationalities as she does to people from her own social class. Moreover, she never goes to church, and is whimsical and audacious if she deems the circumstances to so require. The day Rugendas's ship arrives in Valparaíso, Chile's main port, Carmen happens to be at the docks. From the moment Rugendas sees her, she becomes his muse of fire.
Thus, a passionate, forbidden, and secret romance begins, in which Rugendas will stop at nothing to seduce Carmen, who is a dominating and difficult woman. Finally, however, love and passion come together with perfection for Rugendas, who experiences with Carmen an explosion of creativity and sensitivity he had never felt before, despite his wide-ranging travels and his many previous lovers. At the same time, Rugendas's great friend, Darwin, who is twenty-five years old at the time and shows a great passion for scientific observation, is also attracted to Carmen, despite his puritanical personality. Soon a love triangle emerges between the three characters, for Carmen, while enjoying the attentions of both men, does not hesitate to seduce the young Darwin, even if this means breaking the artist's heart. As a result, art is confronted by science, while passion proves to be a powerful force against reason. In fact, if, on the one hand, there is a romantically conceived love affair between Rugendas and Carmen, on the other, this love can be seen as a more rational experience under Darwin's scientific eye. Both perspectives are powerfully recreated, as they come together in the character of Carmen, who enjoys both types of romance from both lovers, although it will prove to turn their lives upside down.
Si te vieras con mis ojos is not only a novel replete with eroticism and passion; it is also a work that seduces the reader with its intense, versatile narrative style. The narrator is Rugendas himself, but he narrates in the past tense, as if he had written a diary several years afterward. However, the painter's text also includes abundant interventions by Carmen, who makes commentaries in the margins about their torrid, turbulent relationship. Interestingly, there is a sense of languor that emerges from reading this novel, which is ideal for fully experiencing all of our senses. Each place remembered or each situation evoked allows for a sensory experience, as if we were viewing a painting with many contrasts and details. Given the highly poetic nature of Franz's prose, perhaps for a more impatient reader the narrative could at times seem sluggish and lacking action. But Franz's intention is clear: this is a novel that relishes a careful use of language and, in the final instance, is a delight for sensitive readers.
Si te vieras con mis ojos is a humane, complex novel that forces the reader to confront both the pleasures and demons of love. It is also another example of Carlos Franz's great talent as a storyteller, a fine Latin American author whose many works of fiction are deserving of more critical attention.
César Ferreira
University of Wisconsin–Milwaukee